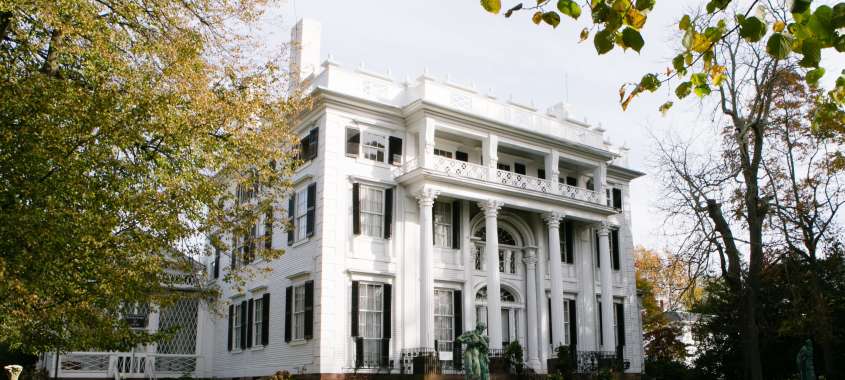 Looking for some fun this month that won't break the bank? Here are five fun and FREE things going on in March:
Extraordinary Women of the East Bay at Linden Place. Celebrate Women's History Month at the beautiful Linden Place in Bristol as you learn about the lives and times of Rhode Island women who truly made a difference in their communities.  Women including famous lighthouse keeper Ida Lewis; Weetamoo, the Queen Sachem of the Pocassets; and artist and suffragette, Sarah J. Eddy. While you're there, don't pass up the chance to take in this wonderful example of Federal architecture and the home's sculpture-filled gardens.
2. 3rd Thursday Hike at Biscuit City Preserve. Each month the South Kingstown Land Trust holds a 3rd Thursday Hike and March's is at the Biscuit City Preserve, which is both historically significant and handicap accessible. The site includes historic ruins including a mill foundation, water wheel pit, and a root cellar. Hike this area which was once a water source for Native Americans and colonists due to its natural spring. Hikers will also enjoy varied flora and fauna, native plants and fungi, a mature hickory ash and oak forest as well as aquatic animals and plants and a variety of birds.
3. "Seamless Work" Video Exhibition at Slater Mill. Get a first-hand glimpse into the day-to-day world of textile manufacturing at the birthplace of the American Industrial Revolution, Slater Mill, where the American textile industry began. This video installation immerses you in the hustle and bustle of a textile plant via a 24-foot, three-panel screen.  It's a wonderful opportunity to compare and contrast the National Historic Landmark and its historic machines on the first floor with the contemporary footage of the exhibit on the second floor.
4. Christine Sun Kim: In Performance at The Granoff Center for the Creative Arts. Check out a unique performance by artist and educator Christine Sun Kim as she uses the media of drawing and sound in performance to investigate her relationship with spoken language and the aural environment. Learn about her quirky, playful and rule-bending work, which she has exhibited and performed at White Space Beijing, London's Carroll/Fletcher gallery, Shanghai Biennale, San Francisco Museum of Modern Art and MoMa PS1 in New York. Kim is a former artist-in-residence at the Whitney Museum of American Art, and has also collaborated with musicians Devonté Hynes, Carly Rae Jepsen and the Chemical Brothers.  
5. 43rd Annual Newport Irish Heritage Month in Newport. Last, but definitely not least, is the 43rd Annual Newport Irish Heritage Month, which runs all month long.  While not every event during the month is free, many of wonderful, fun celebrations are no charge, including Traditional Irish Music Sessions at Fastnet Pub, Trolley Tour of Irish Newport, Mayor's Reception, 62nd Annual Parade in Honor of St. Patrick, and more!
For more fun, free things happening in Rhode Island, check out our Free Events page. Enjoy!