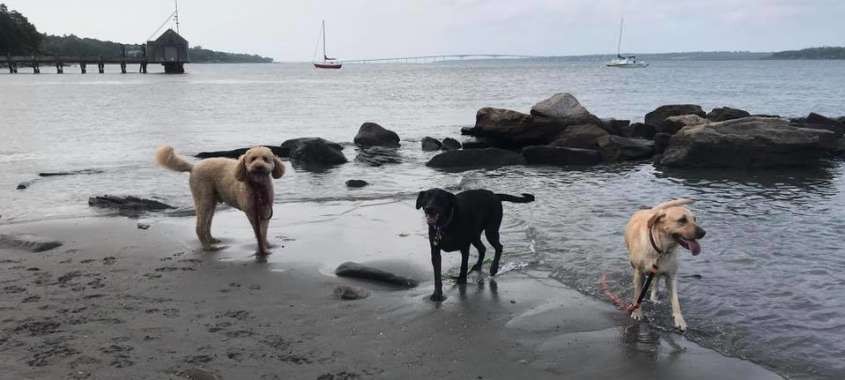 Happy National Love Your Pet Day to all you pet people out there! We here at Visit Rhode Island love our pets, love talking about our pets and love looking at photos of other people's pets. That being the case, combing social media for posts of people having fun with their pets around the Ocean State was pretty much a labor of love.
That said, I just want to warn you that this is going to be mostly pictures of dogs.  Not because there is any kind of anti-cat bias, (or fish, bird, ferret, etc.) but because I didn't find any posts of people frolicking with their cats on the beach or hiking with them in the parks. Sorry! We really do love all pets in all their glorious variety.  Seriously. I have a cousin with a pet pig who plays catch and wears a tiara. I kid you not. That is one adorable pig.
And now, **drum roll** I give you pets out and about in Rhode Island!
1. Sunset with the one you love in Narragansett.
2. Chasing waterfalls in East Greenwich.
4. Exploring Lincoln Woods in Lincoln.
5. Guarding local brews at Ragged Island Brewing in Portsmouth.
6. Snow day in Colt State Park in Bristol.
7. Playing ball at Black Point in Narragansett.
8. Soaking up the history at Slater Mill in Pawtucket.
9. Exfoliating on the beach in Narragansett.
10. Wind in hair, Misquamicut State Beach, Westerly.
11. Nose to the ground in Lincoln Woods State Park.
12. Beer me! At Long Live Beerworks in Providence.
13. Breaking the rules at Goddard Memorial State Park, East Greenwich.
14. Feeling sheepish... Charlestown.
Love to all the pets out there in the Ocean State and all the ones waiting for their fur-ever homes!