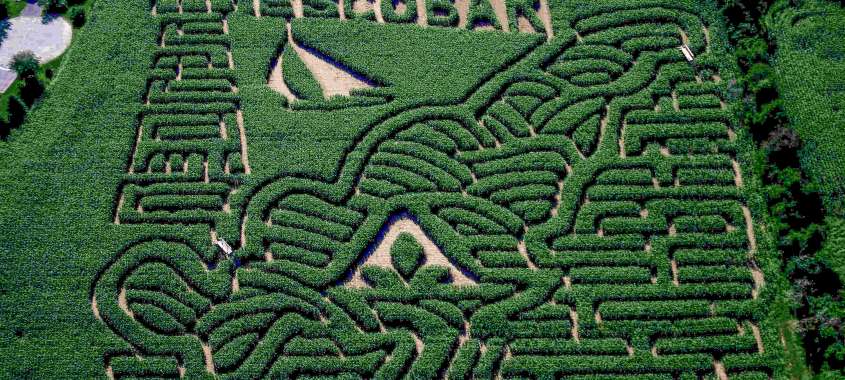 Who was the brilliant, fun and frugal farmer who knew that cutting maze-like paths into his dying cornstalks would provide hours of fall fun for families (and a few extra dollars for himself)? Perhaps he was inspired by the movie "The Shining," and is terrifying, seemingly inescapable garden hedge labyrinth. Thanks to that industrious farmer, we in Rhode Island have a fun, sometimes scary way to celebrate the harvest.
In the northern end of the state, Confreda Farms corn maze blows away the competition with one the size of seven football field. Yep, seven! For the faint of heart there's hayrides, kiddie activities, and a food court featuring yummy house-made treats. 2150 Scituate Ave, Hope, 401-823-1150, www.confredafarms.com.
South Kingstown's The Farmer's Daughter is a favorite of the local farming community for its plant and produce offerings as well as year-long seasonal crafts events. So you'd imagine they're pretty imaginative when it comes to creating outdoor fall fun. In addition to a corn maze that will challenge and confuse you, there are scavenger hunts, pony rides, pumpkin slingshots and bowling, train and tractor rides, scarecrow making and costume contests. We're in! 716 Mooresfield Rd., South Kingstown, 401-792-1340.
Also in South County, Clark Farms' corn maze is cut into a spy theme, and using a flashlight you investigate to find clues about who you're after. Weekends also feature campfires, hayrides, a petting zoo and a zip line. 2984 Commodore Perry Rd., Matunuck, 401-783-1331, www.clarkfarms.com.
Escobar's Highland Farm in Portsmouth features a giant, 8-acre corn maze that will a-MAZE, confuse and befuddle you. Gorgeous from above, challenging from below, it's a winner! When you finally find your way out you'll be delighted to find, in addition to hayrides and picking your own pumpkin, a different special event every weekend day, such as Harry Potter Day, Superhero Day and Grandparents Day. 255 Middle Rd., Portsmouth, 401-683-1444, escobarfarm.com.