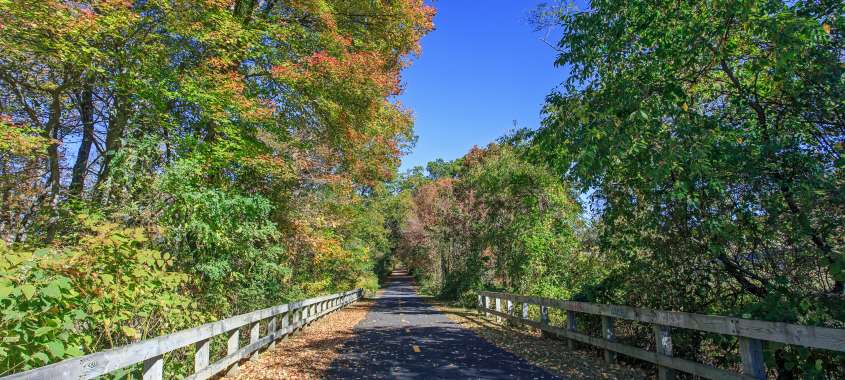 Maybe it's because we're the smallest state in the Union and so we're easy to get around, but Rhode Islanders and visitors to our majestic state love traveling on two wheels—on old-fashioned bicycles, in fact. Rhode Island features 70 miles of official bicycle paths (and great resources to help you navigate them). Mostly built along old railway lines, they take you over the back roads and through less-traveled areas, and thanks to the fact that trains can't really do hills, they are mercifully flat, for the most part. Do it before the snow postpones your adventure til Spring.
Blackstone River Bikeway, Northern Rhode Island
Follow this winding, mostly flat (there are just a few steep inclines along the way) 11-mile path through the woodlands alongside the river and past its canal. Particularly gorgeous in spring and fall, you can take short detours to discover Historic Slater Mill (where Samuel Slater started said revolution). Across the street the official Visitors' Center provides maps, advice, and snacks.
East Bay Bike Path, East of Narragansett Bay
This path is the center of family and individual recreation in the mostly-suburban East Bay section of the state, meandering 15 miles from India Point Park in Providence to Independence Park in Bristol.  Actually the path connects eight parks, including Bold Point and Squantum Woods in East Providence, Haines and Veterans Memorial Park in Barrington, Burr's Hill Park in Warren, and Colt State Park and Independence Park in Bristol. So as you can imagine, the terrain is beautiful.
William C. O'Neill Bike Path, Southern Rhode Island
Also known as the South County Bike Path, this eight-mile path stretches through some of the most bucolic and lovely parts of the southern section of Rhode Island, ending, appropriately, at the ocean. The path starts conveniently at the Kingston Rail Station, where nearby University of Rhode Island students board trains home on weekends and during breaks.  Almost immediately you'll ride through the Great Swamp Management Area, so-named for a battle fought during King Philip's War in 1675. The area offers thousands of acres of peaceful swamplands and small beaches.