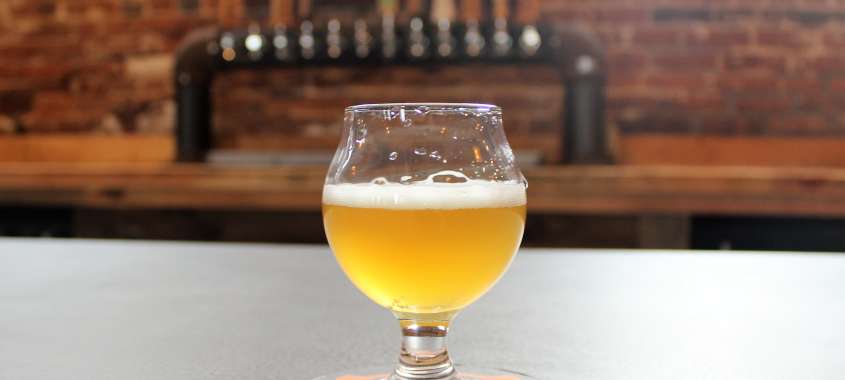 A local favorite for craft beer lovers and a hotspot on the Rhode Island Brew Trail (Livability.com agrees), The Guild just celebrated the grand opening of their new German-style beer hall this past weekend and Visit Rhode Island got a sneak peek!
I got to sit down with Jeremy Duffy, Co-Founder and Managing Partner of The Isle Brewers Guild over a sample of Jean-Claude Van Damme Golden Ale (delicious!) and get the skinny on what's going on and coming up.  Aside from the opening of the beer hall, the place was also getting set up for one of Jeremy's favorite events of the year, the Made on Honor Market, which doubled its number of vendors featuring American made crafts and products this year.
Jeremy explained that as both their operations and popularity grew, they needed room for more tanks as well as a bigger space than the taproom could provide for crowds.  By opening the beer hall, they've been able to increase the number of taps from 8 to 24, as well as expand their Guild Brewers Series, which are beers that come exclusively from The Guild and can only be purchased on the premises.  And as Jeremy envisions The Guild as a true, community-based organization (they're both dog and stroller-friendly), he's excited to offer this new, comfortable space that encourages people to hangout more.   
In terms of looks, the beer hall has a super-cool, industrial aesthetic, while still managing to be warm and inviting. I'm talking high ceilings, exposed pipes and brick, glass, aged wood and concrete floors.  The bar is long with sturdy, minimalist, metal stools and has plugs and USB ports every couple of feet under the bar top, for charging electronics.  In a nice nod to the building's past, wood from facility's mezzanine was upcycled into the board frames and taps behind the bar.
The space is divided into five main areas: The Bar; Tables – both long, communal-style tables and traditional hi-tops; Games – cornhole, oversized Jenga and Connect Four; Gear – Guild swag, including glasses, hats and more; and Beer to Go – a fridge for "crowlers" (32 ounce cans) and more that you can purchase to take home.  There's also a wall in the game area that plays footage from the brewing facility, so that people can still feel close to the brewing process.  The screen will also be used for Patriot's games, playoff games, and for trivia and movie nights.
Did I mention the snacks?  Because in a couple of weeks what Jeremy calls Phase 1 will be coming to the beer hall: pretzels with dipping sauces, popcorn and nuts for noshing.  But that, as they say, is not all. Phase 2 will roll-out after the holidays and is set to feature charcuterie and cheese boards (YUM!).
And there's more on tap (see what I did there?) for spring, with the opening of a new, expanded beer garden, featuring a new deck with taplines adjacent to the brewery; and The Barn event space for large formal functions.
So, if you're looking for a place to chill out this winter with a locally crafted pint and live music (Fridays and Saturdays 5-8PM), be sure to visit The Guild.  I certainly will (seriously, they had me at cheese board).  And we won't be alone – they've welcomed 46,000 visitors since January of this year and hosted 150 events (including two weddings), with more to come in 2019.