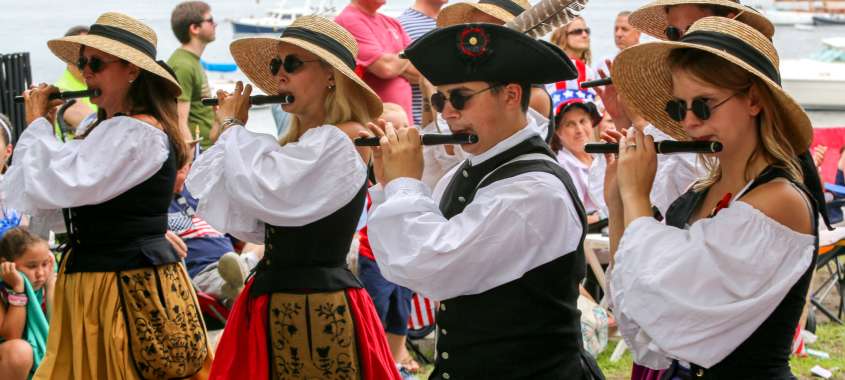 We're just over a week away from one of Rhode Island's most loved traditions: the Bristol Fourth of July Parade. Considered to be the birthplace of the Fourth of July Parade, Bristol proudly holds the title of the oldest continuous celebration of its kind in the country. The sidewalks will be lined early with flag-waving fans young and old as this quintessential Rhode Island event makes its 233rd pass down the storied red, white, and blue-striped route.
The parade kicks off at 10:30 am at the corner of Chestnut Street and Hope Street (Rt. 114) and wraps up at High Street, between State Street and Bradford Street. We caught up with Michele Martins, Parade Chairman, to get some updates on what this year's spectacle will entail. Be sure to read on for important information on parade etiquette, road closures, and more.
Tell us a little bit about this year's parades and what visitors can expect to see. 
This year the 233rd Bristol Fourth of July Parade has 25 bands, over a dozen floats, local New England teams and mascots, the Shriners, and most importantly over 200 Navy Sailors, Veterans from the Korean War, The Frozen Chosen, Vietnam War, Jewish War, the Rolling Thunder Group and an all-female Veterans Group.
What's new this year?
This year the 233rd Chief Marshal is Kathy Bazinet, a Bristol native who has been an active part of the community her entire adult life.  She has recently retired from East Bay Community Development Corporation and has actively brought affordable housing to residents of Bristol during her tenure. 
What is your favorite part of the parade?
As I have been preparing this parade my favorite part is speaking to the Veterans that have made our freedom possible.  I look forward to both the Active Military Division and Veterans Division and meeting all the gentleman that I have spoken with over the last few months.
How long have you been part of the committee?
I have been on the Committee for five years and this is my first year serving as the Parade Chairman and Vice Chairman of the Bristol 4th of July Committee.
The parade is just one day but the town of Bristol celebrates weeks in advance. What other events are part of the celebration? 
The celebration kicked off with our Flag Day Celebration on June 14 at the Bristol Town Common.  We have family events leading up to the Grand Finale parade day such as Old Fashion Days on the Common, a Vintage Baseball game, Block Party, 14-day concert series at Independence Park, a carnival, and fireworks.  On Parade Day, we start with our 233rd Patriotic Exercises, a ribbon cutting, a military fly over, and the Parade is led by our First Responders as this is the Military, Fireman and Civic Parade.
What is your favorite spot for viewing the parade?
If you want an early viewing, Hope Street is an ideal area but fills up quickly.  Expect to arrive by 6 a.m.  For late arrivals, High Street is the best area and is shady. Reminder roads close at 8 a.m.  We're wishing for great weather!
Here are some things to know before you go:
Hope Street (Rt. 114) will be closed off beginning at 8:00 a.m., including Poppasquash Road.
Beginning at 7:00 a.m., Chestnut Street, Naomi Street and Sherry Avenue will be closed to traffic. A parking ban along the parade route goes into effect the night before the parade.
Blankets and chairs may not be set up along the parade route before 5:00 a.m. the day of the parade, and areas along the parade route may not be roped off, taped off or blocked any way with any object.
Overnight camping is prohibited.
Alcoholic beverages are prohibited.
Pets should be left at home.
First Aid will be available from emergency medical crews stationed along the parade route.
A viewing section for people with disabilities will be set up at the corner of Hope and Court Streets, across from the Harriet Bradford Motor Inn. Handicapped parking will be available across from the Town Hall on Court Street.
Bleacher seats across from the Reviewing Stand will be available to the public on a first-come, first-served basis.
For the first time this year, the Providence to Newport ferry will stop in Bristol for the parade so plan ahead to grab a ticket and travel by water to this historic event. 
Share your favorite moments from the parade with us! Don't forget to use #RhodeIsland in your social posts.