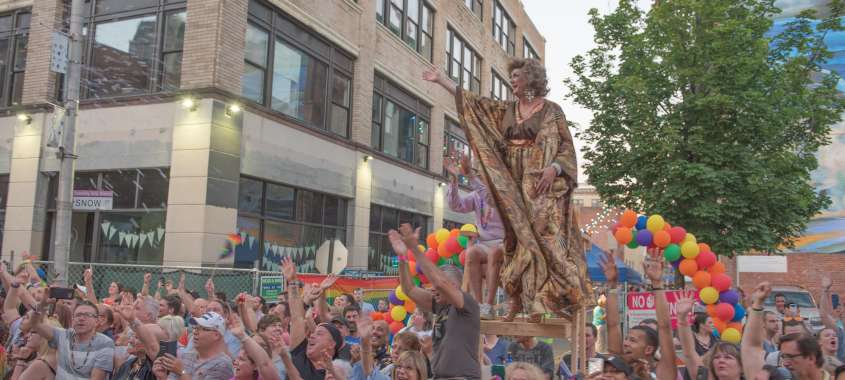 The LGBTQ+ community in Rhode Island is thriving, with many resources and opportunities for everyone to show their true colors. From the annual Pride celebrations to the state's gender-neutral bathrooms law, there are plenty of ways for members of the queer community to feel supported and accepted. So come along as we celebrate all things LGBTQ+ in Rhode Island!
Known for its beautiful coastline, vibrant culture, and rich history, Rhode Island boasts a plethora of experiences for every traveler. But its true charm lies in its commitment to diversity and inclusivity, making it a truly special destination. As we step into Pride Month, Rhode Island transforms into a radiant spectacle of colors, love, and solidarity. Celebrated every June, Pride Month holds profound significance, honoring the LGBTQ+ community and advocating for their rights and acceptance.
Annual Pride Parades and Festivals
Rhode Island's Pride Parades and Festivals are a spectacular sight. Every year, Providence hosts PrideFest, an event filled with music, performances, and a radiant parade. The illuminated night parade is the highlight of the festival, casting a mesmerizing glow across the city. Aside from the grand parade, Rhode Island hosts unique events that add a distinct flavor to Pride Month. These range from LGBTQ+ film screenings, poetry readings, art exhibitions, to even rainbow-themed yacht races – a true testament to Rhode Island's creative spirit.
Rhode Island's Pride History
The roots of Rhode Island's LGBTQ+ movement trace back to the late 20th century, mirroring the broader struggle for LGBTQ+ rights in America. Over the years, Rhode Island has been a key player in shaping inclusive legislation and fostering a supportive environment for the LGBTQ+ community. From passing anti-discrimination laws to legalizing same-sex marriage in 2013, Rhode Island has been an important contributor to global LGBTQ+ rights. Its advocacy for equality serves as an inspiration to many. Rhode Island's Pride celebrations are a blend of history, joy, and advocacy. Year after year, the state has hosted colorful parades, community-led initiatives, and educational events to promote love, acceptance, and unity.
LGBTQ+ Friendly Activities in Rhode Island
Rhode Island is home to several LGBTQ+ historical landmarks, each telling a unique story. From the LGBTQ+ Center in Providence to significant spots for the local LGBTQ+ movement, exploring these landmarks offers a deeper understanding of Rhode Island's inclusive history. Rhode Island's nightlife thrives with LGBTQ+-friendly bars, clubs, and businesses. Dark Lady, Alley Cat, and EGO Providence are just a few spots where you can dance the night away or simply enjoy the lively atmosphere. Rhode Island's culinary scene joins the celebration with a host of LGBTQ+ owned restaurants offering special Pride Month menus. From rainbow-colored desserts to cocktails, every dish is a vibrant treat for the senses.
Rhode Island's Inclusive Neighborhoods
From the artsy streets of Providence to the scenic tranquility of Block Island, Rhode Island's inclusive neighborhoods welcome everyone with open arms. These places are known for their open-minded communities and their support for LGBTQ+ owned and friendly businesses.
Rhode Island's Pride celebrations are designed for everyone. Whether you identify as part of the LGBTQ+ community or are an ally, these events offer a warm, welcoming space for all to embrace and celebrate diversity. To make the most of your visit, it's best to plan early. Booking accommodations in advance is advisable, and the use of public transportation or bike rentals can add to the local experience. Make sure to check the dates for Pride events and other festivities happening during your stay.
Resources and Contact Information
Learn More: LGBTQ+ Community Resources in Rhode Island
To find more about Rhode Island's LGBTQ+ history, community resources, and Pride Month events, you can check out local LGBTQ+ organizations and our website's resource page.
Reach Out: Visit Rhode Island Contact Information
Feel free to contact Visit Rhode Island for any inquiries or assistance in planning your visit. We are here to ensure you have a memorable Pride Month in Rhode Island. Come, show your colors in the Ocean State!