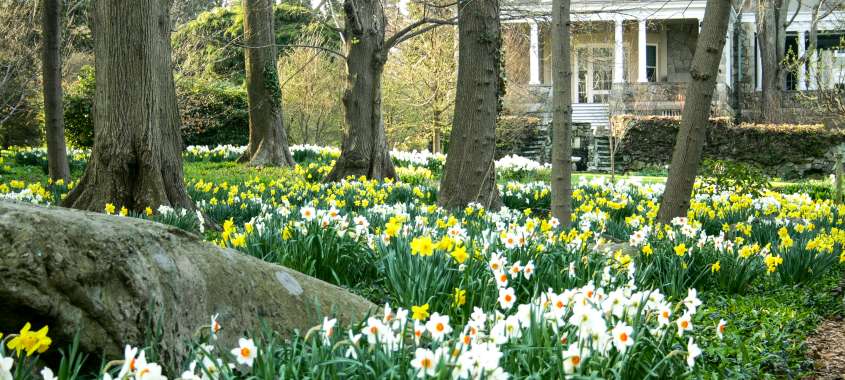 This winter has been a bit all over the map: Warm, cold, very cold, snow, rain, more snow…you get the drift, pun intended.
One sure and much welcome sign of spring is the hardy and exquisitely yellow daffodil, a flower that blossoms in collective majestic majesty at Blithewold Mansion, Gardens & Arboretum in Bristol. When the flowers bloom, it is a site to behold with much of the 33-acre seaside estate brilliantly bright, blanketed by more than 50,000 daffodils. The hardy plant displays its luster for nearly a full month, one reason being they are poisonous, so deer and other critters that munch vegetation intuitively keep their mouths shut around daffodils.
There are many varieties on display at Blithewold, and the earliest to bloom are "Little Gem," "Ice Follies," and "King Alfred," with the last being "Thalia," "Mrs. Backhouse" and "Poeticus." Other floral delights at Blithewold abound throughout the spring include flowering cherry, star magnolia, honeysuckle, viburnum, hyacinth, tulips, Spanish bluebells, ferns, lupines, and many more.  
The mansion at Blithewold can be toured and one great way to it all is in the Saturday Stroll, held every Saturday through Oct. 13, with docents telling the story of the original owners of the estate, the Van Wickle/McKee family. Visitors get stunning views of Narragansett Bay on the stroll and the mansion's original furnishing.
The guided tour winds through the grounds where gardens and unique treasures await – including a sequoia planted here in 1911 that is the tallest of its kind on the east coast, and a gorgeous gingko biloba tree that was so beloved by the late Anthony Quinn (the Oscar-winning actor had a home in Bristol), he used to visit just to hug it - which is such a Zorba thing to do.