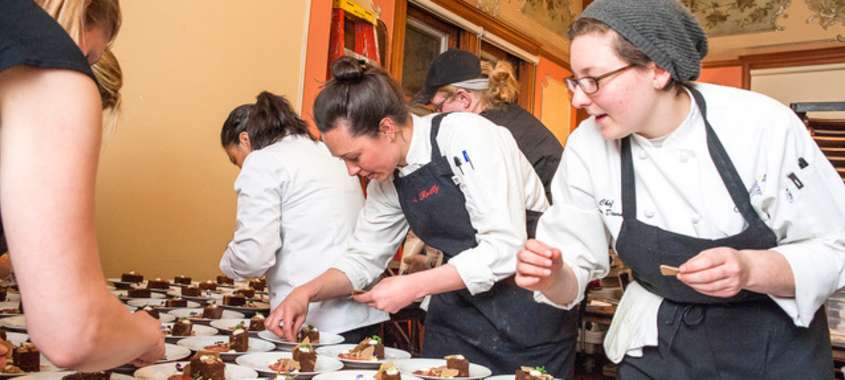 Rhode Island is famous for its food and one place to find out why is the 7th Annual Eat Drink RI Festival April 25-28, a popular event celebrating the best of the state's culinary scene. In addition to presenting farmers, chefs, bartenders and food and drink artisans from across the region, new this year is a wine tasting experience. Also featured will be the return of "Dinner by Dames," the largest food truck event in the area, and the Grand Tasting, an all-local tasting featuring even more culinary and beverage presentations than before. 
Highlights of the tons of tasty fun include:
--The state's first "Sommelier Smackdown," pitting wine experts from Ocean House, Weekapaug Inn, Gracie's, bin 312 wine cellar and Los Andes against each other in a wine theory quiz, blind wine tasting and a food and wine pairing collaboration with a local chef.
--"Dinner With Dames" brings five of Rhode Island's most talented female chefs together for a very tasty multi-course dining event. Some of the state's most talented and creative barkeeps are creating cocktail pairings for each course, and the event runs at the spectacular Skyline at Waterplace in downtown Providence.
 --The Truck Stop event, which benefits the Rhode Island Community Food Bank, will be held at the food bank's massive lot in Providence with 22 mobile food vendors and a trio of local beverage greats. The showcase features not just terrific food but the local musical group Superchief Trio. Trucks include great food from places with equally tasty names like Citizen Win, Friskie Fries, Noble Knots and Portu-Galo.
 --The Grand Tasting features samplings of more than 60 locally produced wine, beer and spirits and local food artisans, such as Jonathan Edwards Winery, Narragansett Creamery, Seven Stars Bakery, Revival Brewing Company and Yacht Club Soda.
Eat, drink and be very merry at an event celebrating all that has elevated Rhode Island to national culinary renown.