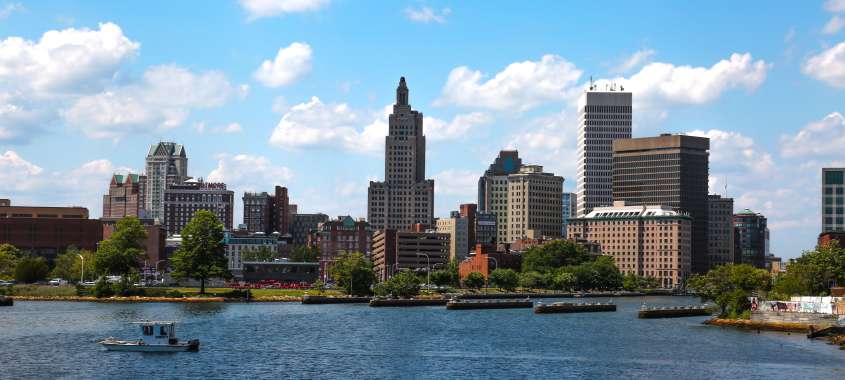 Providence, Rhode Island is a true hidden gem. Considered the Creativity Capital, Providence has many forms of creativity happening right in the heart of the city. From getting to Providence, finding the perfect place to stay, fabulous things to do, shopping, the arts, all sorts of dining experiences and so much more, it really is a perfect destination for everyone.
Getting there…Providence is right off the highway for those road-trippers. If you can take a train, the Acela Express and Northeast Regional Amtrak stop is just a short walk from all the action. If you are flying, Providence not only has great regional flights, but has greatly expanded its international flights.
Accommodations…The city itself is full of all types of hotels that can meet any traveler's needs and price points. From luxury at the Hotel Providence to hip and cool at the Dean (below), you'll love your options.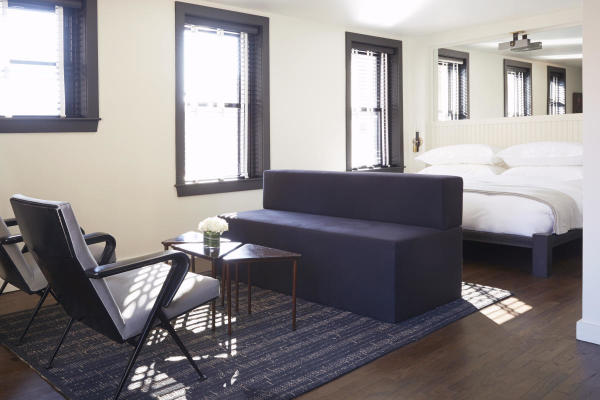 I actually lived in Rhode Island in South County from 1994 to 1998 and I worked in Providence. My twins were even born in Rhode Island! Alas, I had not been back since 1998, except once to visit friends. So, this trip was a WOW moment. Who knew? I spend a lot of time in Massachusetts and was kicking myself for not venturing down to explore Rhode Island for 20 years.
There is so much more to explore in this Fun-Sized State that I can't wait to get to, but let's start with these Fabulous Finds in Providence Rhode Island.
Rhode Island Red Food Tours
Rhode Island Red Food Tours is truly a great starting point for a taste of Rhode Island not only for food, but also a bit of history, art, and culture. The three hour tour is an amazing value at $69 per person or $84 with alcohol as well (which I highly recommend).
There are the Providence classics that you must enjoy, but the walkable tour highlights some of the locals' favorites. Along the way, you will visit eight of the favorites that truly show the diversity of the city and features classics like clam chowder at Dune Brothers to the best doughnuts around. Really, I stopped on my way out of town and picked up a half dozen of Knead Doughnuts to bring home for Sunday dinner dessert.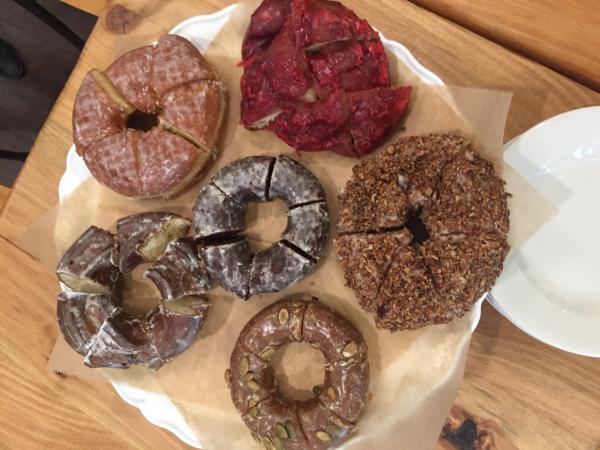 You will stop at Yoleni's, a new Greek Restaurant and Market, that imports hard-to-find Greek products and has amazing yogurt. I stopped in two other times for a snack and will be taking advantage of the gift voucher (use code organic03) I found for $10 off an order of $49.95 or more. The last stop on the tour is Gracie's, a true Rhode Island gem, that you can read about below. And this is a food tour you must come hungry for!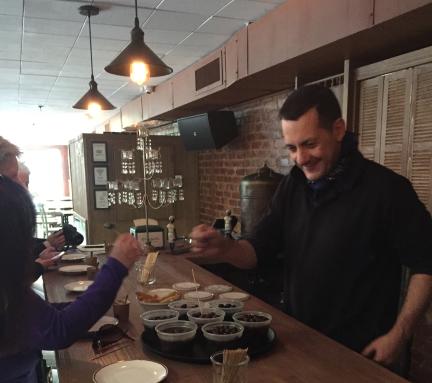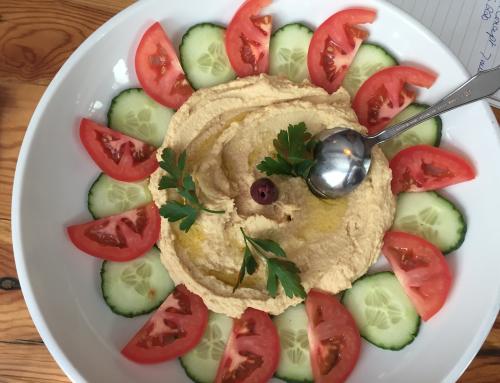 Backyard Food Company
This is a local find that I learned about through a friend, who just happens to be the wife of the Matt of Backyard Food Company. When you hear the name Backyard Food Company, the first natural question is, "Is this really from a backyard?" Well, yes it is!
After Matt's battle with cancer, he was determined to start his garden. The garden grew and his now partner, Louby, decided they needed a product to showcase. This brings us to Hope & Main, which is all I heard about throughout my time in Providence.
Hope & Main is a true full-service culinary business incubator that has helped launch many Rhode Island brands. Matt and Louby took advantage of all that and today have an award-winning brand with amazing food. I was lucky enough to discover the product in a local shop on Hope Street called Olive del Mondo and brought home the Sweet Tomato Jam. It's great to serve when friends come over as part of a cheese plate, but it is equally divine on scrambled eggs for breakfast. I am looking forward to trying some of the other products.
Shopping
Downtown – Downtown is full of shopping gems from local shops, to museum shops, vintage shops, and delicious food finds to take home. I would leave at least a half day to explore the shopping areas of downtown. I started with a tea and bagel at Small Point Cafe to plan my time. Then, headed over to the oldest shopping mall in the country, Arcade, which was full of vintage shops, restaurants, and local delights. Next, I spent some time on Westminster Street. There is truly something for everyone there. My favorite part was just wandering in and out of shops.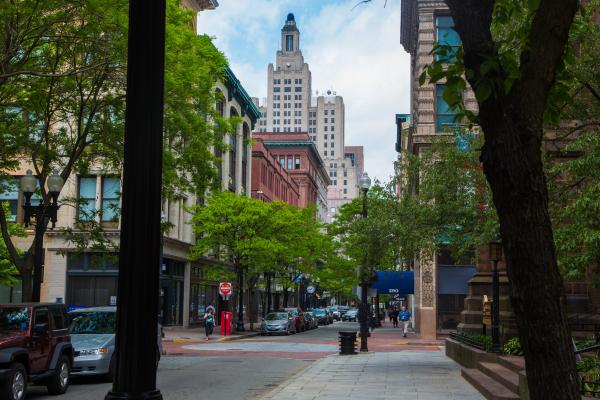 Hope Street – The Hope Street/Summit Providence area was one of my favorites for shopping. My jam was from Stock Culinary Goods. They had so many local Rhode Island pieces. Put me in a kitchen store and watch out… I did fail to walk out with 3 items I wanted to buy so badly, because I was distracted by Fountain and Company Pop-Up ice-cream shop. I will need to find a way to go back and buy what I wanted in there. Rhody Craft and Frog & Todd are must shop-ats as well. My other great find at Hope Street was my Backyard Food Company from above.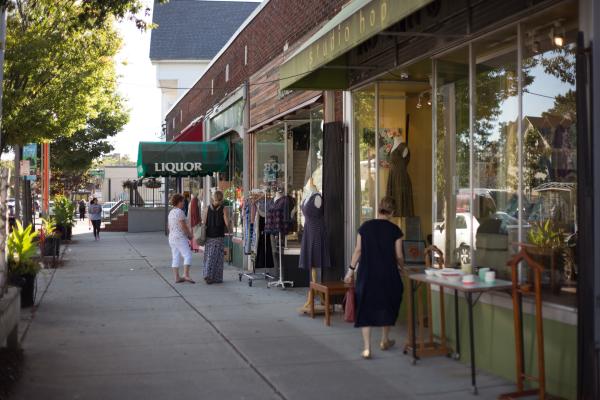 Wayland Square – Located a short walk or drive from downtown, the Wayland Square is a great little shopping area for all sorts of clothing, home goods, and so much more. The women's clothing stores could have kept my credit card busy for hours. The area itself looks and feels like a quaint New England town, which it is. Two of my favorites were the Providence Perfume shop where you can make your own scent and Books on the Square. I am a big sucker for a good book store. I also enjoyed a wonderful lunch at the newly opened Mercer's Deli. The matzo ball soup and a half of a reuben was so delicious and so big!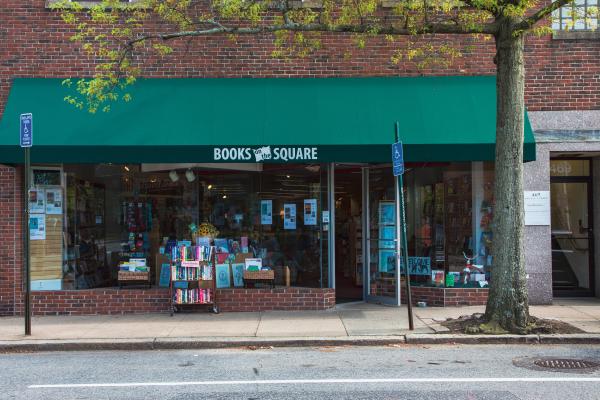 Tasting Menus
There are countless wonderful restaurants in Providence and we will share all of these with you. They range from pop-up restaurants and food stands to sit down restaurants and white table cloth dining.
Providence is the home of Johnson and Wales University, a leading culinary school developing some of the best chefs in the world. Beyond the training, the food in Providence is a passion. After days of listening to the people of Providence, the restaurant owners, and those who work in the food industry, I was so touched by their passion.
The food in Providence is more than about what is on your plate. Tamara, the owner of the new Apponaug Brewery, summed it all up for me. She said for her there are three parts in a triangle of having a restaurant/brewery…"You are bringing together the food, the beer and the community."…She went on to say that the community is everyone who comes in the door; from those who work there to the customers. She believes that the first thing anyone who comes in the door sees is someone's eyes and a smile. It was true not just here, but everywhere we went in Providence. They are not just greeting you, they are inviting you into their city.
We had the pleasure of enjoying so many meals in Providence, but I wanted to highlight for now a few tasting menus.
Gracie's – Truly a gem that shines well above all their awards. Gracie's is about the people and not just those that work there. It's about those that make the plates, grow the food, and so much more. I cannot explain it better than their mission…"To enhance and educate the palate with the freshest ingredients and flavors. We strive to surprise and excite each guest with personal care and service." And they live up to this in many ways.
We enjoyed the tasting menu with wine pairings. I knew the night was going to be good when the first wine was one of my favorites. I have actually seen these grapes growing in Santorini. How did Alan know? The dinner was served with the finest of service, yet you felt as though you were sitting in a friend's kitchen. Each bite had texture, flavors, and layers of excitement. You can see the joy in all who work there (and have been there for years) for the food and service. They all rave it is because of the owners, Ellen and Chef Matthew, plus sweet Melissa, the Executive Pastry Chef.
Sarto – The second tasting menu we enjoyed was the "Family meal" at Sarto (which officially opens on November 8, 2018). We snuck in on Friends and Family night and enjoyed the Family Meal. Sarto is a collection of 21 regions, the 20 of Italy and the 21st being Rhode Island. The menu reflects the season and what is fresh.
Chef/Owner Robert Angreozzi says, "What grows together goes together" and that is how he designs his menu. From the snacks and salumi to the shared plates, I would have to say the Gem Salad with the smoked bluefish and puffed grains was one of my favorites. We must have tried all the pasta dishes and one was better than the next. But my highlight was the Ravioli Doppio. And nothing is better than a local entree…the Sardinian Seafood Stew was delicious. I literally drank the last bits from the bowl.
Breweries and Cocktails
Breweries are popping up left and right in Providence and each has their own twist on what they are doing. For smaller breweries, there is The Guild where they can use the cooperative space and they even have their own tasting room. The Apponaug Brewery, which I mentioned above, has absolutely the best chicken and waffles I have ever had! The other brewery that I stopped at twice was the Malted Barley. Beyond the beer, they have amazing housemade pretzels with your choice of butters or dipping sauces.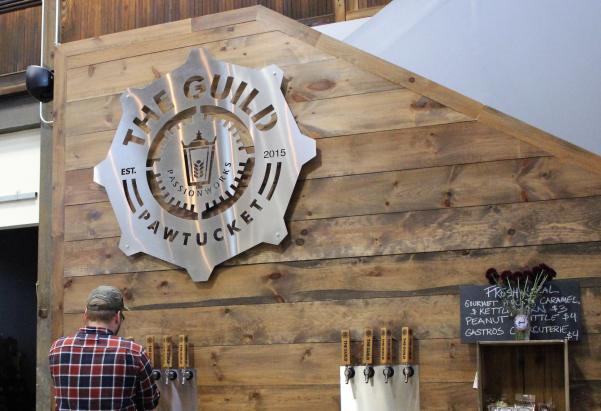 For cocktails, I highly suggest reserving a table at Rooftop at the Providence G. It is a fabulous rooftop bar with both indoor and outdoor seating. The outdoor seating areas each have a fire pit and blankets to keep you warm if needed. In the summer, the entire roof on the indoor area opens as well. The cocktails are fresh and delicious and in addition, they have a wonderful food menu. We thoroughly enjoyed the wonderful charcuterie plate.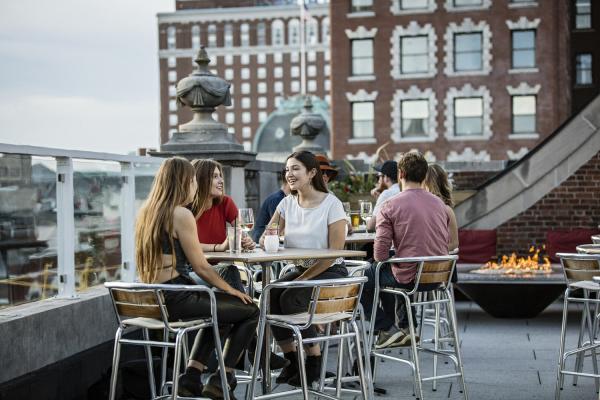 Hotel Providence
There are all sorts of hotels in Providence for every type of traveler, but I really enjoyed the Hotel Providence. The building is full of history and the rooms are big, comfy, and inviting. It is the only Four Diamond AAA boutique hotel in Providence and brings in New England charm along with a little bit of Europe.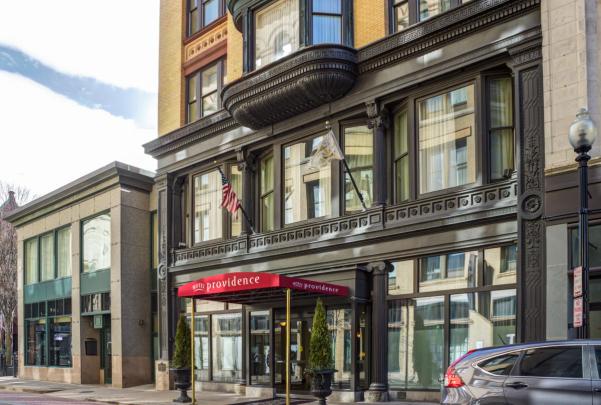 The location is the best. It's right in the heart of everything which makes your stay very walkable. The room was so inviting and the bed makes it hard to get up in the morning. I am a sucker for great amenities like the best sheets. My room had three beautiful windows in the main room with nice views of the city. The Hotel has under 100 rooms and you really get the personal feeling.
When are you planning your trip to Providence?