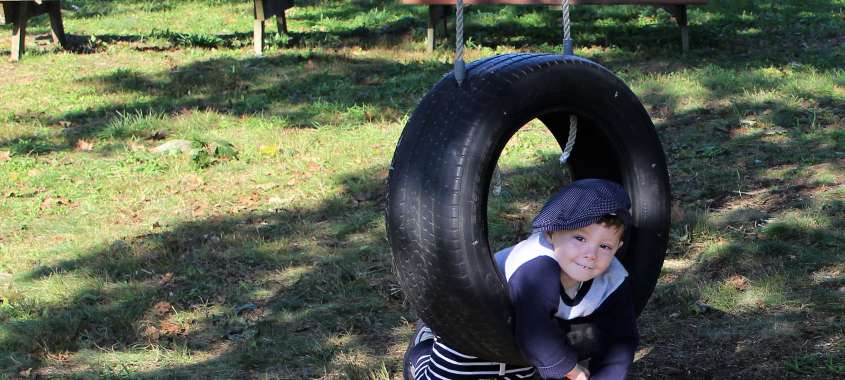 Rhode Island is an idyllic place to be in the fall, especially for families.  It's not just that the Ocean State becomes a sea of autumnal color as the leaves begin to turn – but also that farms throughout the state offer up terrific events and festivals to celebrate the season.
You can fill your weekends until winter with apple and pumpkin picking, corn mazes, hay rides and all the other wonderful family friendly activities that take place between now and Thanksgiving. 
This weekend, my sister and I took my three-year-old to Clark Farms in Matunuck, where the sign promised "family fun"— and it delivered.  It was a gorgeous fall day and we had a nice, relaxing afternoon walking around in the fresh air, having lunch at the "Clark Canteen" and watching my son run around and try everything Clark Farms has to offer the discerning toddler:
Corn Maze, Sand Box, Room to Roam
The Corn Maze is, well, aMAZEing. This year's corn maze theme is The Pollinators and it includes an educational scavenger hunt - and there's a smartphone app you can download to help navigate the nearly two miles of trails. My son never met a sandbox he didn't love, so that was a hit as was the open space to run from one activity to another.
Race Track, Canteen & Apple Juice Apple Cups
The race track is super cute and there were kids of all ages, as well as adults peddling around it.  The canteen offers hotdogs, french fries, corn chowder, caramel apples, water, soft drinks and more. We had a nice little lunch at a picnic table before continuing on to more activities.  Oh, the canteen also offers apple juice in apple shaped juice cups which my son thought was pretty awesome. 
Panning for Treasure & Hay Ride
I didn't expect that there would be any kind of mining activity, but the Mountain Mine was really cute.  You have to purchase a mining bucket for $5 (small) or $10 (large) to do it, and then you dump out your sand into a sifter at the Maze Mountain Mine and see what buried treasure you get to bring home! The hayride was fun and relaxing, providing a nice tour of the farm, which is decorated with this year's Pollinators theme.
Bee Line Zip Ride, Corn Pit & Animals
The Bee Line zipline ride got the biggest smile out of my son, who is a bit of a daredevil.  It's not too high or too fast to be scary to younger children and there's farm staff on hand to make sure everyone can enjoy the ride safely.  The corn pit was a big hit with all of the children there, with everyone digging, pouring and rolling in the corn kernals (some of which managed to made it home with us) and the donkeys we got to feed at the petting zoo were very gentle and sweet.
Tire Swing, Mountain Slide & Corn Cannon
The tire swing was in a nice, shady clearing in the corn, surrounded by picnic tables.  The kids ride down the Mountain Slide on burlap sacks and come flying out a tunnel at the bottom of the mountain. The short line moved quickly, even with counting to fifteen between riders, as instructed. The corn cannon was loud and funny and my sister (apparently an expert marksman in another life) was the only one of us to hit the target.  Even though I missed by a mile on the corn cannon, it was an all-around great day!
Definitely check out Clark's for some great fall family fun. And if you time it right, like I did, your little ones will be fast asleep before you even leave the parking lot!
Admission is $12.50 per person and covers everything except the canteen, mining buckets and animal food for the petting zoo. You can also enjoy flashlight nights at Clark's Farm and every Saturday from October 6th - 27th they have s'mores, hot cider and hot chocolate by campfire (weather permitting).  
For more information on Rhode Island farms and fall activities, head to our Farms & Gardens and Events pages.