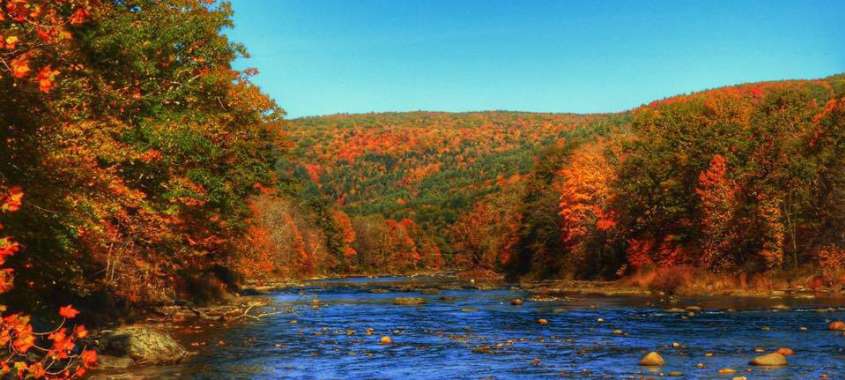 The literal translation for the word kayak is "hunter's boat." As in, hunting for gorgeous fall vistas from the perspective of Rhode Island's rivers, ponds and ocean shoreline. The Ocean State offers adventurous open-ocean kayaking or peaceful waterways where you can meander along under a canopy of changing leaves. If you have your own kayaks, you're good to go; otherwise call ahead to make sure these outfitters aren't operating under limited seasonal hours, as they may do as the weather gets colder.                                             
Block Island
When the weather turns cooler, Block Island is a spectacular place to enjoy autumn's colorful show.  Explore the Great Salt Pond, a jewel teeming with all kinds of ocean life, from tiny crabs and fish to a dozen types of seaweed. The folks at Fort Island Kayaks (part of Block Island Fishworks) offer stable and beginner-friendly sit-on-top kayaks, single and tandem kayaks and even fishing kayaks and stand-up paddleboards to rent by the hour (starting at $25 an hour).  Kayak fishing tours are offered for the more experienced adventurers. 40 Ocean Ave., Block Island, 401-466-5392, www.sandypointco.com
South County
For fifteen or more miles you can float along the Wood River in Exeter. These is some of the most biologically diverse shores in Rhode Island, where you might see painted turtles and blue herons and beavers and muskrats. Two dilapidated mills on the shore provide eerie but interesting scenery as well. This trip is for experts — besides the length, several dams can be challenging to newbees. Check in with the folks as Queens River Kayak, 21 Glen Rock Rd., West Kingston, 401-783-4054, queensriverkayaks.com to get you outfitted.
Woonasquatucket River
Providence's rivers and canals may now be known for their Venetian gondolas and WaterFire bonfires, but these are the waters that helped the city grow in industry throughout generations. Paddle through Waterplace Park, which is the epicenter of festivities during WaterFire – truly a spectacular experience. Or head north, where the calm waters narrow and widen to expose an urban landscape from a unique vantagepoint. Start with Providence Kayak, 10 Memorial Blvd., Providence, 401-829-1769, providencekayak.com.
Ocean Kayaking
If you don't mind a few waves and the ebb and flow of the tide, sea kayaking could be for you. Stick close to shore or venture further into calmer, wide open waters. The Kayak Centre of Rhode Island can give you lessons or take you on open-water tours you might not feel comfortable doing yourself, such as to lighthouses and for seal watching. 70 Brown St. Wickford, RI, 02852 401-295-4400 www.kayakcentre.com