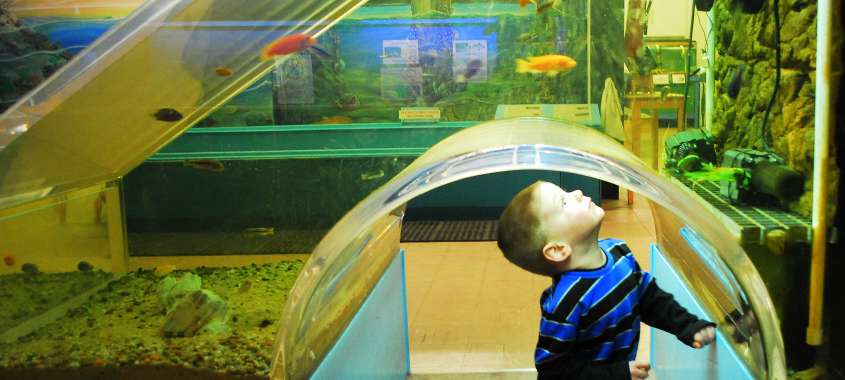 Looking for fun and educational ways to spend your free winter days with the kids? Whether it is school vacation or a holiday weekend, Rhode Island has no shortage of places for families to take the little ones, burn off some big-time energy and just have a blast making memories.
Red fish, blue fish, funny fish…and lobsters, crabs, starfish, turtles, snakes and octopus? You get the idea. This is the Biomes Marine Biology Center in North Kingstown, New England's only private marine education facility and the most hands-on aquarium in the area, providing interactive marine biology programs for schools and families since 1989.
And one heck of a lot of fun. Spend five laughing minutes under things like a small clear-Plexiglas tunnel as tiny, beautifully colored fish swim around you to the squealing delight of children, and fun will be defined in all its giggling glory. There are several places for kids to get their hands wet petting sharks (very small ones!), pits to dig for natural treasures and one favorite, an enclosure with ambling, lovable turtles very slowly making their way from one end to the other, not minding if kids pat them on the way by.
Take a hike with the kids on easy trails at the 28-acre Claire D. McIntosh Wildlife Refuge in Bristol that's part of the Audubon Society of Rhode Island. One of the best parts is a quarter-mile boardwalk that winds through fresh and saltwater marshes to majestic views of Narragansett Bay. The refuge is along the East Bay Bike Path, allowing bikers and walkers access to the refuge's natural beauty.
You can opt for a four-legged hike at C and L Stables at historic Goddard Park in Warwick, a venue with 18 miles of scenic trails overlooking East Greenwich Bay. The stables offer winter rides as well (reservations necessary on winter weekdays), and has an interesting history: Lee and Toni are the mother-daughter team that run the place, Lee having trained for the Providence Police Mounted Command unit and Toni riding and owning her own horses since she was four. C and L is a very family oriented place geared for all levels, including the most timid beginner.
Happy trails!