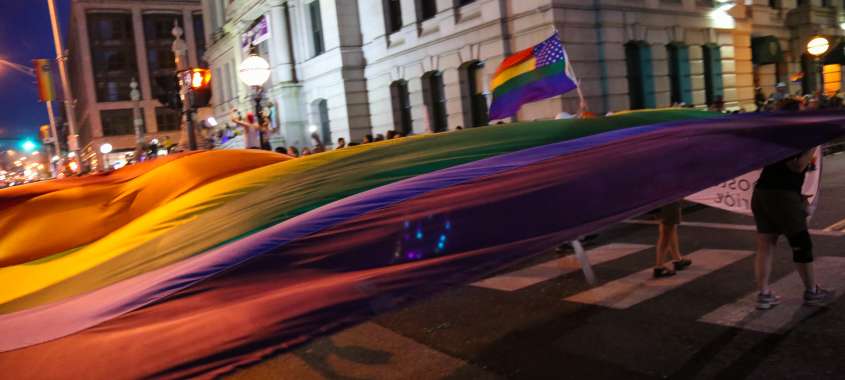 June is Pride month and Rhode Island is lucky enough to host one of the biggest and best and it is happening this weekend. The 43rd Annual PrideFest & Illuminated Night Parade is June 16, 2018, in downtown Providence. PrideFest begins at noon and runs until 7:00 pm and is filled with great entertainment, food trucks, family fun and so much more.
The Illuminated Night Parade steps off at 8:15 pm in downtown Providence and is a definite must-see. The parade itself is one of the only nighttime parades in the country -  and the only one of its kind in New England, according to Jared Markowitz, Rhode Island Pride Parade Captain. In fact, just this month, National Geographic named Rhode Island Pride as one of the top 7 best in the world!
Visit Rhode Island chatted with Jared for a Q&A previewing this year's PrideFest and parade.
The RI Pride parade has grown over the past few years and is such a great event to have in our state. What's new this year?  
With nearly 80 contingents, this will be the longest and largest LGBTQIA+ Parade in Rhode Island history. We will be #LouderAndProuder than ever!  We are thrilled to have as our parade announcer Monet X Change of RuPaul's Drag Race, along with Monique Heart as one of our judges!  Our PrideFest, on South Water Street along the Providence River, will also be the largest LGBTQIA+ festival in the history of this state. We have over 250 booths… and a Ferris wheel!
The Illuminated Night Parade is so beautiful and has received so many accolades. What do you think makes it so special? And what is your favorite part of the parade?
We are New England's first and only Illuminated Night Pride Parade, and we were just declared one of the BEST pride parades in the WORLD by National Geographic. Anyone who attends knows that it is an extremely special experience. It's both a celebration of ourselves and our community, and a declaration - a celebratory form of a protest, even - where we say that we're here, we're queer, and we aren't going anywhere. We'll even parade down the street about it!
What's your favorite spot to view the parade so you can see the lights in full effect?
The absolute best spot to view the parade is at PPAC. For visitors, that would be the Providence Performing Arts Center. (But say "P-PAC" to act like you're a local!)  That's where Monet X Change and Monique Heart from RuPaul's Drag Race will be, and it's also where our judges will be reviewing each contingent while they do their "bit."
How would you explain the parade to someone who has never attended before?
You have to see it to believe it! It's an indescribable experience.
For a first-time visitor, what are some other things you must see or do during PrideFest?
The Ferris wheel!   We have face painters, a resting area for dogs, artists, non-profits, the Hasbro Kid's Zone, live entertainment, and our featured performers from Ru Paul's Drag Race at 4:30 PM, including Monet X Change, Monique Heart, and Laila McQueen!  It will be hosted by EGO girl Kira Stone.
The purpose of Rhode Island Pride is to promote a positive and safe environment to celebrate the diversity of the LGBTQIA+ community. Participants must be respectful and positive to all, regardless of sexual orientation, gender identity/expression, race, color, ethnicity, (dis)ability, (ir)religion, culture, age, or political affiliation.
Helpful tools:
Entertainment schedule
HAPPY PRIDE!!!