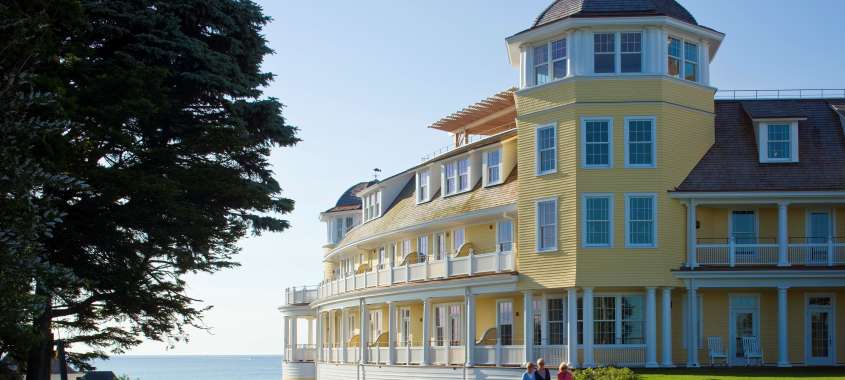 South County in Rhode Island (official known as Washington County, South County is what the locals call it) is more of a state of mind than a place, and rather eclectic, with an alpaca farm in the hills, wooded walks on bucolic land, tangoing in historic towers, luxuriating in gorgeous Five Diamond digs, and funky rural retail with a bohemian vibe. There are a million reasons to love South County. Here are just five.
Walk through a place of birds, ancient rock formations and Revolutionary War-era carriage roads at Woodland Wildlife Refuge in Coventry, one of the largest holdings of the Rhode Island Audubon Society at 860 acres. The land abounds with wildlife and songbirds, a walk appealing to all ages, with some easily handled by parents with youngsters, while other hilly and rocky trails demand a little more experience and stamina. Stone cairns of indeterminate origin abound, as do stone walls, rock-wall pens and foundations from colonial structures. A sawmill here was built and owned by African Americans in the late 1700s, and the most prominent landmark is the Isaac Brown House, a center-chimney Colonial on the National Register of Historic Places.
It takes two to tango, but at The Towers in Narragansett, more usually show up for the Wednesday night tango classes. Learning to tango or rumba is fun on its own, all the more in The Towers, an iconic Narragansett structure that was part of a casino in the Gay Nineties, one of America's hottest resorts at the time with a ballroom famous for hosing massive dances. The casino was destroyed by fire in 1900, leaving just the towers, hardy structures that the Hurricane of 1938 could not bring down. The town owns it now, and it is home to lectures, music, poetry readings and those popular tango lessons in a wide-open space with some of the most spectacular ocean views in all of South County.
Some of the best ocean views are at Ocean House, in the Watch Hill section of Westerly in far southern Rhode Island, a place where celebrity spotting is easy: Taylor Swift's long had a seaside manse here, right next to Ocean House. The hotel is stunning and posh, painted in historic and tasteful yellow tones and is the village's towering iconic structure. The original built in 1868 was there for generations before going dark and dormant, eventually being razed and replaced. The new Ocean House opened in 2012 with more than 5,000 artifacts from the original recycled into the new, including furniture, window frames, doorways, moldings, front desk and a terrific old wooden elevator. How posh is posh? Among it many awards, Ocean House racked up a rare 15-Star rating by Forbes Travel guide 2015 by dint of Five-Star ratings each for the hotel, its OH! Spa, and Seasons restaurant.
If you like off-the-wall shopping that's off-the-beaten-path and so worth it, check out The Fantastic Umbrella Factory in Charlestown, a sprawling collection of funky businesses bearing bric-a-brac in a 19th-century farmyard shopping paradise and international bazaar. This Rhode Island retail legend has been a woodsy shopping mainstay since 1968. What can you get in the myriad of stores here that are as much part of the bucolic backdrop as the goats, emus, chickens and ducks milling about and delighting the kids? Artisan jewelry, clothing, musical instrument, art, blown glass, vintage eyeglass frames, organic soy candles, and funky stuff from the '60s through the '90s.
If you want to pay your respects to our military who've fought our nation's wars, you may consider a long, meditative walk at  the Rhode Island Veterans Memorial Cemetery in Exeter, a beautifully landscaped 268-acre site honoring the state's veterans with 31 monuments and memorials to veterans of wars dedicated to veterans of specific wars and conflicts. They include the World War II Memorial Monument, the Memorial for Black Veterans, the Italian-American War Vets Monument, and the Medal of Honor Memorial. It is one of the most beautiful spots in the state dedicated to the memory of Rhode Island's finest and bravest.
For more of what the area has to offer, explore our South County page filled with things to do and see, or check out the South County Tourism Council. Even better, come on down and find your own reasons to love South County.