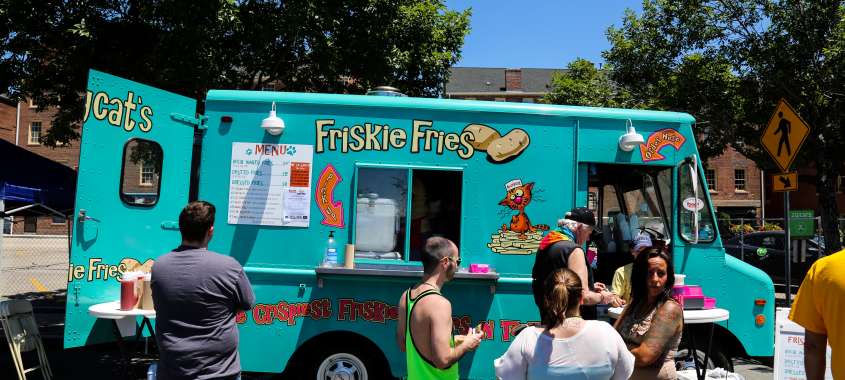 Across the state, out-of-this-world food is being served up out of food trucks. It's trendy. It's smart. It brings communities together in ways they haven't in the past. But the title "food truck" doesn't seem to do justice to the impressive, inventive, and downright delicious things being dished out in record numbers. These aren't your average food trucks. These are how the new generation of creative culinarians are getting you to try their creations in an un-pretentious setting. May I propose a new descriptor of these rolling restaurants: CUISINE MACHINES. Trademark pending.
Whatever you want to call them, they're in. And luckily for all of us, they're everywhere. Rhode Island has fully embraced the food truck frenzy, and PVD Food Truck Events is behind a lot of these gastro gatherings, happening all summer long.
Food Truck Friday at Roger Williams Park's Carousel Village is the perfect way to wrap up your week, because, let's face it, who wants to go home and cook on a Friday night? With a rotating line-up of local grub masters bringing you everything you never knew you needed, and usually some form of live music, it's a great place to dine and unwind and kick off your weekend. Food Truck Friday runs every week from 5:00 – 8:30 pm. Friday, August 10th will have extended hours until 9:30 pm in celebration of the Roger Williams Park Pops with the RI Philharmonic Orchestra.
This Thursday, August 2, check out Warwick Food Truck Night. Tucked away in the Norwood neighborhood, the normally quiet area is transformed into a block party complete with good food, good drinks, courtesy of Open Season, Gooseneck Vineyards, and McLaughlin & Moran, Inc., and live entertainment in the center of it all. Bring a blanket or chair and grab a spot by the gazebo, make some new neighborhood friends, and indulge in the sweet and savory options brought to you by a dozen different options.
Chase Farm in Lincoln is a beautiful, wide-open landscape, and the perfect spot in northern Rhode Island to satisfy your food truck craving. Food Truck Concert Nights has two dates coming up in August featuring performances from local bands, so grab a friend and make your way from truck to truck to craft your ultimate summer concert smorgasbord.
Food Truck Night at Sons of Liberty in South Kingstown is the ultimate combination of local libations and awesome food. The distillery and brewhouse was recently awarded the title "American Craft Producer of the Year" by Whisky Magazine. Families are welcome, but the tasting room is reserved for the 21+ crowd. No kids in tow? Enjoy your meal in the tasting room, with an option to purchase whiskey flights, beer, and craft cocktails.
Gone are the days of shying away from food served out of a truck. The quality and variety of what the Rhode Island food truck scene produces are fantastic; there's something to please every palette! Check out the other events hosted by PVD Food Truck Events for a location near you, and tag us at #RhodeIsland to share your drool-worthy foodie photos.