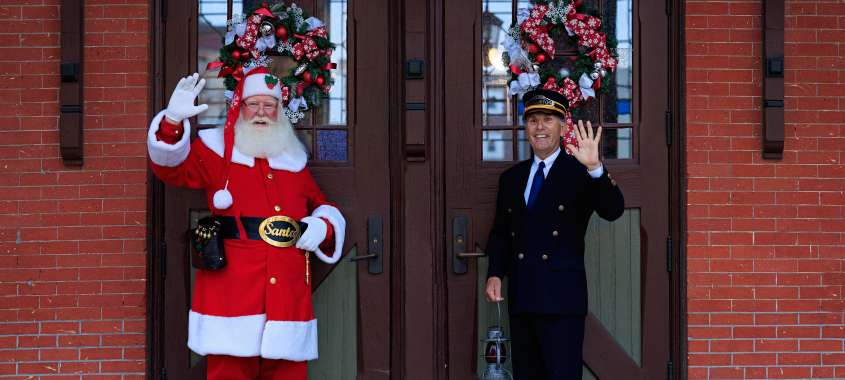 It's hard to tell who's the biggest kid in the old Woonsocket Train Depot before the Blackstone Valley Polar Express Train leaves the station, the actual children eager for the fun to begin or the grown man pumping up their already off-the-charts level of excitement.
"We're almost ready to go!" yells Bob Billington, aka the Conductor on the Polar Express for the past 18 years. "I promise you this will be the best two hours of the year!"
He does this with a beaming smile on his face amidst all things Christmas in the depot, including elves firing confetti cannons into the air and a giant "PE" emblazoned wreath hanging from the historic building's ceiling. Bob, also the president of the Blackstone Valley Tourism Council, says being The Conductor now brings him the same joy as it did 18 years ago.
"It never gets old," he smiles.
Our own joy begins as we climb aboard our train, dubbed Cupid, with my daughter and grandson, who is just shy of two. I've never seen his eyes grow wider with rapt fascination as they do on this train. We set off on our magical ride, chugging through a picture-perfect northern Rhode Island landscape freshly christened with a glistening blanket of the season's first snow.
The trip is an explosion of nonstop fun and energy, generated from the costumed cast of elves, cooks and other holiday helpers who bring the book to life, dancing and singing up and down the aisles in a constant flow of Christmas spirit. It is picked up by and amplified by the children, who dance and sing right along with them. The Conductor goes from car to car, punching each child's Golden Ticket, and then there is a reading of the book, as well as sing-along tunes, the gift of a hot chocolate filled travel mug for each participant, coloring book, cookies and a silver sleigh bell hand delivered by Santa himself, whose appearance draws the biggest cheers from the kids.
This Polar Express, based on the hit children's book by the same name and written by Rhode Island native Chris Van Allsburg, is the longest-running ride in the country. When it first began, it was just two trips run on one day. Now at more than 50 rides over a month and a half, the Blackstone Valley Polar Express ride draws nearly 19,000 passengers from around the globe, the dominant portion of which are surely the happiest kids you'll ever see.
Which includes Bob Billington.
"It's all about them," The Conductor beams, as children run around the depot. "They love it."