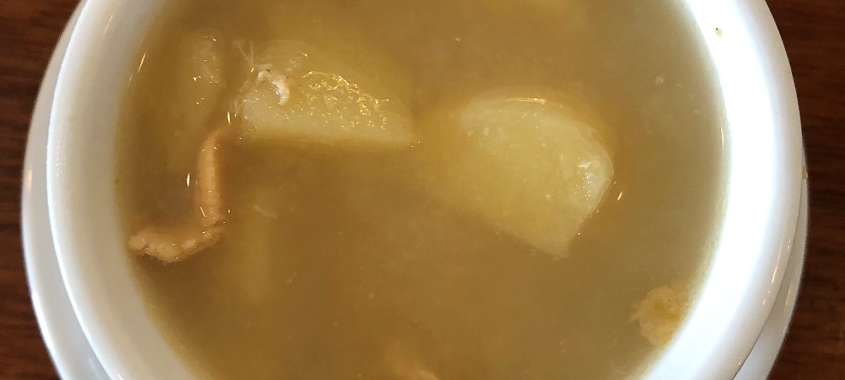 Happy National Clam Chowder Day Everyone!
Visit Rhode Island wanted to do something special to celebrate this auspicious occasion, so we reached out to Kevin Durfee at the beloved Rhode Island icon, George's of Galilee for help.  George's has been around since 1948, and is known (and loved) for it's delicious clam cakes and chowder, as well as other signature dishes including fish-n-chips, lobster rolls, fried whole belly clams, stuffies and more. However, it turns out that George's relationship with chowder goes back much further than 1948...
First, you must understand that what George's of Galilee serves up is not what most people think of when they think of chowder.  Theirs is not the thick, creamy, New England-style Clam Chowder.  Instead, George's creates a clear broth chowder that has the consistency of chicken soup. According to Kevin, George's was one of the first - if not THE first - places to make chowder that way. In fact, Kevin's ancestor, Tom Durfee, who arrived in Portsmouth, RI in 1660, came with the chowder recipe and opened up a tavern in Portsmouth in 1663. The chowder at George's became so popular, it became it's own category of chowder: Rhode Island Clam Chowder.
Considering the long, long history that George's has with chowder, you won't be surprised to learn that they take their chowder very seriously.  But, you might be surprised that Kevin has generously offered to share their award-winning Rhode Island Clam Chowder recipe with you, in honor of National Clam Chowder Day!
First, some "Chowder 101" from Kevin: "The reason why we prefer our clear broth chowder to the NE kind is that when you start any soup, you start with the basic ingredients, the stock, the liquid, not the thickeners like cream, roux, corn starch and other thickeners.  We feel these are not only unhealthy but obscure the taste of the main ingredient, fresh quahogs.  Our chowder is also technically not a clam chowder but a Quahog chowder, one of the only of its kind.  What makes a good chowder is not the pork or bacon, the cream, the butter and all the things people throw into a recipe to make anything taste good, but the main ingredient, the clams (or quahogs in our case).  You can put salt, butter, cream and bacon on a piece of cardboard and make it taste good."  
And now, here is the recipe for George's of Galilee's Rhode Island Clam Chowder (minus a couple of top-secret proprietary additions):
1/2 Gallon minced quahogs
5 Pounds Potatoes
1/2 Pound Spanish onions
1 Ounce Salt
2 Pieces salt pork
1 Teaspoon white pepper
1 1/2 Gallon water
The ingredient list is small, but it's all about how the ingredients go together: 
Start with an iron skillet and brown the salt pork on the stove for 5 minutes, then add the chopped onions and cook for another 5 minutes until onions become translucent but do not brown. 
Cut potatoes into ½ inch cubes or any size you like.
Add salt pork and onions with all other ingredients into large chowder pot and bring to a boil. 
Reduce heat to medium/low and cook for about an hour or until potatoes are soft.
Kevin advises that the taste is even better the next day, once the flavors have had more time to infuse into the broth.
And once again, the mouth-watering finished product: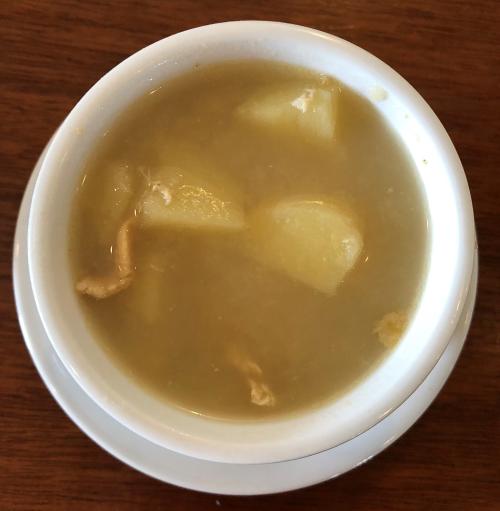 Mmmm, Mmmmm, Mmmmmm! Are you hungry yet? Well, head to George's of Galilee and get some chowder - or, make a tasty batch at home. 
Happy National Clam Chowder Day and thank you to Kevin Durfee and George's of Galilee for sharing their recipe and celebrating with us!