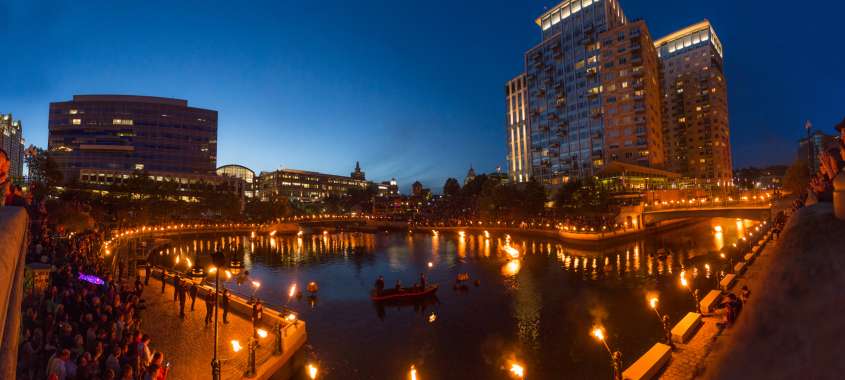 It's time to mark your calendars, because May 23rd is the first WaterFire Providence event of the spring! Whether your a total WaterFire groupie, or are planning to attend your first one this year, we've got answers to all your questions to help you maximize your WaterFire experience.
1. What is WaterFire?
Glad you asked! WaterFire Providence is an award-winning outdoor sculpture installation and public art event, created by local artist Barnaby Evans. The event features more than 80 crackling bonfires alight on the rivers of Providence. The sensory effect is the scent of aromatic wood smoke, atmospheric music in the air, along with firelight flickering on the water and bridges that cross the rivers. It is open to the public and free to attend.
2. What are the WaterFire dates for the season?
As mentioned above, the first event is on May 23rd. For the rest of the schedule head to our WaterFire page, you can also download a printable schedule.
3. Is there food & drink available at the event?
Yes! There are food and drink vendors throughout the event area. Aside from the vendors and food trucks, there are many terrific restaurants in proximity to WaterFire.
4. Is there parking available for WaterFire?
In addition to on-street metered parking, there are more than 40 parking lots and garages in Downtown Providence, in addition to short-term parking at Providence Place Mall and the Rhode Island State House. For more information about parking for WaterFire, visit waterfire.org.
5. Are there any boat tours available during WaterFire?
Yes! While most people enjoy WaterFire on foot, strolling along the river, you can choose to take in the spectacle from the water as well. La Gondola offers the opportunity for a private trip down the river amongst the braziers aboard an authentic Venetian gondola. They also provide an ice bucket, glasses and bottle opener, in case you want to BYOB. Providence River Boat Company offers 30 minute tours during WaterFire to give you a first class seat to view the experience. You can bring drinks purchased from onsite vendors or BYOB in a small cooler. 
6. Is WaterFire Handicap Accessible?
WaterFire viewing takes place along the Providence rivers, which were built to be ADA compliant - but crowds can impact accessibility on the walkways, as can the cobblestone surface. There are two vantage points that the WaterFire organization recommends for those who would like to avoid dealing with the crowds: the upper walkway overlooking the Gondola Landing next to Citizens Bank and Memorial Park near the War Memorial Statues. WaterFire also offers the WaterFire Access Boat free for individuals with accessibility issues - but reservations are required. For complete information about accessibility at WaterFire visit waterfire.org.  
7. Where is the best place to view WaterFire?
WaterFire can be viewed while strolling along the paths of WaterPlace Park, from the upper walkway next to Citizens Bank, from Memorial Park, from a boat tour or you can make reservations at Skyline or Jacky's Waterplace Restaurant and dine as you take in the event.
8. Is WaterFire a family-friendly event?
Absolutely! WaterFire is appropriate for and enjoyed by all ages. Keep in mind that it is roughly a half mile from one end of the installation to the other. And in terms of your furry family members, leashed dogs are welcome to join fun, as long as the are safe and comfortable in large crowds (and you bring plastic bags to clean up doggie messes).  
For more information about WaterFire, head to waterfire.org.