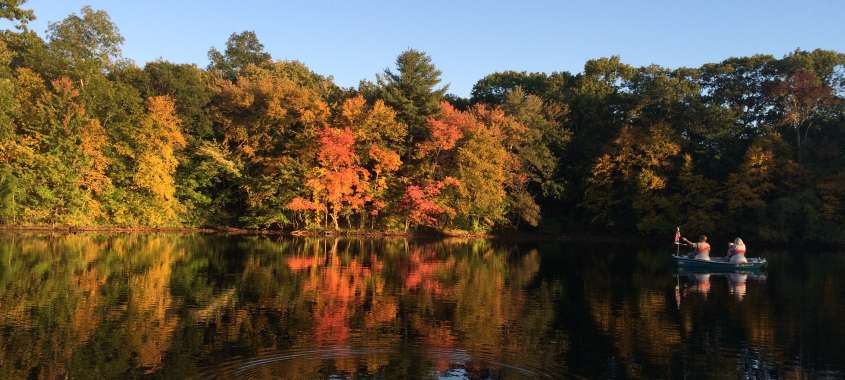 What is the biggest, time-honored, favorite fall pastime in Rhode Island? (besides the Red Sox and the Patriots, of course)  That's right, leaf peeping!  The Ocean State becomes the Foliage State right about now and it is a glorious sight to behold!  Visit Rhode Island checked in with local tourism councils around the state to bring you the top spots, most scenic drives and photo friendliest locations to get your (leaf) peep on this fall! 
Scenic Route 102
Perhaps one of the best trips to take would be along Route 102, which is a fantastic drive that captures some of the best fall foliage from north to south. For information on all of the cool, quirky and iconic places you'll pass on Route 102, check out Rhode Trip: Scenic Route 102 Part 1, Part 2, Part 3, Part 4.
Blackstone Valley
The Blackstone Valley Tourism Council has given us the prime spots for fantastic foliage in the northern part of the state. Lincoln Woods State Park, with its 627 acres of woods, trails and boulders is stunning this time of year - whether you're hiking, biking or bouldering. Blackstone River State Park, offers riverfront bike paths and walking trails - as well as historical walking tours.  Buck Hill Management Area covers more than two thousand acres comprised of forest, wetlands and marsh as well as wildlife. And the Blackstone River Bikeway/ Blackstone Canal is a great place to take in the fall colors as you peddle along this beautiful, canopied bike path.
Block Island
OK, **SPOILER ALERT** there is no leaf peeping on Block Island.  But, we're including it here because Block Island in fall has its own unique, serene beauty and is absolutely worth the trip. The Block Island Tourism Council describes the island's fall landscape as one featuring soaring cliffs and nature walks among tall grasses, goldenrod and other fall flora.  There is wildlife aplenty as well, including deer, turtles and ducks.  And let's not forget the panoramic ocean views, gorgeous in any season. 
Bristol County
There are some fantastic ways to enjoy the sights of fall in Bristol County. Meander through Colt State Park's 464 acres of manicured lawns, fruit trees, groves and stone walls and bike paths bordering Narragansett Bay. Peddle the East Bay Bike Path as it follows the shore of Narragansett Bay over bridges and past coves and marshes. Or take in the magnificent grounds of the 33-acre Blithewold Mansion, Gardens & Arboretum. You won't be disappointed!
Newport County
Discover Newport recommends Tiverton and Little Compton as excellent leaf peeping destinations, and the leafy canopied Tiverton Four Corners and Little Compton Historical District are especially charming when the leaves turn.  They also recommend the always fantastic Norman Bird Sanctuary and its seven miles of hiking trails as a great place to enjoy the crisp fall air as well as the colors of the season. Rail Explorers lets you take in the sights of autumn by rail bike as you peddle along an old rail corridor underneath vivid foliage. 
Providence
The Providence/Warwick Convention & Visitors Bureau gave us the top spots for leaf peeping in the Capital City. The amazing view of Prospect Terrace is only made more impressive by the addition of fall foliage.  Then, there's Waterplace Park and RiverWalk, which afford beautiful city views, regardless of the season.  And last, but definitely not least, is Roger Williams Park.  Listed on the Register of Historic Places, featuring 435 acres and more than 100 acres of ponds, the beauty of the rolling landscape is a perfect place to get lost for a little while this autumn. 
South County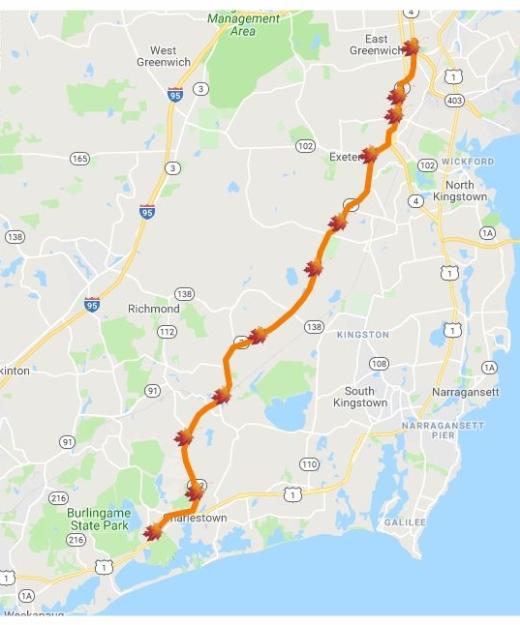 The South County Tourism Council had great information on the best ways to leaf peep in the southern part of the state. The first recommendation being Arcadia Management Area. Measuring in at 14,000 acres and a favorite spot for hikers, bikers and equestrians, this slice of paradise is a great foliage destination and it's home to Stepstone Falls, a lovely waterfall made even prettier by bright fall colors. Also recommended are Purgatory Road in Exeter (beautifully canopied by day and according to legend, possibly cursed) and Ministerial Road in South Kingstown.
Scenic drives not to miss in South County include (1) Shannock Villiage Road, Route 112 to Route 2 where Shannock Road passes through the town of Charlestown and Shannock Village from Route 2 to Route 112. Along the way, you'll see beautiful views of homes, farms, and a 1850 textile mill village. Shannock Village is on the National Register of Historic Places. Next, is (2) Route 1A,  a delightful, scenic diversion from US Route 1. The road meanders along the coves and inlets, affording riders with views of water and the countryside. Accessible from Route 1 at several points in South County. And (3) Route 4 Southbound from East Greenwich through Exeter, Carolina, and Kingston to Charlestown. As you can see on the map, this inland, southbound route takes you through East Greenwich to Route 1 in Charlestown, mostly via Routes 2 and 112 and through some very pretty towns. Route 1 runs parallel to the shore and gives access to several beautiful beaches and a saltwater pond. You pass close by Kingston and University of Rhode Island on Route 138. Nearby Points of Interest include Ninigret National Wildlife Refuge and Trustom Pond National Wildlife Refuge.
Warwick & West Bay
The Warwick Department of Tourism, Culture & Development recommends Warwick's two sensational state parks - and both are brilliant options for enjoying the spectacular fall weather and taking in the dazzling fall scenery. There's Goddard Memorial State Park, which boasts wonderful bridle trails, and Rocky Point State Park, with more than 120 acres of land overlooking the water.    
Rhode Island's Best Fall Foliage Spots
For more things to do this autumn, check out the Rhode to Fall. Happy Leaf Peeping!