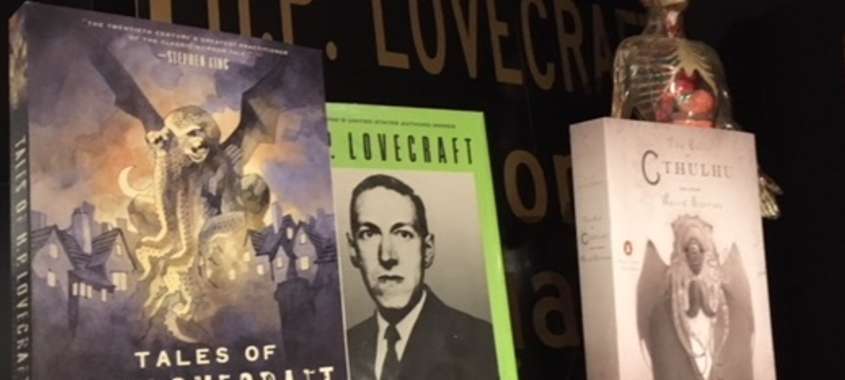 If you're looking for a weird shopping experience, you can get one that is literally that  - Weird, as in the writing genre of the same name – at the Lovecraft Arts & Sciences Council store in the historic Arcade in Providence.
It is a fascinating little shop that sprang to life in 2015 out of the Necronomicon Providence, a biennial convention that explores the works of H.P. Lovecraft and other authors of Weird writing, and artists via talks, panel discussions, readings, and workshops. The store serves as a networking center for scholars, authors, artists and fans of Weird, a blend of science fiction, fantasy and horror, famously created by H.P. Lovecraft, a Providence native who lived from 1890 to 1937, and who, his fans say, was the greatest American author of imaginative fiction since Edgar Allen Poe.
At the shop in the Arcade, you'll find all-things Lovecraft, which of course includes books, but also posters, pins, stickers, art, oddities and ephemera. Fans of Lovecraft, as well as those of other write such as Stephen King, Poe and Guillermo del Toro have come to the store from the world over to browse the stacks of interesting, engaging and weird stuff. The store also hosts a variety of readings with local authors, and most of the artwork in the shop is locally created.
And even if you're not necessarily a fan, it's just a fun place to poke about the shelves and gaze upon some creepily cool stuff, like a Medusa-like sculpture, and the many posters and such bearing Lovecraft's famous quote "I Am Providence," words that are also etched on the author's gravestone in the city's picturesque Swan Point Cemetery.
"Using atmospheric and dense prose, he created a mythology of a bleak and dangerous cosmos, constantly threatening a fragile humanity," the organization's website says of Lovecraft's Weird style. "Most of his more famous stories read like first-hand accounts of dark events tearing at the fabric of reality, usually with the protagonist meeting a dire end."
And it's all in one Weird place in downtown Providence.