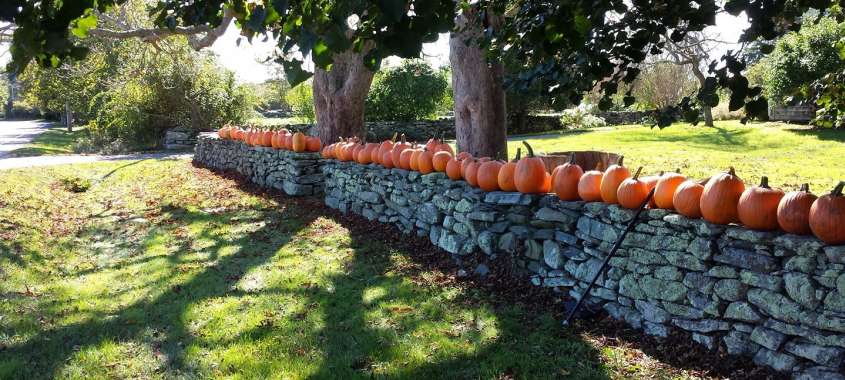 Ever since Linus of the Peanuts Gang took up residence under the stars on Halloween to wait for the arrival of the Great Pumpkin, there's been a certain magic about pumpkin patches. Rhode Island's rural country roads lead to dozens of farms where you can meander through the fields until you find the perfect pumpkin. As always, call first to make confirm availability and hours.
Schartner Farms in South County was founded in 1902. Its farm stand suffered a fire a few years back, but the fields still produce a bevy of delicious year-round fruits and vegetables popular with local chefs. It's a popular family destination for "pick-your-own," whether its blueberries, strawberries or now, pumpkins. Pick on the weekends 11-4:30 through early November, and enjoy a ride on the "Pumkin" Express, which will shuttle you between the patches and the corn maze. Route 2 & 1 Arnold Place, Exeter, 401-294-2044, www.schartnerfarms.com.
If taking the kids pumpkin picking feels a little overwhelming, then Leyden Farm in West Greenwich is the place for you. Founded in 2010, Leyden Farm is a 30-acre farm and vineyard run by Jack and Maureen Leyden. Stash the pumpkins in the car after you pick them and relax on the patio with a bottle of one of the dozen varietals they bottle, along with some of their homemade pie. 160 Plain Meeting House Rd., West Greenwich, 401-392-1133, www.leydenfarm.com. 
If organic is an important factor in choosing produce, including pumpkins that you might turn into pies (or, come on, at least toast those seeds!), you'll appreciate Bella Farms in Coventry. This 15-acre fourth-generation farm grows 30 varieties of fruits and vegetables, all 100 percent organic. Pick your own pumpkins Tuesday, Thursday, Friday, Saturday and Sunday from 10-6 p.m. 1661 Flat River Rd
Coventry, 401-413-5073, www.bellafarm15.wordpress.com.
With its meandering roads lined by hand-formed stone walls, bucolic Little Compton is as idyllic in Fall as it could ever be. Old Stone Orchard offers pick-your-own apples, gourds, and eggplant. They offer traditional pumpkins as well as Long Island cheese pumpkins, an heirloom native varietal ideal for cooking and baking. Pick your own Thursday-Sunday 10-5 p.m. 33 Colebrook Rd., Little Compton, 401-635-2663.