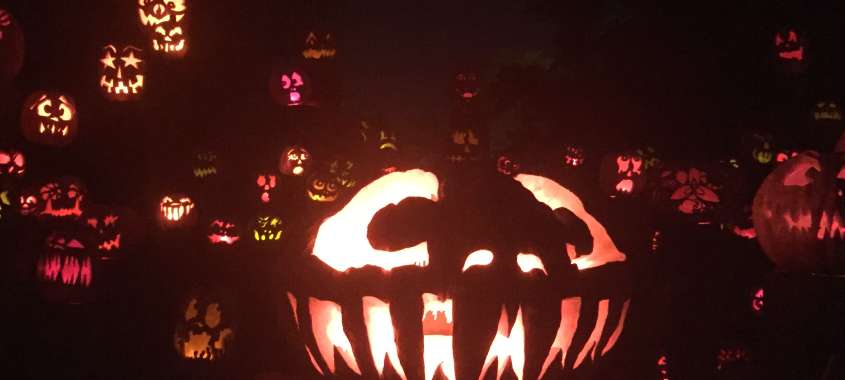 Without a doubt, the Jack-O-Lantern Spectacular at Roger Williams Park Zoo is a highlight of Fall in Rhode Island, and has been for more than two decades. It's a sensory experience like no other – cool fall air, the aroma of falling leaves, the glow of some 5,000 jack-o-lanterns laid along the dark Feinstein Junior Scholar Wetlands Trail. No matter how many years you've attended, there's a thrill to it. Not because it's scary, necessarily (although you do get an occasional chill up your spine). Because it's beautiful. Awe-inspiring, even.
The Zoo prepares for months for this event, working closely with a Massachusetts company, Passion for Pumpkins, which will, by the end of the 5-week-long event, have carved some 20,000 pumpkins for the Zoo. About 5,000 are on display at a time. As they decompose, they need to be replaced. More than a dozen carvers work on these over-the-top displays, many involving pumpkins that weigh 100 pounds or more. You'll marvel at the intricacy of some of these designs – beautiful, complex, temporary works of artisan flair.
Each year, to keep the idea fresh, so to speak, the Zoo chooses a new theme. This year it's about traveling through time, so there's a jack-o-lantern depicting a scene from "Back to the Future" with Michael J. Fox, car and plane and rocket ship jack-o-lanterns, some with dinosaur and Ice Age themes, and Roman ruins and Egyptian pyramids. Some are true works of art – the Mona Lisa, for example -- while others are more traditional, featuring scary or goofy faces. The exhibition is set to music, and it takes about 45 minutes or an hour to meander the path. This year, you can view the Spectacular from 115 above it via the ski-lift-like Soaring Eagle Zip Ride.
The Zoo has made improvements over the years to shorten wait times and solve parking issues. "Prime Night" – Friday-Sunday-- tickets are only available online ($18 for adults and $15 for kids 2-12). The rest of the week, "Value Night" tickets are available in person or online ($15 for adults and $12 for kids). There's free parking or paid ($10) depending on close you want to be to the entrance. The Spectacular runs through November 5. 6–10:30 p.m. 1000 Elmwood Ave., Providence, rwpzoo.org/jols.