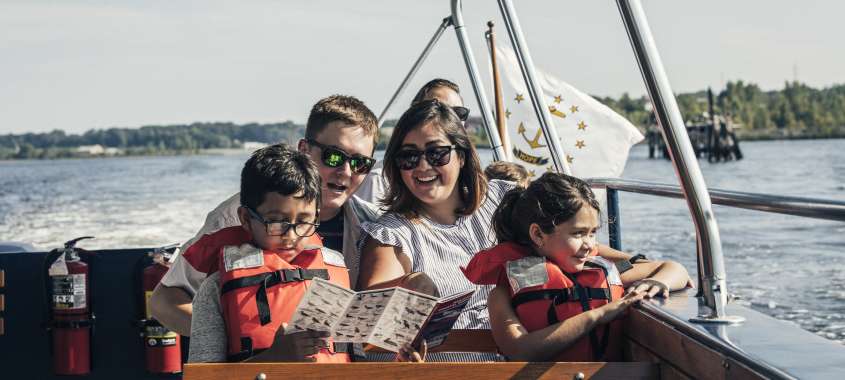 In the Ocean State, May means that the build-up to summer has begun. And as winter recedes in the rear-view mirror and Memorial Day inches closer, attractions start to pop-up and open like the millions of daffodils blooming throughout the state. While April showers bring May flowers, May brings fun, fun, fun! Check out some of what's opening up this May:
Rail Explorers opens for the season on May 11th and you can reserve your tickets now! Take an unforgettable ride along historic Aquidneck Island and beautiful Narragansett Bay as you pedal down a rail corridor on one of two tours: The Northern Ramble is a six mile exploration of the historic railroad between Portsmouth and the Sakonnet River. It's a one-way tour with shuttle bus.  The Southern Circuit is a six mile round trip tour (3 miles out, 3 miles back). You can bring a drink or a snack to enjoy during a 30 minute break at Bayside Station, Rail Explorers' exclusive waterfront picnic area, before riding back to the station. You can make your reservations now!
Explorer River Tours kicks off its season on Sunday, May 19th. Departing from Festival Pier in Pawtucket, these 45-minute tours depart on the hour at 1pm, 2pm, 3pm and 4 pm.  Explore the historic Pawtucket & Seekonk Rivers and discover the natural & historical resources along the way.  Heading north you'll view Pawtucket Falls and a glimpse of Slater Mill. Heading South toward East Providence/Providence you will pass by historic Swan Point Cemetery and Pawtucket Harbor.  Advance Reservations are recommended. Tickets are available now.
Classic Cruises of Newport are up and running for May with a whole slate of cruises for both the Schooner Madeline and the Rum Runner II. Itineraries include a Lighthouse & Mimosa Cruise, Champagne Sunset Sail and a Smugglers Cocktail Cruise. Ready to set sail? You can book your cruise now!
Narrow River Kayaks will be open weekends starting Friday, May 17th. If you like to kayak, canoe or paddleboard, or have always wanted to give it a try, Narrow River is a great spot with a number of options for paddlers of all ages and abilities. You can choose to paddle to the nearby beach, explore the Chafee Wildlife Refuge or for a longer trip, head upstream to the kettle ponds and Gilbert Stuart Stream. They also offer guided tours like their full moon paddle and eco tour. You can also take a Kayak 101 class. Head to their website to book a tour or reserve a kayak, canoe or paddleboard.  
What's better than peanut butter and jelly, you ask? According to The Chanler, it's gourmet peanut butter and jelly paired with a nice glass of wine! The delightful PBJ&W Pop-Up Lounge at The Chanler takes place on The Terrace daily from 12pm to 5pm, now through May 19th. This is definitely not your old lunchbox staple version of  PB&J, mind you. The Pop-Up Lounge offers deliciously inventive versions of the classic sandwich including "The Mamba," a spiced peanut butter, pineapple jam and crispy onion on pumpernickel bread paired with a Louis Jadot Chardonnay and "The Heavyweight," crunchy peanut butter, bacon, cherry jam and sliced apples on a pretzel roll and paired with a Justin Cabernet Sauvignon. You can check out the entire mouth-watering menu here.  
WaterFire is an amazing experience that takes place on specific dates May through November. You have to see it to grasp the scope of this outdoor art installation, with more than 80 braziers crackling with burning, aromatic wood, music, food, drink and more. People come from all over to enjoy the experience. And if you've already been, maybe this is the year you see it from the water amongst the flames, perhaps aboard an authentic Venetian gondola! The schedule hasn't been posted yet for 2019, but you can check back at the Waterfire website or our WaterFire page.  
We <3 Block Island! Island living just a quick ferry trip away...  Many businesses on the island are seasonal, but not to worry! Everything that closes down at the end of summer is open and ready to go by Memorial Day. That includes the Southeast Lighthouse, the Block Island Historical Society, and all the kayak and water sport vendors and rentals. And of course, don't forget about the Glass Float Project. It's open all year long, so you'll want to be on the look out for those elusive orbs while you're there! 
Providence River Boat Company opens May 4th for the summer season. Explore Providence from the water on a fun and relaxing narrated tour! Discover historic and contemporary milestones of the capitol city on a Daytime Tour or Sunset Tour, or take a Vineyard Voyage and enjoy wine and food pairings as you cruise the Providence waterways.They also offer Mother's Day and Father's Day cruises, if you're looking for a fun way to celebrate that special mom or dad.  And if you want to enjoy an adult beverage as you cruise, you can BYOB in a small cooler! All tours are by reservation and you can book yours online at the Providence River Boat Company.    
Dust off your swim suit and pack your beach bag, because the beaches officially open on Memorial Day! State beaches will be fully staffed with lifeguards to make sure your fun time in the sand and surf is also safe. For more information about Rhode Island beaches, check out our beach page where we break down the best places for surfing, favorite spots for families with little ones, where to go for great beach fishing and more!
May 24th is the launch of the Providence to Newport Seastreak Ferry service for the summer!  This is a fantastic way to get to Newport during the summer. No car? No problem! Traffic? Road construction? Who cares! You'll be traveling to the City by the Sea with the wind in your hair and (should you choose) a boat drink in your hand. Add in free daytime parking at the ferry terminal and you'll be singing come sail away, come sail away, come sail away with me! For schedules and more information head to the Seastreak website.    
Experience Rhode Island Tours is kicking off their new Friday Fundays May 3rd with the Providence by Road and by River Tour. See the sights and hear the story of Providence first by bus and then by boat. On May 10th, experience Springtime in Rhode Island as you visit the largest u-pic tulip farm in New England (and leave with a fresh, handpicked bouquet) and then head for a tour and tasting at a local vineyard. Friday Fundays are happening every Friday from May 3rd to November 1st, and feature a variety of interesting themes and spectacular locations! Visit Experience Rhode Island Tours to check out all of your options and to book your tour.  
For more information on what's going on in the Ocean State this spring, checkout our Springtime in Rhode Island page.