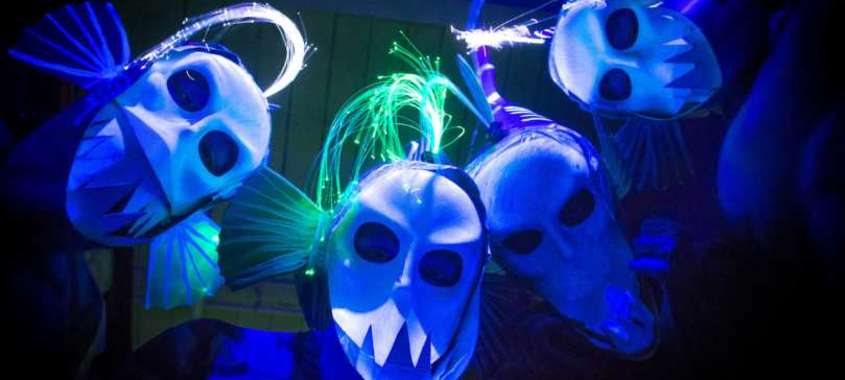 Be prepared to have a hauntingly good time in Pawtucket! Kicking off this week, the City of Pawtucket is preparing to celebrate Halloween in a very unique way. They're pulling out all the stops for Mill City Haunts, beginning October 18 and running through October 27. With many free events, this series of events promises to be your one-stop spot for all things spooky this Halloween season.
One of the most exciting events will be UNDERLAND: An Immersive Haunted Experience, put on by the masters of performance art at TEN31 studios.  They are well known in Rhode Island and beyond for their award-winning creations, performances, and experiences and are transforming their studio space into a magically haunted evening that will delight the senses.
Eric Auger, the co-founder and creative director of TEN31 Productions, explains that Mill City Haunts was born out of a friendship and created as a way to showcase the City of Pawtucket at a fun time of year. The paranormal events that occur at Slater Mill were already a popular draw for visitors and, building upon that, the idea for Mill City Haunts began to take shape with friend and business neighbor Lori Urso, Executive Director of Old Slater Mill.

"Lori and I have been friends for several years now and we love the campus at Slater Mill. We thought it would be great to do something haunted," Eric said. "When we met, we walked the straight shot between TEN31 and Slater Mill. We walked the bike path and looked at City Hall which is such a prominent structure in the city and, architecturally, it is one of the most amazing things in our city.  We really needed people to understand the beauty of this building."
"In fact," he continues, "if you go way back, I found a black and white picture from 1930 at Christmas and the lights were strung to look like a massive Christmas tree. It was so celebratory and so we thought, well, it's in the middle of both our buildings and we both have our own Halloween events, so what can we do to bridge us together to create some interest in the city?"
So they set about lighting the majestic City Hall.  "Creating a spectacle with the building was a no brainer," he said.  "We knew we could light it up like it's never been lit before."
That was step one. A meeting with the mayor was a success and from there the event began to take shape. Connecting the Slater Mill with TEN31 Productions is the Blackstone River Bikeway. "We thought maybe we could do something fun along that," he said. "Plus the amphitheater is right there and available to the public to use and enjoy." Recognizing the opportunity in front of them with these great attractions was the catalyst for creating Mill City Haunts.
WHAT TO EXPECT WITH MILL CITY HAUNTS
UNDERLAND: An Immersive Haunted Experience
While the past two years at TEN31 offered more of a traditional haunted house, this year it will be a different format in their event space. Eric explains they are "offering an immersive theatrical experience with a director, set designer and lighting designer." A timed entry provides each guest with 20 minutes to explore. "We want people to immerse themselves in every aspect of this experience," he said. "You'll be told a story before you enter and then you are free to wander around. The actors come out, and you don't know what is going to happen or where it's going to happen in the space."
So, what exactly is Underland?
"A twisted version of Wonderland," Eric says with a grin. "What's great about our haunt is that it is twisted and is a voyeuristic experience.  We are focusing on the story and we really want the hair on the back of your neck to stand up. Suspense is what we are trying to create." 
As a former window designer at Macy's, Eric explains that they look at the vignettes they are presenting "as sculpture and installations of beautiful works of art, but in a macabre way. There will be some severed heads; there will be some human hearts and body parts all throughout," he continues mischievously. "It will be a different format than in years past and a whole different experience we think people will really enjoy."
UNDERLAND Costume Ball
Celebrating the last night of Mill City Haunts, this costume ball on October 27 is held in the TEN31 event space right on the set of Underland. Eric points out that "what makes it special and unique is that it is a costume party and we're asking everyone to come in their Underland inspired costumes. "
City Hall Illumination
Pawtucket City Hall "will be lit up in a spooky way you've never seen before," Eric explains.  "There will be outdoor soundtracks with scary Halloween music playing along the whole stretch between our buildings and along the bike path and river." Every fifteen minutes, the tower will be lit up to a change in the soundtrack (think a loud crash of thunder to get your attention). 
Creature Feature Pathway
The bike path or, the Creature Feature Pathway as it will be known for this event, will showcase "an art installation of 7 larger-than-life cutouts - all hand painted - of classic black and white creature double feature characters from the thirties, including Frankenstein, Bride of Frankenstein, Dracula, Creature from the Black Lagoon, Wolfman, Phantom of the Opera, and the Mummy," Eric explains. These 7-foot-tall characters will be lit up throughout the Creature Feature Pathway and offer prime selfie opportunities.
There is also the added benefit of a history lesson with this art installation. Eric points out that "on the back of the creatures there will be a quick sentence about who they are and what year the movie came out to really educate the new generations" of visitors. Eric is passionate about this component of the event because some of the younger visitors "don't have any idea these characters exist and don't realize the importance of these films which really introduced the horror genre to society." Referring to the characters along the bikeway as "the pioneers of horror movies," Eric is proud of this portion of the event since "it's a good way to bring the nostalgia back and also educate the new generation."
While you meander the path, you just may catch a glimpse of a Gondolier rowing up and down the Blackstone River dressed as Charon, Ferryman of the Dead.
Paranormal Investigations at Old Slater Mill
Paranormal activities and tours have been a mainstay of the Old Slater Mill this time of year so it fits into Mill City Haunts perfectly with evening events and tarot card readings. They are quite popular and tend to sell out, so book in advance if you are interested:
October 18 & October 25: Mills & Mysteries Paranormal Investigation
October 19-20 and October 26-27: Paranormal History Research investigation
Veterans Memorial Outdoor Ampitheater
This unique venue located in the middle of the city will feature free scary movies plus musical and theater performances throughout the ten-day run of Mill City Haunts. Some highlights:
Free Movie Nights on Thursdays with Halloween Double Features (Dracula anyone??)
Burbage Theater performance
Live music from Space Hater, Bobby Keyes Trio and more!
Check out Mill City Haunts to view a detailed schedule of events.