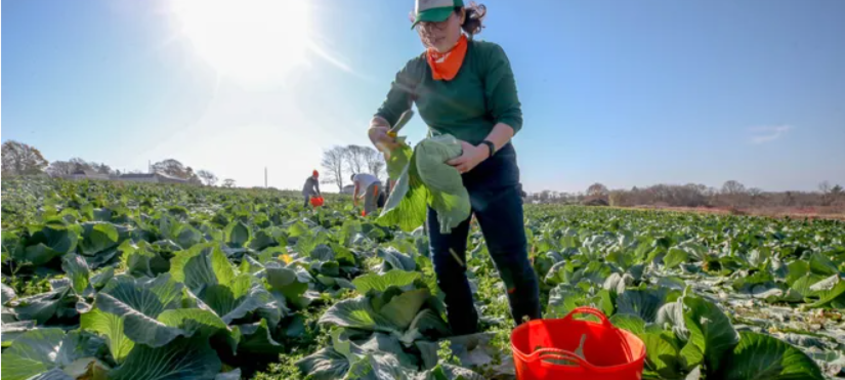 Have you ever tasted a carrot plucked straight from the earth or savored a freshly laid farm egg? There's something special about food that's fresh from the farm, especially when it's grown in Rhode Island's fertile soil.
The Ocean State may be small, but it packs a big punch when it comes to agriculture. We have a rich farming heritage with special ways to experience it. Our local farmers pour their hearts into producing a wide range of fruits, vegetables, dairy products, and meats. Many restaurants throughout the state showcase these local ingredients, bringing you the freshest, most flavorful dishes possible. They take pride in serving food that not only tastes great, but also supports the local economy and protects the environment.
The love for fresh, local food pervades Rhode Island, from our rolling hills to our bustling city streets. Experience the rustic beauty of our farmlands, treat yourself to meals at our top-notch restaurants, and participate in immersive farm experiences. You'll find that food is more than just a meal in Rhode Island--it's a cherished part of our culture.
Rhode Island's Farmlands: A Tapestry of Beauty
A Unique Farming Scenery
Farmland in Rhode Island presents a diverse picture, breaking away from the usual image of flat corn or wheat fields. Take a scenic drive through our rolling hills, thriving orchards, and meandering rivers. From rustic barns set among leafy fields, and cows grazing in sunlit meadows, to city farms offering a touch of green in the urban expanse, Rhode Island's farmlands are a sight to behold.
Farms that Define Rhode Island
Rhode Island boasts several iconic farms, each one enriching our state's agricultural heritage. Among these are Simmons Farm in Middletown, a fifth-generation farm offering pick-your-own fruit and goat yoga; Schartner Farms in Exeter, an institution since 1902 famous for its sweet corn, pumpkins, and annual corn maze; and Casey Farm in Saunderstown, a historic farm overlooking Narragansett Bay, known for their Community Supported Agriculture (CSA) programs and a popular farmers' market.
Each farm provides an insight into our state's farming traditions, offering visitors the opportunity to take home a piece of Rhode Island, be it fresh produce, a handmade craft, or a cherished memory.
The Changing Hues of Rhode Island's Farmlands
Every season paints Rhode Island's farmlands with a different palette. Witness the awakening of the fields with vibrant green shoots in spring. Experience the riot of colors brought by lush gardens and abundant harvests in summer. Be mesmerized by the fiery hues of ripening apples and changing leaves in fall. And marvel at the quiet beauty of the white-covered land in winter.
The stunning tapestry of Rhode Island's farmland is a feast for the senses year-round.
Farm-to-Table Dining: A Conscious Choice
Experience Authentic Flavors
Dining in Rhode Island isn't just about a meal; it's an immersion into the state's essence. Our farm-to-table restaurants serve dishes crafted from fresh, local ingredients, promising a burst of authentic flavors. Chefs work closely with local farmers, fishermen, and ranchers, selecting ingredients that highlight the region's distinct taste. The superior quality and freshness of our local produce is promised in every dish.
Rhode Island's Culinary Highlights
Each restaurant presents a unique farm-to-table narrative, creating a distinctive dining experience. Providence's Gracie's is famous for its seasonal menus, offering diners a refreshing experience each visit. Stoneacre Brasserie in Newport promotes sustainable dining with a dedicated farm supplying most of their produce. For seafood enthusiasts, the Matunuck Oyster Bar in South Kingstown presents oysters harvested directly from their own farm. These highlight the delicious delights awaiting in Rhode Island.
Sustainability on Your Plate
Choosing a farm-to-table restaurant is not just about pleasing your palate; it's supporting a sustainable food system. These restaurants source locally, reducing their carbon footprint, promoting biodiversity, and strengthening local economies. Every meal you savor contributes to a healthier environment and a robust community. Engaging Tours and Practical Experiences
Farm Tours: Nature Up Close
Experience the beauty of Rhode Island's farmlands with tailored tours. Enjoy a guided tour of Sweet Berry Farm's flourishing fields or a horse-drawn wagon ride around Sunset Hill Farms. Each visit offers a deep dive into agriculture, from understanding farming practices to the joy of picking your own fruits. You'll leave with a newfound respect for the local produce you consume every day.
Workshops: Acquire Skills from Experts
Join Rhode Island's farming community in hands-on workshops to learn new skills. From cheese-making at Narragansett Creamery to bread-making at Seven Stars Bakery, there's a workshop for everyone. Seasonal activities include canning and preserving fruits at Four Town Farm and soap making at Simmons Farm. Each workshop offers a unique opportunity to learn the process, connect with local craftsmen, and create your own piece of art.
Family Activities: Farm Fun
Rhode Island's farms are perfect for family outings. Children will enjoy the corn mazes, pumpkin picking, fall festivals, and more at farms across the state like Escobar's Highland Farm, Salisbury Farm, and  Confreda Greenhouses and Farm,  Adults can appreciate vineyard tours and wine tastings at Newport Vineyards.  Such farm adventures not only offer a day of enjoyment but also encourages appreciation for nature and farming in the next generation.
Festive Celebrations and Seasonal Activities
Harvest Celebrations at Rhode Island Farms
Rhode Island's farms welcome visitors during harvest season with festivals and events. Steere Orchard in Greenville, for instance, hosts the popular Apple Harvest Festival. Here, you can enjoy apple picking, homemade apple pie, and fresh apple cider. The festival also offers hayrides, live music, and crafts, making it an enjoyable visit for all.
Seasonal Farm Dinners: A Culinary Delight
Get a taste of Rhode Island's finest farm-to-table dining at seasonal farm dinners. Farms like Mount Hope Farm in Bristol host these events, where chefs use freshly harvested produce to create multi-course meals. Each bite at these dinners showcases the best of the season, giving you a new appreciation for Rhode Island's agricultural heritage.
Outdoor Festivals and Fairs: Celebrating Farming Culture
Outdoor festivals and fairs offer a great way to engage with Rhode Island's farming culture. The Washington County Fair, a summer favorite, hosts a farmer's market, agricultural exhibits, live music, and a grand parade. You can interact with local farmers, learn about farm animals, and experience rural life. Other local farms like The Farmer's Daughter, Seven Cedars Farm and others host Fall festivals for families to enjoy a day on the farm.
Farm-based Holiday Celebrations
Rhode Island's farms transform into festive hubs during the holiday season. Farms like Frerichs Farm in Warren host events including the Pumpkin Palooza and Christmas display, creating a magical experience for families. The holiday markets sell locally made crafts and food products, making for perfect gifts. Participating in these celebrations not only adds a local touch to your holiday festivities but also supports Rhode Island's farming community.
Support Local: A Holistic Approach
Elevating Rhode Island's Economy
Choosing locally sourced food or handmade crafts means more than just shopping--it's an investment in Rhode Island's economy. Every dollar spent at local farms and restaurants remains within our state, fueling job growth and community development for a prosperous Rhode Island. This choice directly benefits our farmers and artisans, strengthening our local communities.
Fostering Environmental Sustainability
Local support not only benefits our economy but also protects the environment. Buying locally slashes food mileage, reducing greenhouse gas emissions from long-distance transportation. Additionally, local farmers often employ sustainable practices such as organic farming and responsible waste management. Choosing local directly endorses a sustainable food system for a healthier planet.
Championing Rhode Island Artisans
Our farms offer more than just fresh produce--they house artisans crafting unique goods like homemade jams, textiles, and pottery. Visiting farmers' markets, craft fairs, and farm stores provides a chance to discover these high-quality items. Each purchase supports these artisans and brings the story and spirit of Rhode Island into your home.
Advantages of Community-Supported Agriculture
Community-Supported Agriculture (CSA) programs in Rhode Island offer residents an excellent opportunity to engage with and support local farming. These subscription services deliver a regular supply of fresh, local produce straight from the farm. They promote healthy eating, local farming, and community cohesion. When you participate in a CSA, you strengthen local farms and preserve Rhode Island's agricultural traditions.
Conclusion
Rhode Island's farm-to-table experience celebrates the state's rich agricultural heritage, local artisans, and our commitment to sustainability. Rather than being a mere visitor, you become part of Rhode Island's vibrant community. By immersing yourself in our farming culture, you contribute to nurturing this treasured legacy for future generations.