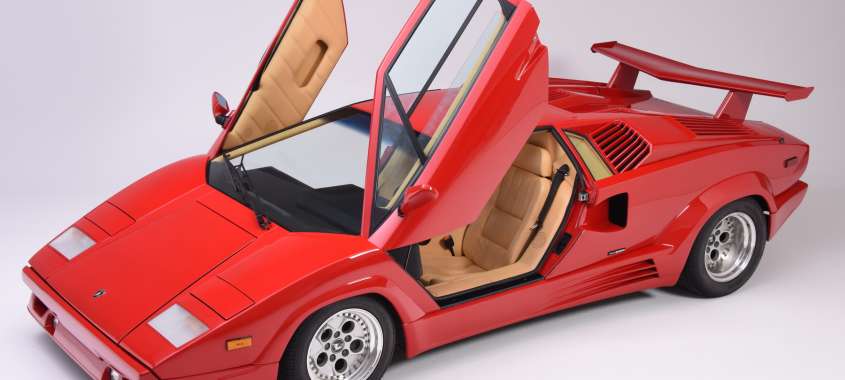 If you ever had an old Mustang back in your youth that became a revered classic after you sold it that you're still kicking yourself about, you may see something like it here: The Newport Car Museum, located in Portsmouth, is a car-lover's dream come true, a place dedicated to the art of gorgeous automobiles. There's a lot to love. The museum's popularity has soared quickly since it opened in June 2017: By December, USA Today named it as one of the Top 10 Best New Attractions in America.
The Newport Car Museum is housed in a former missile manufacturing plant on 17 acres in front of the Raytheon Company. It has around 50 automobiles from the private collection of New York attorney Gunther Buerman and his wife, Maggie, founders of the museum, who also own a home in Newport. The cars span 60 years of design, placed in what can be called an artistic display of automotive history sprawled throughout 50,000 square feet of exhibit space that Gunther Buerman, founder and CEO of American Rock Salt Co., and managing partner of a law firm, had gutted and turned into the museum.
It was either sell the cars or open a museum. Lucky for us, they opted for a museum. 
Here you'll find Ford Shelbys, Chevy Corvettes, Chrysler Mopars and more. In the World Car category, there is a German-built BMW Z8 recreation of a 507 roadster that Elvis Presley owned, and a couple of Italian-built Lamborghinis, not to mention a 2011 Porsche 911 Turbo S, capable of going from 0 to 60 in 2.6 seconds.
There is a stunning collection of "fin cars" from post WWII when bright colors ruled the day on cars with iconic fin designs meant to replicate those found on rockets and jets of the day.
Throughout is art of a different type, namely mid-century modern furniture by American designing legends like Charles and Ray Eames and Florence Knoll Bassett. Other quirky, fun items are an egg chair by Arne Jacobsen; the Bocca Sofa, representing Marilyn Monroe's pouty red lips by Gufram Italy's Studio 65; and the Joe Chair, inspired by Yankee legend Joe DiMaggio's glove, by Italian designers de Pas, D'Urbino, Lomazzi.
The museum is also a hit with car clubs who love hosting car rallies in the lot, and tours. The museum also hosts fun special events, like car-themed movies; on Feb. 14, they'll air "Tucker: The Man and His Dream," a film with Jeff Bridges.
Allow a good 90 minutes for taking it all in. You may want to add a bit more for kicking yourself for selling that old Mustang.