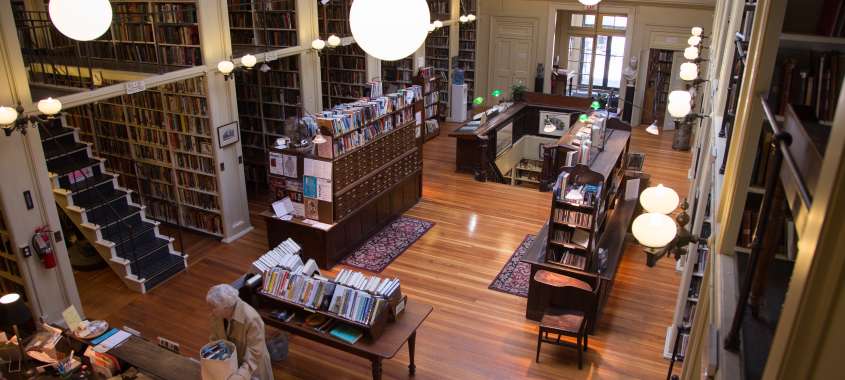 They are the elegant grand ladies of literature, twin towers of learning power with vastly different looks and feels but with one common mission: Enlightenment in the written word and freedom of expression. They are the athenaeums of Rhode Island, two of the country's oldest in the country's smallest state: The Redwood Library and Athenaeum in Newport, and the Providence Athenaeum in the academic epicenter that is Providence's East Side.
The state itself was founded by discord, Roger Williams coming here to find a place to practice religious freedom after getting booted out of Massachusetts, so it's rather fitting that the Providence Athenaeum was founded out of discord as well: The Athenaeum came about in 1836 after a previous athenaeum and the Providence Library Company couldn't agree on terms for a merger. Both dissolved and formed a new library that was originally housed in the Arcade in downtown Providence before moving to Benefit Street in 1838.
The Providence Athenaeum, with its towering stacks and intimidating history and gorgeous glowering busts of famous folks, is not a horrible place – but is known for horror. H.P. Lovecraft was a Providence native and horror writer who visited the library frequently and wrote about it in his stories and letters. Of more fame was another horror writer – Edgar Allen Poe, a bipolar literary genius who wooed his lady faire, Sarah Helen Whitman, in the stacks here. She was, the legend goes, Poe's inspiration for his poetic ode to love lost, "Annabel Lee." And it was in the stacks that Whitman learned Poe had broken his promise to quit drinking and broke off their engagement. The devastated Poe died within a year.
Far from being a stuffy old literary entity, the Providence Athenaeum embraces community and hosts a variety of programs open to the public, including its "Salon Series" which brings in some of the country's most celebrated writers, historians, artists, scientists and cultural leaders to discuss topics ranging from Homer's Odyssey to the 9/11 Memorial Museum. 
Thomas Jefferson was one influential fellow – who was influenced by the Redwood Library he visited in 1790. Turns out he liked what he saw so much that he began the lasting tradition of constructing federal buildings with the same portico-and-Doric column architecture that we see to this day.
Redwood has its Harrison Room to poke about, a high-ceilinged smallish space with treasures like 18th-century tomes laid out (behind protective grates) as they have been displayed since librarian Ezra Stiles stacked them there, which includes writings of Barclay and Voltaire. The Roderick Reading Room is a lovely place to be bathed in light from giant 12-over-12 pane windows as you devour history all around you. 
Both libraries great places just to wander and absorb the history that hangs in the air, both as different as night and day, each reflecting a unique geographic identity. The Redwood is arguably more ornate and ostentatious, fittingly regal given the grandeur of the mansions just up Bellevue Avenue, a building designed by colonial architect Peter Harrison, who also created Newport's Touro Synagogue and the Brick Market.
Providence's athenaeum invites literary lingering with chipped gray paint revealing wonderfully worn wooden floors, and the overall ambience oozing dark and moody and where small raven drawings on Poe-pertinent placards point the path to areas of interest. Downstairs is a marvelous reading room of leather chairs and marble tables where you can imagine mustachioed gents of old puffing ornate pipes, thinking important thoughts. 
Mustachioed or not, come, sit, read and think important thoughts of your own at two of Rhode Island's most historic and elegant centers of learning. That's what they're there for.