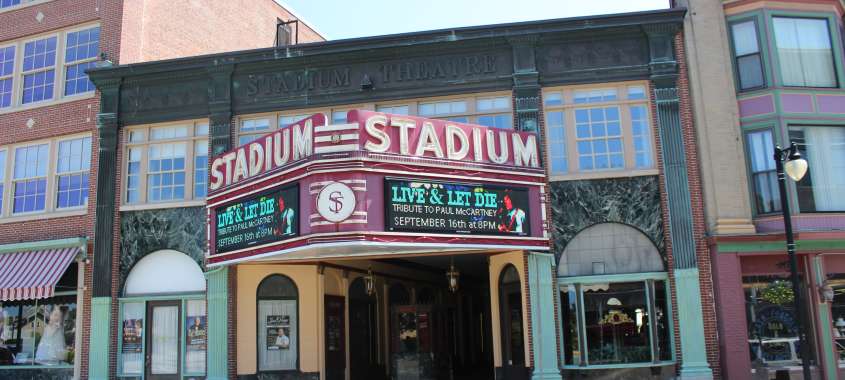 (Part two of a two-part series)
Rhode Island is lucky to have a few marvelous old movie houses remaining for our enjoyment of movies or live performances or both. Here is a smattering of such theaters from around the cozy cultural confines of Rhode Island.
WOONSOCKET
The Stadium Theatre was built in 1926, a majestic structure, and though it lacked the opulence of theaters in larger cities, was one of the most elaborate in Woonsocket. It closed for a number of years, reopening in 2001; it had been named to the National Register of Historic Places in 1976, and is one of the few remaining examples of Vaudeville-era theaters. Since its restoration, gracing its stage have been the likes of Liza Minnelli, Cher and George Winston, as well as a very worthy assemblage of community organizations such as theater, dance and music groups. Though the Stadium does mostly theatrical events, movies do play; at the holidays expect flicks like "Polar Express," "A Christmas Story," "It's a Wonderful Life," and for hard-core slapstick lovers, the annual Three Stooges Marathon. Coming attractions include "The Lion King," Herman's Hermits and "A Chorus Line.
NEWPORT
The Jane Pickens Theatre is a Greek Revival-style art house originally built as a church in 1846, and features independent films, classics and unique cinema events on its single screen. It was named after Pickens, a singer, actress and star of stage, radio and TV who led a glamorous life on Park Avenue – and Newport. The space, with a balcony and pipe organ, has been used for screenings in the annual Newport Film Festival, and hosts not only films but live music, parties and other events. The lobby is lovely and wonderfully historic with its authentic art deco chandeliers, wrought iron railings, a real original ticket booth, counters with bar stools to imbibe cocktails at - or take them inside - and original posters of Marilyn Monroe and Clark Gable from the Misfits. And that fresh popcorn you'll munch? Topped with real butter, just like the old days. Coming attractions include TEDx Newport and the Great Gatsby Movie Experience. 
BLOCK ISLAND
Summer is the prime time on the island and one place to unwind out of the heat is The Empire Theatre, built in 1882 and first serving as a roller rink. By 1897 it was used as a church, ballroom and for storage, later becoming a theater and by the early 20th century a place that showed silent movies. It closed by the 1980s but reopened in 1993 (showing the film "Alive") and continues to thrive as the island's sole movie theater, located in the thick of Block Island activities and near the ferry, restaurants and hotels. Coming attractions: Check the site for details as summer approaches.
NORTH SMITHFIELD
Love film and the great outdoors? Check out a fantastic throwback in the Rustic Tri-View Drive-In, the last drive-in theater in the state and one of very few in all of New England; there are but 400 nationwide. The Rustic opened in 1951 with a single screen, adding two more in 1988 to offer variety at a place with a 550-car capacity. There's a full concession stand and full-feel of 1950s-era movie viewing – minus the clattery metal sound boxes banging off your car window; now you listen through your radio. Coming attractions at the seasonal venue can be found as spring approaches, and they will be opening again for the season in late April.