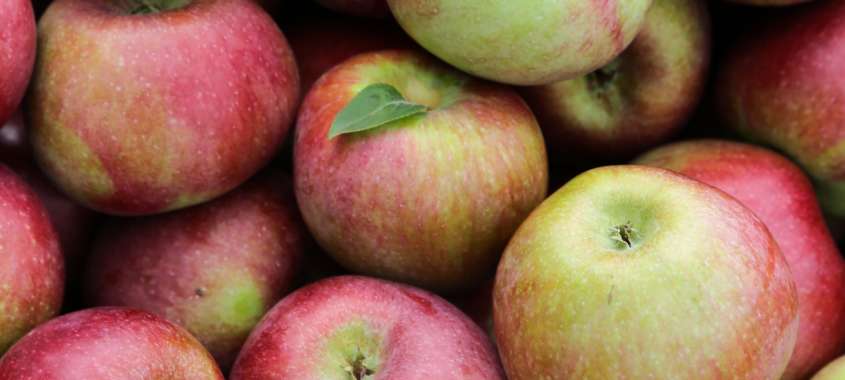 Orchard Fun
When a state bears an apple as its official state fruit, as with the Rhode Island Greening Apple, you know you're in the right place for ideal apple picking experience. The Greening, a pale-tart heirloom variety, is one of the most popular in a state that grows about 40 varieties annually.
In Rhode Island's dozens of orchards, you'll find the little Mcintoshes of your childhood, classic Granny Smiths and Red Delicious, heirloom types and new favorites like the sweet Royal Galas and Honeycrisps. Here's a few orchards that locals and visitors love. One note – you should always call ahead as factors such as weather and availability will affect apple-picking times.
The sprawling farms at Pippin Orchard in Cranston have kept the Polseno family busy for generations. Visiting here is a sensory experience: fresh-cut grass, turning leaves, baking pies, apple cider donuts and candy apples make for a delightful fall day. Seventeen acres of mixed-variety trees allow you to meander for hours, collecting 12-pound bags for $24 each.  Consider an apple picker for some of the taller trees, so that you can easily reach for the gems high overhead. 751 Pippin Orchard Rd., Cranston, 401-943-7096.
Jaswell's Farm in Smithfield is as famous for their on-site fresh-pressed apple cider as there are for the apples, baked goods and farm stand-fresh fruit and produce.  The apple-picking tours for kids give little ones and their parents a farmer's-eye view of the process, from planting to harvesting, making cider to pies and candy apples. You'll leave with bundles of local fresh eggs, Rhode Island honey, cheese and more. 50 Swan Rd., Smithfield, 401-231-9043.
Sweet Berry Farm in Middletown is a newer addition to the local farm community and while it's a bit smaller it offers a dozen varieties of apples and other produce year-round. On some of the smaller trees here you can simply reach up, grab and twist for easy release. Choose the apples on the outside of the tree first, as these ripen before the ones toward the center. Afterwards, enjoy their latest harvest in a delightful café. 19 Third Beach Rd., Middletown, 401-934-1900.