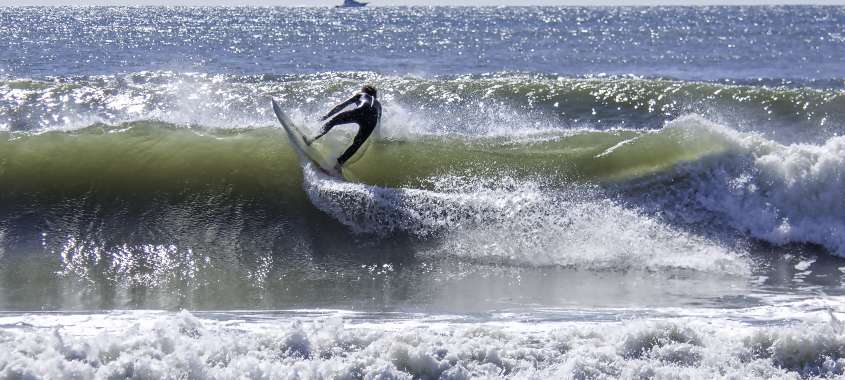 Ah, the summer in Rhode Island – it's the season where the Ocean State truly blossoms. The radiant sun sets the state's natural beauty aglow, from the golden sands of its renowned beaches to the vibrant greens of its lush parks and trails. This guide is your ticket to discovering the many wonders that Rhode Island has to offer during the summer, where outdoor adventures abound and unforgettable memories are made.
Rhode Island Beaches and Coastal Adventures
Rhode Island, also known as the Ocean State, is home to an array of stunning beaches. The bustling Narragansett Town Beach is a haven for sunbathers and surfers, while the tranquil Sachuest Beach in Newport offers serene landscapes and clear waters for swimmers and snorkelers. Don't miss the chance to visit Watch Hill's East Beach for a less crowded option with equally impressive scenery.
Rhode Island's coastal waters make it a prime location for numerous water activities, including surfing, kayaking and paddleboarding. Adventurers can ride the thrilling waves at the Surf Beach or enjoy a peaceful morning paddleboarding session along the calm waters of the Narragansett Bay. For a more laid-back experience, try kayaking through the serene waterways, where you can explore the state's captivating coastline at your own pace.
Whether you charter a yacht in Newport or take a leisurely cruise along the Narragansett Bay, the possibilities are endless. Along your journey, be sure to visit the state's iconic lighthouses, like the Castle Hill Lighthouse. Each offers unique historical insight, coupled with panoramic views of the rugged coastline and sparkling sea.
Rhode Island's Diverse Trails and Parks
Rhode Island's diverse landscapes host an array of trails ideal for both hiking and biking. Traverse the cliffside paths of Newport's Cliff Walk, offering stunning ocean views, or cycle along the East Bay Bike Path, a 14.5-mile trail that offers picturesque views of the state's eastern shore. Lincoln Woods State Park offers tranquil trails for an invigorating trek amidst lush greenery. Rhode Island's parks and gardens are the perfect places to relax and connect with nature. Roger Williams Park in Providence offers a zoo, a botanical center, and serene paths for leisurely walks. Don't miss the Green Animals Topiary Garden in Portsmouth, known for its collection of over 80 topiaries shaped into various animals and geometric figures.
The ecosystems in Rhode Island make it a wonderful location for wildlife viewing. Spot migratory birds at the Norman Bird Sanctuary or take a trail at Sachuest Point National Wildlife Refuge for potential deer and fox sightings. In winter and early spring, the state's coasts become a hotspot for seal watching.
And try dining under the sky at patio, rooftop or waterside restaurants. Rhode Island's culinary scene comes alive in the summer with numerous alfresco dining options. Enjoy seafood by the shore at restaurants like George's of Galilee or enjoy a waterside meal at Coast Guard House overlooking Narragansett Bay. Visit vibrant farmers' markets like Aquidneck Growers Market for local produce, artisanal goods, and gourmet food trucks. Make sure to experience a traditional New England seafood boil with locally sourced clams, crabs, and lobsters - a culinary delight that's quintessentially Rhode Island.
Summer Music and Art Festivals
Summer in Rhode Island is synonymous with vibrant festivals. The Newport Folk Festival is a mecca for music lovers, the Charlestown Seafood Festival is a foodie's paradise, and the Providence Fringe Festival brings together creative minds and art enthusiasts. These events add a dynamic element to your summer visit, each celebrating a different facet of Rhode Island's rich culture.
Tailored Outdoor Experiences 
To enhance your summer experience, consider outdoor activity packages that cater to various interests. Whether you prefer a guided sailing tour with Gansett Cruises, a self-guided cycling trip along the state's scenic bikeways, or a hiking adventure through Lincoln Woods, there's a package that suits your adventurous spirit.
The charm of a Rhode Island summer is unmatched, offering an idyllic blend of natural beauty, outdoor adventures, and cultural vibrancy. Whether you're taking a quiet stroll along the beach, sailing under the clear blue skies, or enjoying an alfresco meal while the sun sets, every moment spent outdoors is a celebration of the Rhode Island spirit. So come, immerse yourself in the splendor of a Rhode Island summer, and create memories that will last a lifetime.