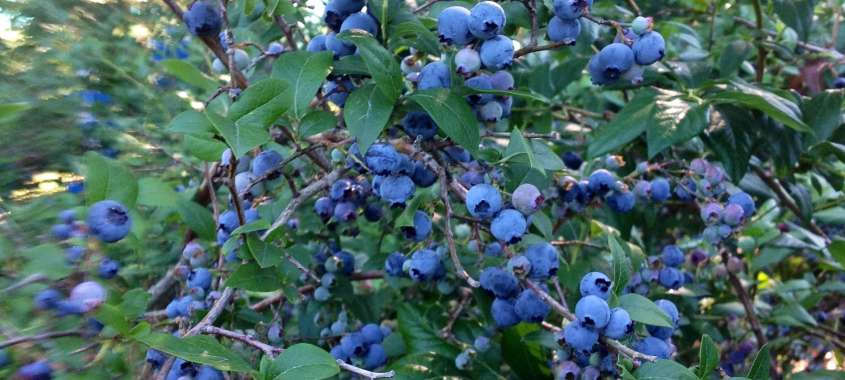 Is there anything better than snacking on bright, juicy berries in the summertime? Yes; picking them yourself and witnessing the fruits (ha) of your labor get devoured by the smiling faces you decide to share with. Or maybe you're the only smiling face doing the devouring. No judgement. Either way, Rhode Island has a number of farms that provide that fresh-picked flavor and allow you to do the picking. The possibilities are endless for what you can do with your berries! Pies, muffins, cookies, smoothies, or a farm-fresh addition to your summer sangria for the 21+ crowd. You really can't go wrong with how you decide to use your crop. The hard part is getting them home without polishing off the bag.
Here's a compilation of just a few of the farms who offer seasonal berry-picking:
Rocky Point Farm in Warwick kicked off their picking season earlier this week. Tucked away in beautiful Warwick Neck, this little farm is small but mighty. Nestled on two and a half acres in a quiet neighborhood, it's the tiniest farm featured in this post; but it's featured for a reason. It packs a delightful punch of blueberry goodness, and at a very reasonable per-pound price.
The farm is a charming, peaceful way to spend a breezy summer morning and is right up the road from Rocky Point Park. Bring your beach chair and your berries for an afternoon of snacking and people-watching by the bay.  Because let's face it, at least a few handfuls of those babies aren't making it home.
The farm has a sweet little farm stand complete with local honey and maple syrup, and other blueberry-themed treats. It's a great place to take the kiddos during the summer to keep those busy fingers occupied, and a way to get them involved in what's sure to be endless batches of blueberry pancakes and muffins and pies. Rocky Point Farm is open seven days a week, rain or shine, from 7 am to noon with evening hours on Thursdays starting at 4 pm.
Sweet Berry Farm in Middletown is so much more than a farm. They have a market and café with tons of locally sourced goods and gourmet delights, fresh-cut flowers grown on premises, and an array of breakfast, lunch, and dinner selections prepared by in-house chefs with an option for catering.
Doubling as a wedding venue, the farm plays host to a post-and-beam barn that is positively swoon-worthy with its twinkling lights and fieldstone fireplace - perfect for a more intimate affair. Couples can also opt for the Orchard Field which can accommodate up to 500 guests. A wedding at a berry farm? What could be sweeter?
They also have a summer concert and dinner series Tuesday nights in July and August with free live music and an option to purchase a chef-created meal. Check their website for ticket information. But back to the berries. The farm is open from April through December, with a berry-specific schedule found here:
Strawberries: Early June – early July
Summer Raspberries: July – mid-August
Blueberries: Mid-July – August
Peaches: Late July – early October
Blackberries: Early August – September
Fall Raspberries: Late August – September
Barden Family Orchard has a rich family history that makes for a most inviting atmosphere to enjoy some summertime picking. Established back in 1931, the family-run farm sits on 87 acres in North Scituate.
Take your time perusing the blueberry, raspberry, and blackberry bushes; Barden Family Orchard is open 9 am to 6 pm during the week and 9 am to 5 pm on the weekends. They also have apple trees and a pumpkin patch for your fall-picking pleasure.
Inside their quaint "Farm Market" you'll find fresh-from-the-farm fruits and veggies, house-made raspberry and blueberry jams, local honey and cheeses, and other specialty items. To quench your thirst in the summer heat, Barden's homemade apple cider is a must.
Can't make it to the farm? Barden Family Orchard participates in farmers' markets across the state all year long! In May you can find them at the Aquidneck Growers' Market on Wednesdays in Newport.  In July they're at the Coastal Growers' Farmers Market at Casey Farm in Saunderstown. By August, you can find them at markets in North Kingstown, Warwick, Cranston, Providence, Pawtucket, and Bristol. Phew! So basically, there is no excuse to NOT try something from Barden Family Orchard.
Even though is Rhode Island is known as the "Ocean State", one could make an argument for the renaming us to the "Lil' Farm State based" on the number of farms and quality homegrown products that we produce. Take a look here for a comprehensive list of what's available to fulfill your farm-fresh cravings and stay tuned for our fall feature on the top picks for apple and pumpkin picking!