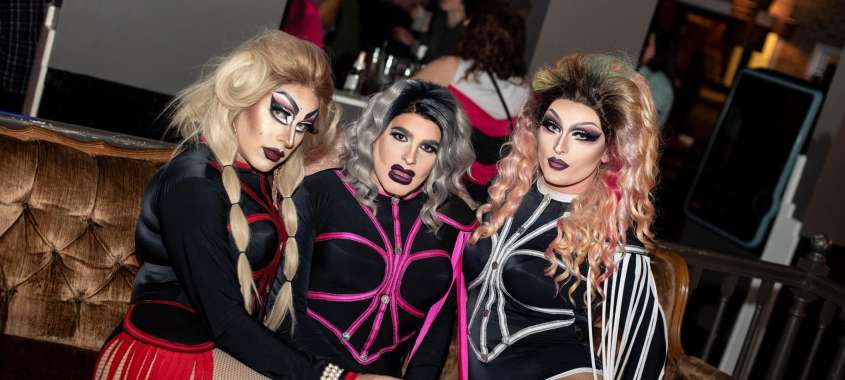 As spectators and participants alike are still reeling from the fantastic spectacle that was Providence's 43rd annual Pride Weekend, Newport is gearing up to kick off their very first. From Friday, June 22 through Sunday, June 24, join NewportOUT for a weekend of relaxation, rejuvenation and, of course, fun.
Pride Weekend in Rhode Island's Seaside Gem
It's Pride Month across the country and many parts of the world, and we couldn't be happier this year with the theme for our pride festivities here in Rhode Island, "Louder and Prouder". Last weekend was the big celebration in Providence with our Illuminated Night Parade and daytime PrideFest happening on Saturday, June 16. The theme -- "Louder and Prouder" -- is a beautiful call to action to come together as a community in even greater ways across the Ocean State, to show our pride, and to spread love through our thoughts, words, and actions.
We felt the call so strongly that we decided to organize Newport's inaugural Pride Weekend  in Newport, RI. It takes place from Friday June 22 to Sunday June 24.
If you haven't been to Newport in a while, or have never been, this weekend is a great time to visit. We invite all LGBTQ+ individuals and our allies to come down and be seen and heard with us.
We will kick off the weekend with a yoga class on incredible Third Beach in Middletown, RI on Friday evening (June 22) at 6 PM. This is a time to nourish our bodies and minds and be together as a community. The views from Third Beach sweeping across to bucolic Little Compton, RI across the Sakonnet River are an added bonus.
The signature event of the weekend is our Pride Ride in partnership with Bike Newport on Saturday (June 23) at 11 AM. We've designed the ride to start from Perotti Park, where the Providence-Newport ferry comes in and out. We invite you to take the 9:30 AM ferry from Providence to join us for an incredible Newport day. Bikes are allowed on board for free, and the one-way fare is just $10.
The bike ride will take us through downtown Newport, and on to Broadway past Equality Park and back to downtown Newport, ending with a reception at Bowen's Wharf. It's a 2 mile route that is mostly flat through historic Newport.
Pride costumes are encouraged, and Sephora in downtown Newport is sponsoring the ride by being on site to provide "pride looks" from their makeup artists.
Our signature event on Sunday, June 24 is our "Equality Fest" at Equality Park and Newport's first ever drag brunch at Parlor Bar & Restaurant. The festival runs from 11-4 and the brunch from 12-3. Providence's incredible Trailer Park Girls will lead the show.
There are other touch points to bring together the LGBTQA+ community during the weekend, and this is the kickoff of a series of coordinated events for the summer and beyond.
If you make it down to Newport for the weekend, here are some tips from NewportOUT on what to do:
Take a sail aboard the schooner Aquidneck or one of the other incredible boats running public charters. The views from the water (and a glass of Champagne for the sunset cruise) are stunning. 

Stop by the rooftop bars atop the Hotel Vikings or Vanderbilt Grace Hotel for a cocktail or a snack. 

Visit one of Newport's lesser known gems, like Rough Point - the Doris Duke estate, or our Newport Art Museum. 

Head to the Cliff Walk for a romantic stroll. 

Make plans to attend Newport's famed Flower Show at Rosecliff Mansion.
If you're in town for the weekend, have an incredible stay at the Sanford-Covell Inn with its seaside heated saltwater pool and charming veranda, great for eating local cheese and drinking wine from Newport Vineyards. 

Visit NewportOut.com for more ideas and we hope to see you in Newport soon!
NewportOUT is dedicated to promoting and creating Newport, RI and the surrounding area as a welcoming and inviting destination for LGBTQ+ travelers. Find us online at NewportOut.com, or Facebook at facebook.com/newportout