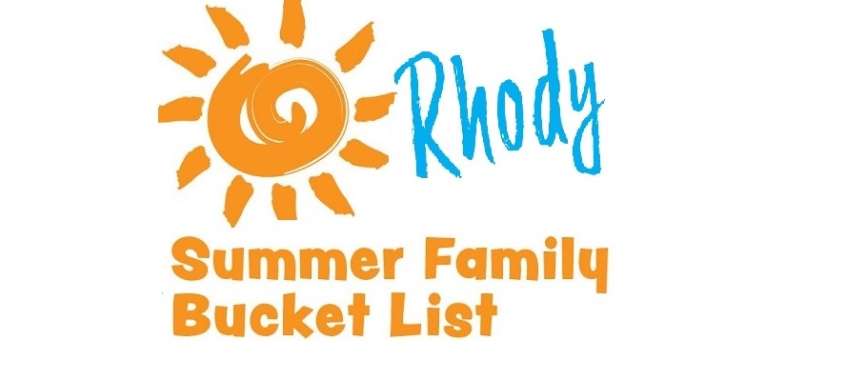 In the crazy-glorious whirlwind of summer parties and trips, it can be easy to start off with all kinds of big plans, only to find yourself wiped out, broke and bewildered, when Labor Day rolls around.  Don't worry – we're on it and we've totally got you covered with a wicked awesome summer bucket list methodically developed by scientists at Brown University*.
For the competitive among you (and you know who you are) it is GAME ON. Can all this fantastic family fun be accomplished in one summer? Who the heck knows, but we'd be lying if we said we wouldn't love to see you try!
Check out the bucket list below or print out a copy to take with you on this epic summer quest. PS, do us a favor and tag your photos with #RhodeIsland – so we can stalk shamelessly live vicariously through you! This is Part 2 of the Bucket List, but if you can't wait to find out the rest, download your list today! Now let's get started!
*No scientists at Brown University or any other university for that matter had anything to do with anything on this page... ;P
17. Spend the day at Roger Williams Park Zoo, Providence.
Spend an amazing day at one of the oldest zoos in the nation! See and learn about scores of animals from around the world, including African elephants, white-cheeked gibbons, Masai giraffes in a naturalistic environment. Visit alpacas and brush goats in the Alex & Ani Farmyard and then explore Hasbro's Our Big Backyard. Ride a camel, have lunch, and meet the sloth in the new Faces of the Rainforest. If you're feeling brave you can fly over the zoo on the Soaring Eagle Zip Ride! It's fun for everyone - plus adults can feel good about the zoo's commitment to local and global conservation.  
18. Fly kites at Brenton Point, Newport.
Why don't you go fly a kite? Seriously, get a kite and head to Brenton Point. Not just a pretty view, this state park sits where Narragansett Bay meets the Atlantic and those ocean breezes create the perfect environment for kites. Pack a picnic and hangout for the day - or time your visit to coincide with the (free) Newport Kite Festival on July 13-14 and you'll definitely be in good kite-flying company! 
19. See a movie at the Rustic Tri Vue Drive-In, North Smithfield.
Pack up the car and head to the Rustic for an authentic 1950's drive-in experience with three screens featuring modern digital projection. The movies are all current first-run films and $27 per carload gets you a double feature, access to the full concession stand and new soft-serve ice cream shop. Just pull in, sit back and enjoy the show!
20. Play "Strike a Pose" at the RISD Museum, Providence.
Looking for an indoor destination or some rainy day fun? With more than 100,000 objects in its collection, you could probably spend days wandering the RISD Museum and never run out of things to look at. Have some fun playing "I Spy" or "Strike a Pose" or ask the kids to look for colors and shapes or themes like people, animals and nature. With its changing exhibits and collections that span ancient, modern and decorative arts, everyone is bound to find something that speaks to them.
21. Spend a day in the 18th century at Coggeshall Farm, Bristol.
What do you know about farming in the 1790's? Well, you'll know a lot more after a visit to Coggeshall Farm. Find out what farm life was like for adults and children during the founding years of our nation by using their tools, sitting in their furniture and tasting their food! Kids will love the immersive nature of Coggeshall - the website boasts there are no "do not touch" signs on the farm - where visitors are invited to get their hands dirty by helping with chores. Active, historical, educational and a chance to get dirty - what's not to like about that?
22. Grab a coffee cabinet at a local ice cream shop.
Yum, yum, and yum. Coffee cabinets: unique and beloved and a true Rhode Island delicacy. A must-have summer treat (or really, any time). Head to any local ice cream shop or soda fountain and order one up for yourself and the little ones and savor this wicked good frozen drink. For a twist, try it with jimmies - it's amazing!  
23. Watch a movie on the beach.
The perfect marriage of two awesome summer loves: the beach and the summer "blockbuster" movie! See a movie in the sand and under the stars while munching on a picnic from home or yummy food truck food. While these are not first run films, there are some terrific ones playing throughout the summer, including Grease, Goonies, Back to the Future, and Jaws. Seriously, watching Jaws while sitting on the beach mere feet from the water? Equal parts awesome and terrifying! 
24. Take a lighthouse tour.
Lighthouses are pretty cool, right? Rhode Island has a bunch of these iconic protectors of ships and sailors, each with a different look and a different story that you can learn while cruising along on the water. The tour guides have great tales to tell and point out all kinds of things of interest as you go. It's a great way to get some time on the water with a side of history!  
25. Have a picnic at Colt State Park, Bristol.
464 acres is plenty big enough to find that perfect picnic spot. Colt State Park is big, beautiful and more than just rolling, manicured lawns (although those are nice). It features pretty stone walls, four miles of bike trails, fruit trees, flowering bushes, a gorgeous, panoramic view of Narragansett Bay and 400+ picnic tables. Bring bikes, frisbees, a ball and gloves. Bring a book, bring a blanket, bring the dog(s). This is a place to rest, wander, play and run! 
26. Go to a fair or festival.
Who doesn't love a festival? Even the word sounds fun. There are loads of fairs and festivals going on this summer for you and the fam to experience. Head to an art festival or a music festival to feast on the sights and sounds. Head to a food truck festival and just feast, period. :) Check out the action at the Newport Kite Festival or the animals at the Washington County Fair. Visit the Block Island Arts and Crafts Fair for a locally made keepsake or gift. And the mouth-watering Charlestown Seafood Festival speaks for itself. :)
27. Build a sandcastle.
Step 1: Head to a beach. Step 2: Give the kids shovels and buckets. Step 3: Watch the fun commence! It really is that easy. There's something about beach sand that brings out the architect in all of us, so don't be afraid to hunker down, grab a shovel and unleash your inner Frank Lloyd Wright (or Mike Brady). Then rinse and repeat!
28. Take a sunset kayaking tour on Block Island.
What a great way to end a summer day with your family. Paddle the calm waterways of 900 acre Great Salt Pond as the sun goes down on Block Island and see things from a completely different perspective. Did you know that more than 44% of the island is preserved? It's a chance for your kids to unplug and explore an enchanting, undisturbed natural setting and the plants and wildlife that call it home.  
29. Ride a carousel.
Take the kids to one or more of Rhode Island's beautiful carousels. While the kids won't care that many are historic and lovingly preserved, you might think it's pretty cool: The Crescent Park Loof Carousel is a National Historic Landmark and the Loof Carousel at Slater Park is the oldest stander carousel in the world. The Flying Horse Carousel in Watch Hill is also a National Historic Landmark and the oldest in the US whose horses are suspended from chains. Awesome, right?   
30. Ride the slides at Yawgoo Valley Water Park, Exeter.
Yawgoo Valley is great in the winter for skiing and tubing and excellent in the summer for a splashtastic good time. Bigger kids will love flying down the slides or swimming in the deep pool, while wee ones will have fun in the shallow kiddie pool. Moms and dads might enjoy a cold adult beverage at the Tiki Bar and everyone can dig into food from the concession stand or use the picnic tables to eat a lunch packed from home. Fun for the whole family!
31. Ride the rails at Rail Explorers, Portsmouth.
Climb aboard the rail bikes at Rail Explorers and peddle your way down an old (no longer in use) railway corridor, through trees and along the water. It's a fresh-air fun activity that is great for all ages and abilities, making it perfect for babies, grandparents, and everyone in between! Being super fun means it's super popular, so be sure to call ahead for reservations.
32. Hunt for Glass Floats on Block Island.
What do you get if you combine beautiful Block Island, a local artist, and an Easter egg hunt? The Block Island Glass Float Project! Step 1: Head to beautiful Block Island. Step 2: Explore the trails, beaches and greenways. Step 3: Keep your eyes peeled for the elusive stamped and numbered glass orbs. Step 4: Rejoice and register your glass float if you're lucky enough to find one!
33. Experience WaterFire in Providence.
Who lights their rivers on fire? Rhode Islanders, that's who! Kids and adults alike will love WaterFire. It's part art installation, part festival, and 100% awesome, with move than 80 mini bonfires burning on Providence's rivers made from wood chosen to make the air smell sweet. There are street vendors, performance artists, food and drink stations and atmospheric music. Walk the river walk during WaterFire and tell me it's not the most amazing stroll you've ever taken. Kids will love the nearby Starry, Starry Night area full of (you guessed it) illuminated stars and lanterns. To kick it up a notch, consider taking a WaterFire boat tour!
Tune in Monday for Part 3 of the Summer Family Bucket List! Check out Part One.