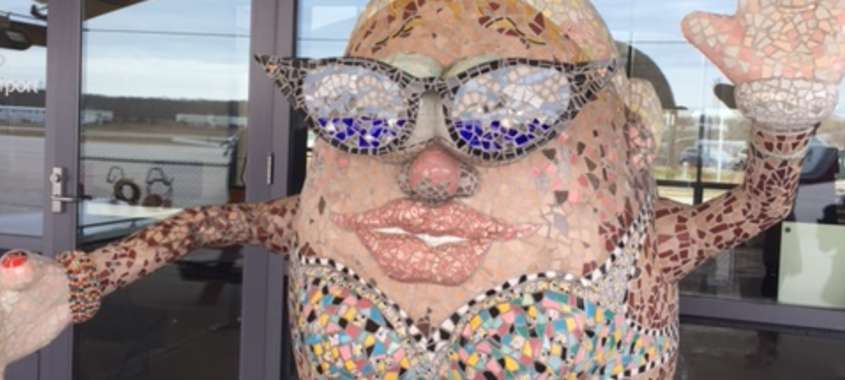 They are large – like a massive blue bug staring at drivers on busy Route 95 – and they are small, as in handprints of Hollywood superstars, forever pressed into Pawtucket cement.
It's all part of the literal Rhode Island landscape, fun and funky bits and pieces of kitsch, icons and cultural idols that natives take for granted, and tourists may love to see for themselves.
By far, one of the best-known symbols in Rhode Island, is the Big Blue Bug hard by Route 95 in Providence, a gigantic termite replica (also going by Nibbles Woodaway) atop the roof of Big Blue Bug Solutions, a long-standing pest-control business. It is nine-feet tall, 58-feet long and nearly 1,000 times the size of an actual termite. It has loomed large over the highway since 1980 and appeared briefly in the original and sequel films of "Dumb and Dumber" movies, created by state natives and brothers, Bobby and Peter Farrelly. So popular was the bug, the company in 2012 changed its name from New England Pest Control to Big Blue Bug Solutions and try saying that three times fast.
Equally well known and far more prolific is Mr. Potato Head, a popular toy born in 1952 through Rhode Island-based Hasbro, which has been replicated in dozens of six-foot Mr. Potato Head statues that pop up all over the state. How popular is the smiling spud? He's been named the state's "travel ambassador," and the statues have been spotted all over Rhode Island; some places are lucky and have a couple of them, like Clements Marketplace in Portsmouth, a very popular family run grocery store on the way to Newport.
Over on Block Island you'll find Painted Rock, a stone that's been painted again and again and again with designs, messages and more, an ever-changing work of art that delights locals and visitors alike. It's located on Vail Beach, a secluded spot with rocky coast and rough surf – and this glorious rock. The story goes that a young couple painted the rock as a Halloween gag in 1962, a prank that quickly turned into tradition. It's been painted possibly thousands of times over the last half-century plus with messages ranging from marriage proposals to the profane and everything else in between.
Check back later this week for Part 2 with even more iconic and notable icons worth seeing for yourself.