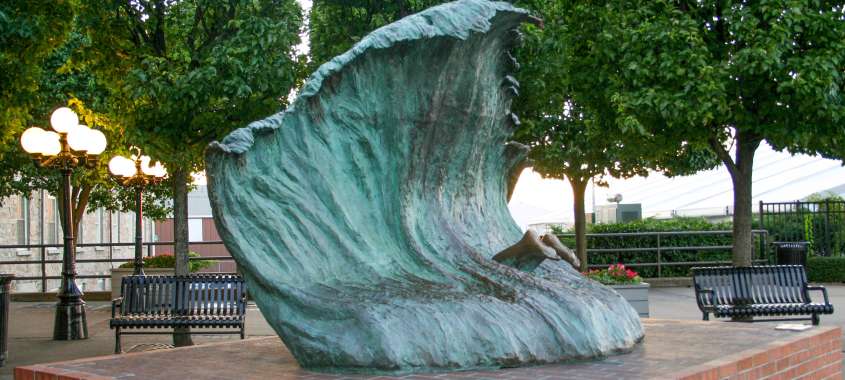 In part two of "Roadside Kitsch Part of RI's Charm," we cover five interesting icons that span the state from north to south.
We've already covered Rhody's favorite bug, spud and rock.  And believe it or not, there's more:
In Narragansett is a not-so-little something with a not-so-little name: the Enishkeetompauog Narragansett, a beautiful, towering wooden statue sculpted by Peter Toth and dedicated in 1982, located at the corner of Strathmore Street and Kingstown Road in Narragansett. The first word is said to mean "all human beings," and Narragansett refers to the indigenous people who lived at "the small narrow point" that area is. Toth made many Native American statues and according to the good folks at www.quahog.org, his works represent all humanity and stand against injustice to all people. The 23-foot high work of art in Narragansett was carved from a single Douglas fir by Toth, a Hungarian immigrant, with its stone base created by stonemasons from the Narragansett Indian tribe.
Got milk? Well, the giant milk can off Route 146 in North Smithfield doesn't anymore, it's long been closed and is dilapidated and neglected - but is still standing. Known as the Milk Bottle Building, the roadside ice cream shop opened in 1929 in Lincoln, and was later moved to its current location. It closed in 1968, an icon that has been ravaged by time but remaining a landmark firmly etched in local lore.
Down in Newport are two very well-known works created by artist Kay Worden, with The Wave arguably the better known and more visible. It is a seven-by-eight foot wave replica with feet sticking out to represent someone just diving under water, and greets visitors at the corner of Memorial Drive and Thames Street. The Wave's bronze feet are rubbed by passing pedestrians for good luck and in winter, playfully outfitted with socks. Worden's other work, The Hurdy Gurdy Man, is in a small area in the Brick Market Place. She created it in 1983 for the benefit of Child and Family Services of Newport County; the little monkey in the work of art was outfitted with a cup visitors could clink coins in.  
Hollywood's Walk of Fame is famous. Pawtucket's? Not so much. But it has one, created in 1995 when three actors put their handprints and signatures in cement in a Pawtucket sidewalk in that city's Time Square, after making a movie. The film, made by Rhode Island native and filmmaker Michael Corrente, was "America Buffalo," and starred Dustin Hoffman, Dennis Franz and Sean Nelson, who stuck their prints in posterity after the film wrapped. That's all there was until 2014 when, for better or for worse (you be the judge), Woody Allen added his prints and John Hancock when he was filming "Irrational Man" in Rhode Island.
If you come across any of these in your travels, send us a photo!  Simply tag us or use #RhodeIsland.