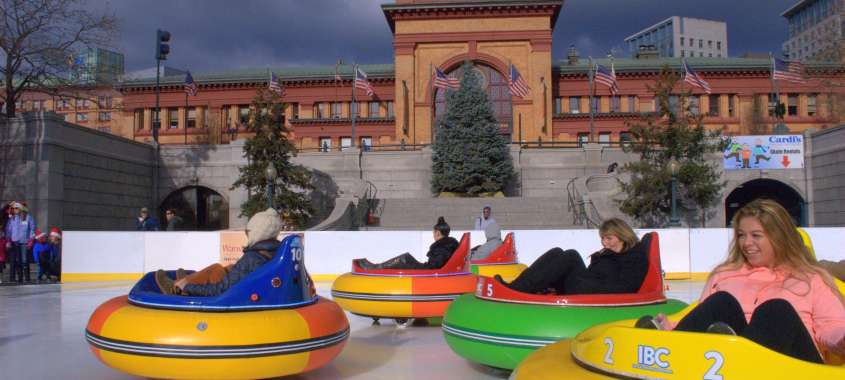 It's just like driving in the winter: Sliding along on ice wondering when someone's gong to slam into you. Only this is much safer and a lot more fun. And not only is it perfectly ok to smash into someone, it's why you're all there in the first place.
Welcome to bumper cars on ice, at the Alex and Ani City Center outdoor rink in downtown Providence. You know the old bumper cars from Rocky Point or Crescent Park? It's pretty much the same idea here just a different surface, minus those metallic arms crackling against an electrified ceiling; here, the ceiling is the bright blue winter sky.
The cars are battery-powered, rubber-tube encircled orbs of shiny colorful plastic with two handles to propel you front and back – or mostly just to spin in possibly nausea-inducing circles until you don't get the hang of it. It's not easy, but with coaching from the staffers walking around offering assistance, you'll soon be jamming in a feverish scrum with your fellow bump seekers.
The rink's bumper car section is cordoned off from the skating rink, allowing ample room to slip and slide and slam away. It's harder to tell who has a better time, adults or kids, but no matter, the main sound heard in the crisp winter air, besides the rubbery thump of car on car, is laughter – and smiling vows for revenge.
Providence is one of just three cities in the country to have these bumping babies – and the only one outdoors, and the only one in New England. The cost is $12 for 20 minutes of slamming fun for ages 6 and up; ages 3 to 5 can ride with an adult.
The cars are ringed with LED colored lighting, said Catarina Merolli, Alex and Ani City Center's events manager, which looks pretty cool at night with the big overhead lights turned down. At the press event to mark the rink's opening, she said Providence Mayor Jorge Elorza went smashing around the ice in his bumper car, "and having a great time."
Though it's just opened, business has been as brisk as the weather, Merolli said, adding that if you can't make it in winter (when it's the most fun), rest easy: The ice wheels on the cars now will be swapped out for ones suitable for concrete, so you can bump to your heart's content all year round.
The ice bumper cars can make for great corporate outings or college nights as well, she said: The ice can also be rented by groups who want to use the 16 bumper cars at the venue.
Asked if bumper cars are a great way to exact revenge on a sibling or loved one, Merolli laughed.
"Or take your anger out on your boss," she said.