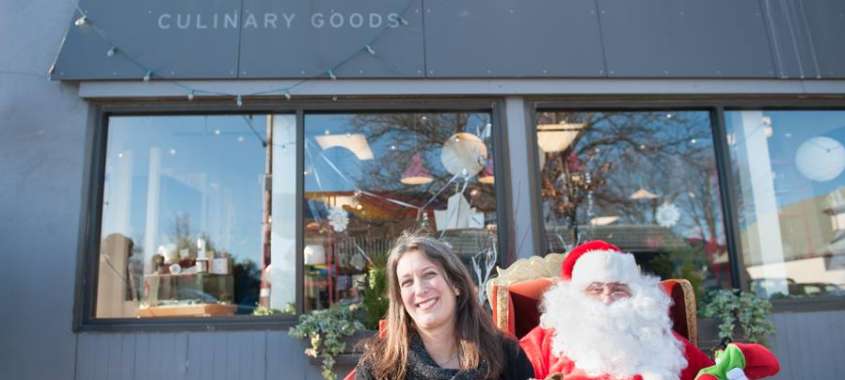 Let's be real: holiday shopping online is as bah-humbug-ish as you can get. Reclaim the spirit of giving by donning your hat and scarf and getting out there for perfect little stocking stuffers and Hanukkah gifts from our perfect little state!
Are whimsical, unique and sometimes irreverent the gifts you give? Then Craftland and Homestyle in DownCity and Rhody Craft on the city's East Side are your jam. From lavish decorative objects (Homestyle) to local artisan silver bracelets (Craftland) to clever kids' onesies (Rhody Craft), these artisan Meccas feature the gifts you won't find elsewhere.
If jewelry is the order of the day and it must be unique and beautiful, Domaine Designs, appropriately located in Providence's Jewelry District, features everything from chunky statement pieces (Labradorite and pearl drop earrings are to die for) to delicate everyday classics (an amethyst nugget strand) in all price ranges.
Every woman on your list would love something from J. Marcel on Hope Street, where artsy, trendy, luxurious home goods, shoes, clothing, jewelry and bags are the rule (oh, the reddish-orange suede handbag…).
Down the street, the cook on your holiday list will swoon over a gift from Stock Culinary Goods, where owner Jan Faust Dane has curated a collection including All Clad and Wusthof as well as one-of-a-kind, locally-crafted pieces for kitchen and table.
Last-minute shoppers might want to consider one-stop-shopping locations such as Providence's Arcade. This was America's first indoor shopping mall and to this day its marble halls house some of the hippest shopping in the state -- vintage finds at Carmen & Ginger; emerging designers at Nude. Providence Place Mall features Nordstrom, Macy's, J. Crew, Talbots, H&M and other national retailers and restaurants, while Cranston's outdoor Garden City Center is go-to for smaller national retailers (and restaurants too) such as LL Bean, Pottery Barn, Anthropologie, Yankee Candle, Lululemon and L'Occitane.