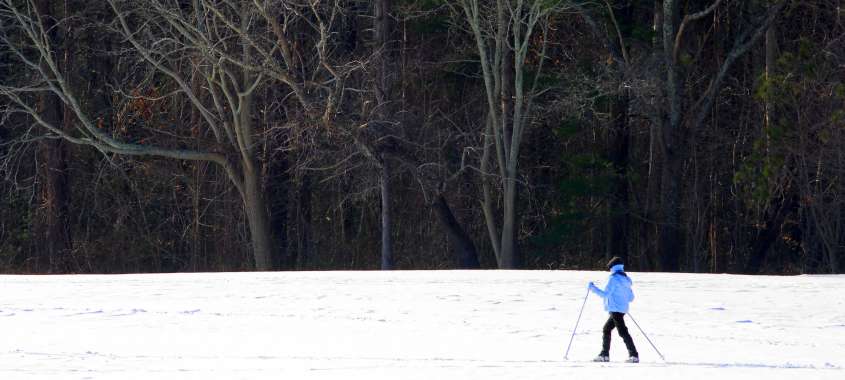 Winter weather can be frightful. But it can also be fulfilling. Just ask any cross-country skier.
When the cold comes and the snow fills Rhode Island woods and meadows, cross-country skiers emerge to drink in nature's frigid beauty in a variety of places across the state, slipping silently through blankets of shimmery white. 
Goddard Park, a sprawling state facility in Warwick and East Greenwich, draws thousands of visitors a year, mostly in summer but many in winter, with skiers traversing the park's nearly 500 acres comprised of massive lawns, meadows and fields, where they can glide along paths and through woods amid dozens of deciduous and evergreen species of trees, can catch glimpses of Greenwich Cove and Greenwich Bay.
Northern Rhode Island is the chilliest place in the state, and a great spot to ski the woods is Pulaski Park in Glocester, in the Rhode Island State Park system and a beauty, boasting 10 miles of groomed ski trails. The park is located within the 4,000-acre George Washington Management Area and one of the state's most popular places to cross-country ski.
Lincoln Woods State Park in Lincoln is another very popular and pristine place to cross-country ski, with a myriad of wooded trails and wide-open meadows to traverse. At the park's core is the 128-acre Olney Pond, itself a popular place for skiing and ice fishing; Lincoln Woods is one of three state park sites routinely tested for safe ice conditions.
Urban skiing is also an option. In Providence, that includes the wide woody median of Blackstone Boulevard on the city's East Side, a popular pedestrian ramble any time of the year. Also in the city is India Point Park by Route 195 with gorgeous water and skyline views, and Roger Williams Park, a massive public spread with many places to ski, including by the park's picturesque pond.
One pretty place is the Cumberland Public Library located on the site of the Monastery of Our Lady of the Valley with a wide variety of beautiful trails criss-crossing the 480 acres. The trails can be confusing; download a map at the library's site and ski knowingly and safely.
At the southern end of the state is the Francis C. Carter Memorial Preserve, an 841-acre holding of The Nature Conservancy, with a variety of trails of varying length through beautiful landscapes, rocky woods and open meadows. The preserve is a key link in an 11-mile chain of protected open spaces and a lovely place no matter the season.
Another great option are the many bike paths scattered throughout the state, generally flat and taking very little snow to cover them and make them skiable. They include the Blackstone River Greenway, an 11.8-mile trail from Woonsocket to the outskirts of Pawtucket; the East Bay Bike Path, 14 miles from Providence to Bristol; and the Ten Mile River Greenway, a short scenic trail from East Providence to Pawtucket. 
Golf courses seem a perfect place for cross-country skiing – and they are, but always call or stop in first to ask for permission. So with these options and so many more, you will find no shortage of places in Rhode Island to get the heart pounding and the blood flowing to keep warm even on the coldest days.