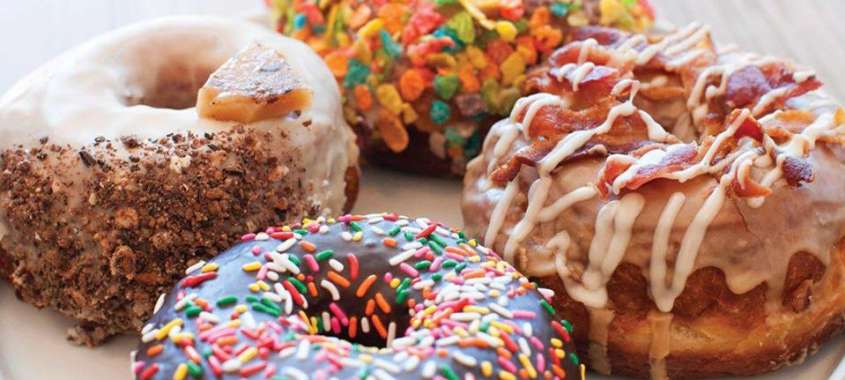 The local culinary scene isn't entirely sure why, but according to a 2010 market research study, Providence has more donut shops per capita than any other metro region in the nation. So, you've come to the right place for gourmet, artisan, old-fashioned, gooey, delicious creations that are also Providence's latest culinary craze.
Maybe the statistic reflects the fact that the Ocean State has had a long love affair with the iconic breakfast sweet, dating back to 1968, when Allie's Donuts opened in South County. These pillowy soft, glazed and filled creations were simple but perfect representations of the baker's craft. Families would drive way out of their way and scoop a box for the beach or Sunday morning. Obsessed with these sublime treats, and customers eventually pleaded with the company to make their donuts available in additional locations, which they now do. And they still sell out. 3661 Quaker Ln., No. Kingstown, 401-295-8036.
And then, an explosion of donut destinations. The first, recently-opened PVDonuts, feature brioche-style donuts full of butter and light as air. They are made, rolled, cut, dipped and topped by hand and come in unique and seasonal flavors – Brown Butter Pecan, Maple Bacon, Pumpkin Chai. 79 Ives St., Providence.
Knead Doughnuts in Downcity offers vegan and flowerless versions, as well as old fashioned, brioche, filled and fritter styles. Combinations such as Lemon Basil with Blueberry Glaze, Passion Fruit and Spiced Peach sound and taste as much like a top chef's dessert offering as a hand-held breakfast treat. 32 Custom House St., Providence, 401-865-6622.
Kids are particularly in love with 4 Corners Coffee, aka "Home of the Square Donut." When this shop opened in the Spring of 2017 they would run out of donuts easily by noon. Fresh, square, soft, big and tasty. 63 Airport Rd., Warwick, 401-921-6464.
And even though it may seem illogical that a donut could be healthy, Augusta St. Kitchen in Providence has several types of gluten-free baked donuts such as banana bread and chocolate as creative and delicious as anything. To wit, the ingredients in the latter are chocolate, organic quinoa, organic coconut oil, coconut cream and organic coconut palm. All of the pleasure, none of the guilt! 361 Academy Ave., Providence, 401-339-2027.