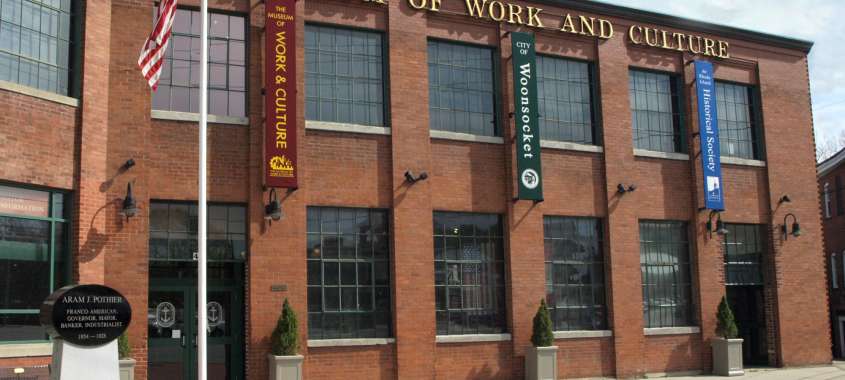 The Museum of Work and Culture in Woonsocket tells the story of French-Canadian immigrants who left Quebec to work the mills and factories by the raging Blackstone River that powered them. But it is easily the story of us all, representing the story of millions of immigrants that were the great melting pot of America.
The museum includes six walk-through displays, movies, several interactive audio presentations, and hundreds of photographs of life that could best be described as hardscrabble yet loving, as families stuck together and crafted a sense of community to get through life.
You start out at the museum at the representation of a rural Quebec farmhouse, and see the typical work day of life in the early 20th century. You'll see the shop floor of a typical textile mill from the 1920s, the Church of the Precious Blood, a school, union hall, all presenting life of working-class America of long ago. There's a lovely front porch of a typical triple decker of the early 20th century, The Slater Club which gives management's view of industry, the dual ethnic identify of a Franco-American and American classroom of the day, and an old parlor so realistic looking you'll swear you were back in Grandma's house.
There is a wide variety of educational programs that change as well. Until Feb. 28, for example, the museum presents "Sonidos: Some of Our Stories," using sound to weave stories of contemporary Colombian life in Rhode Island with the history of the multiple waves of immigration, beginning with Colombia's contributions to the Blackstone Valley textile industry in the 1960s. The event is part of a series of free talks at the museum that include "RI's Industrial Revolution: The Rise and Fall of an Empire," and "Origins of the Right to Work."
History abounds in a place itself historic; the museum building was the Barnai Worsted Company and later, the Lincoln Textile Company before becoming the museum in 1997.  And throughout it, the history of then is the history of us.