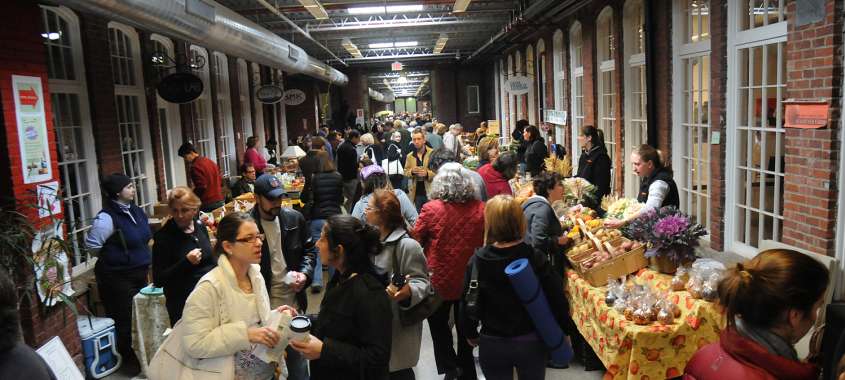 Don't let the cold weather put a damper on your willingness to explore all the wonderful bounty – whether farm-grown or hand-made – for which Rhode Island farmers and artisans have become so noted. We've got several wintertime farmers markets worth the drive from anywhere. Additional details on all the markets can be found at www.farmfreshri.org.
Pawtucket Wintertime Farmers Market
The granddaddy of them all, this market rivals any food hall you could fathom.  More than 80 vendors offer high-quality locally- sourced and made foods. Just about all the top vendors show here. Think produce, meats, poultry, and eggs; artisanal cheeses, breads, gluten-free and other baked goods; lotions, soaps, cosmetics, candles, honey, pickles, sauces, salsas and preserves; chocolates, nuts, juices, teas, coffee and other beverages; prepared foods and food trucks; flowers, plants, wreaths and more. November-April, Saturdays 9-1; Hope Artiste Village, 1005 Main St., Pawtucket.
Coastal Growers Winter Farmers Market
In November, this popular market moves from Casey Farm to the nearby Lafayette Mill, and showcases dozens of local food purveyors and artisans. Notable participants include Schartner Farms, Matunuck Oyster Bar, Olga's Cup and Saucer, Barden Family Orchards and Tallulah's Taqueria, Knead Donuts and more, plus jewelry, pottery, hand-blown glass and other locally-made, artisan gifts.  November 7 - April 30, Saturdays 9-noon; Lafayette Mill, 650 Ten Rod Rd., North Kingstown.
Mount Hope Farmers Market
Part of the joy of attending this year-round market is the location: Mount Hope Farm, a beautiful and historic conserved property managed by the Mount Hope Trust. Starting in November the market moves into the farm's large converted barn and offers produce, meats and seafood, cheese, coffee, bread from Provencal Bakery, pies from Humble pie, sauces and more. There's also handcrafted artisan items, live music and kids can wander the property and visit the sheep, goats, pheasants and chickens, that call the farm home. Open year-round, Saturdays 9-1; Mount Hope Farm, 250 Metacom Ave., Bristol.
Middletown Aquidneck Growers Market
In November, this market moves from the fields at Newport Vineyard, the market moves into the newly renovated Newport Vineyard and Winery. This season will mark its twenty-second season. While it's one of the smaller markets, featuring about two dozen vendors, artisans and musicians, the venue here is the key. After you've picket up some Matunuck Oyster Farms goodies and other treats, it's time for a wine tasting! Open year-round, Saturdays 9-1; Newport Vineyards & Winery, 909 East Main Rd., Middletown.