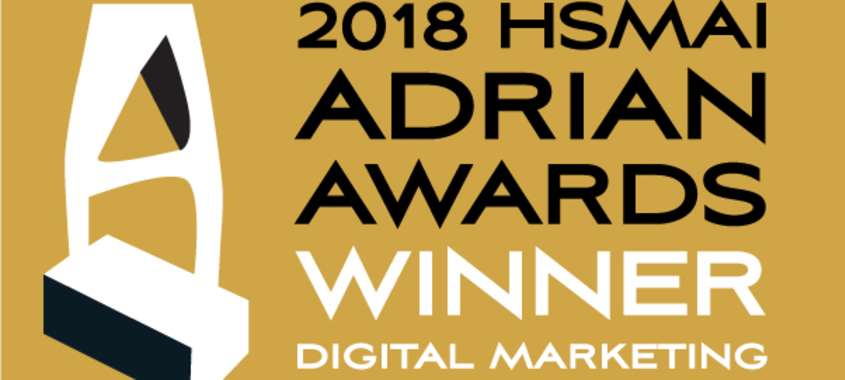 We are very excited to announce that VisitRhodeIsland.com won a gold Adrian Award for outstanding travel marketing in 2018. Specific features mentioned include the illustrated map with micro-interactions that direct to regional content and persona pages with a Google map featuring pins based on listings related to each storyline persona. Check out the announcement below for the full story, while we go take our victory lap!
HSMAI HONORED RHODE ISLAND COMMERCE CORPORATION WITH A GOLD ADRIAN AWARD FOR OUTSTANDING TRAVEL MARKETING

(February 14, 2019) – The Hospitality Sales & Marketing Association International (HSMAI) honored Rhode Island Commerce Corporation with a Gold Adrian Award for digital marketing excellence for its winning entry in the 62nd annual Adrian Awards, the largest and most prestigious global travel marketing competition.

Rhode Island Commerce Corporation is the official full-service, economic development organization and quasi-public agency serving the state of Rhode Island. Charged with creating a new VisitRhodeIsland.com website that was not only user-friendly, but also showcased the state's new tourism branding, Rhode Island Commerce Corporation delivered a thoughtfully-designed interactive platform to drive traffic. After going live, VisitRhodeIsland.com received an eight percent traffic increase overall, and a 188 percent increase in Travel Guide form submissions.

"After months of preparing a platform that we feel is an excellent resource for both tourists and community members, it is an honor to receive the Gold Adrian Award for our submission in the website category," said Matt Sheaff, Director of Communications and Stakeholder Outreach. "This truly reflects the effort our team put in to creating a hub for tourism in Rhode Island on the VisitRhodeIsland.com site."

"The Adrian Awards celebrate travel marketing innovators whose awesome creativity and hard work are integral not only to the success of their companies, but to the continued growth of the hospitality industry as a whole," said Robert A. Gilbert, CHME, CHBA, president and CEO of HSMAI. "HSMAI will be proud to recognize these award winners and their outstanding campaigns at the Adrian Awards Gala."

Rhode Island Commerce Corporation was honored during the HSMAI Adrian Awards Gala on January 22, 2019 at the New York Marriott Marquis. Attended by nearly 1,000 hospitality, travel, and tourism marketing executives, this elegant affair is a must-attend industry event. The Adrian Awards Dinner Reception & Gala, recognized as a Top 100 Event in New York City by BizBash, celebrates award-winning work and the people behind it, lifetime achievement, and the HSMAI Top 25 Extraordinary Minds in Hospitality Sales, Marketing, and Revenue Optimization. 

Winning entries will be viewable in the winners' gallery on the Adrian Awards website. Visit www.AdrianAwards.com for more information on the event and competition and to view the Adrian Awards Winners' Gallery.

About HSMAI

The Hospitality Sales and Marketing Association International (HSMAI) is committed to growing business for hotels and their partners, and is the industry's leading advocate for intelligent, sustainable hotel revenue growth. The association provides hotel professionals & their partners with tools, insights, and expertise to fuel sales, inspire marketing, and optimize revenue through programs such as HSMAI ROCET, Adrian Awards, and Revenue Optimization Conference. HSMAI is a membership organization comprising more than 7,000 members worldwide, with 40 chapters in the Americas Region. Connect with HSMAI at www.hsmai.org, www.facebook.com/hsmai, www.twitter.com/hsmai and www.youtube.com/hsmai1.