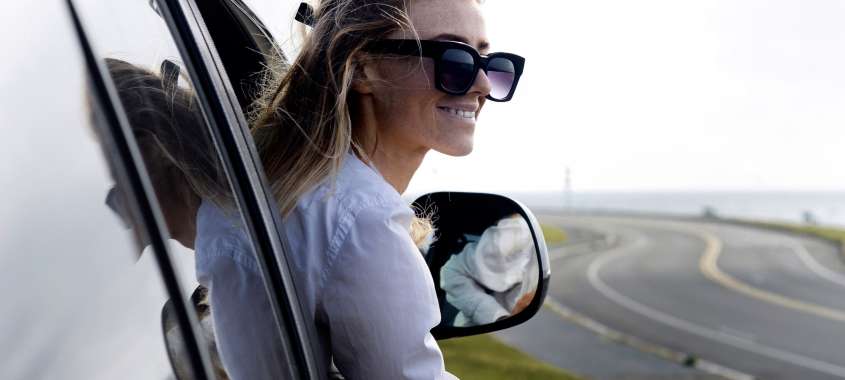 As the smallest state in the country, Rhode Island too often gets overlooked. But don't let its small footprint fool you! There is SO much to do in Rhode Island, and much of that activity revolves around the state's most prominent feature: its coastline. Having always been a nautical hub, the state is bustling with history, activities, and pastimes that harken back to its heritage and which, too often, have been erased or replaced in other parts of the East Coast.
The center of this nautical heritage in Rhode Island is undoubtedly Newport, and it was my plan to get as close to the action as possible as the city prepped for this year's Volvo Ocean Race to make one of the final stops of its around-the-world itinerary.
Newport is situated on Aquidneck Island, and the many bridges that connect it to the rest of Rhode Island are a fittingly grand introduction to the quaint city. I have so many fond memories of sailing in and around Newport, and Narragansett Bay is a beautiful place to spend some time. Here are a few ways you can get out on the water, too!
SailNewport. Confident sailors can charter J/22s (just pass an annual test) or inexperienced sailors can sign up and participate in their Try Sailing program while in town. Regardless, check out SailNewport's efforts — they are an awesome organization.
America's Cup Charters. Check out Newport from the water while cruising around the bay on a 12 Meter. Bonus points if you get to go out on Nefertiti — the first America's Cup boat designed by Ted Hood's (who also designed my family's boat).
Boat NPT. Billed as a new type of private charter experience, Boat NPT offers private charters for you and your pals. Cheers!
Classic Cruises of Newport. Madeleine and her crew are a great introduction to sailing. I haven't been out on the Rum Runner II yet but it's on my list for our next trip!
If you don't have your sea legs, don't worry. Head to the Herreshoff Marine Museum in Bristol, Rhode Island for a deep dive into nautical history from solid ground. The Herreshoff Marine Museum is also home to the America's Cup Hall of Fame.
Rhode Island in the spring and early summer is so beautiful and lush; I think it is my favorite season to visit. Remember to look up every now and then - the amazing trees in Newport compliment the stunning architecture! If you are lucky enough to be in town in the spring, you will be in for a treat: the are an incredible amount of daffodils in this town. Easton's Beach is worth the stop for the daffodils alone!
There are a lot of delicious dining options in the greater Newport area, and it's hard to narrow my choices down to just a few selections. Consider this list as a starting place!
The Pineapple Club
Nestled on the ocean side of Gurney's is the Pineapple Club. The iconic hotel building that is now Gurney's is located on Goat Island, making the Pineapple Club is a brisk 15-minute walk from downtown Newport. The Pineapple Club is perfect for a lazy afternoon in the sun. Sit outside and enjoy their cabanas by the pool, or enjoy dinner under the twinkling patio lights. You can't get closer to the water in Newport without leaving shore. *Note that the Pineapple Club is only open May through September.
Black Pearl
This right-on-the-water Newport classic is, well, classic -- and for good reasons. Park it outside on the deck and enjoy a rum punch in the late afternoon (it's 5 o'clock somewhere, right?).
Perro Salado
While many of the dining options in Newport can be a bit of-a-type (seafood, anyone?), Perro Salado is quite the welcome exception. This modern spin on Mexican cuisine is absolutely worth the stop. Everything this restaurant makes is unreal and as a result, I recommend you make a reservation.
Meg's Aussie Milk Bar
Meg's Aussie Milk Bar is a bit of a wildcard for Newport, but that's exactly why you should check it out. I love Meg's; the staff is so friendly, it is always bustling, and it's the ideal place to stop when you want something quick, easy, and not too pricey for breakfast. Their egg sandwiches are simple and delicious, and their Flat Whites are fantastic.
Evelyn's Drive In
Evelyn's Drive In is absolutely worth the detour. A little off the beaten path, be sure to make a pit-stop in Tiverton and Little Compton. Evelyn's Drive In has been around since the late 60's, and is best described as a glorified seafood shack; the interior is cozy and exactly what you want from a nothing-fancy-just-really-good-seafood restaurant. I got a Dark n' Stormy and a haddock sandwich. So. Good.
While the nautical lifestyle gets is well-earned attention in Rhode Island, the state isn't a one trick pony. On our drive out to Evelyn's Drive In, we stumbled across a whole new side of the state (for us, at least!). The Tiverton area is all rolling hills, stone walls, and sloping farmland that meanders its way down to the coves and bays below. Nestled in these hills are a number of lovely vineyards. This trip, we stopped for a tasting at Carolyn's Sakonnet Vineyard in Little Compton.
The 'White Lotus' Gerwürztraminer was my favorite, but with a generous tasting menu they have something for everyone. It was a convenient reminder as we headed home that even in familiar territory, there are unexpected surprises hiding in plain site. And in the case of the Gerwürztraminer, it was the type of surprise you can bottle up and bring home with you. Cheers!