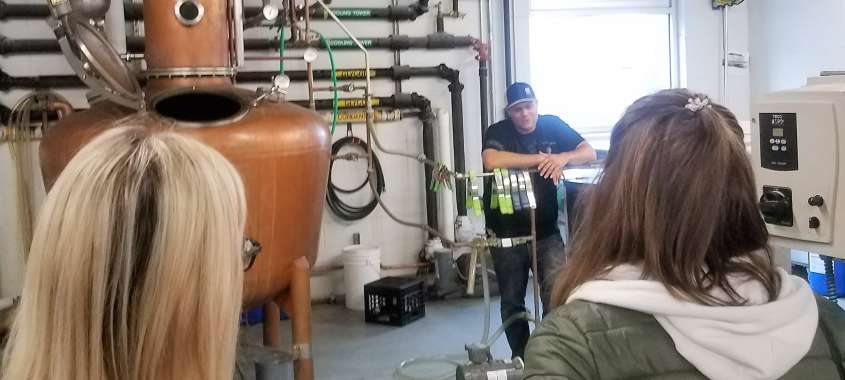 It's been a while now that the craft beer movement has been underway, and there are lots of tasty examples of talented local folks making their mark. But in South County, Sons of Liberty Spirits Company is taking craft cocktailing to a new level. Not that there aren't plenty of fine examples of whiskey and gin made around the world, but bringing it home to a local level has set a new standard for artisan spirits, especially given how many awards this relatively new distillery has garnered so far.
Founder Mike Reppucci fell in love with gin and whiskey while at school in London. He returned with an idea – to create high-quality, small batch spirits and build a local brand. So he apprenticed with a former master distiller at Maker's Mark Bourbon in Kentucky, and Sons of Liberty was born. The science and process behind making his products – beer, gin and whiskey -- and how the distilling process can create new products from what is left behind from the Belgian ale, for example, is fascinating.
You'll learn all about it on a tour of the distillation area and barrel-aging rooms. There's a tasting room with pool tables, and tasting flights allow you to sample the beer, which came first, and the resulting spirits, such as the gin. And of course you can buy some to take home: American single malts, seasonal specialties infused with apple or pumpkin spice, bourbon, gin and rye… about a dozen varieties in all.
Guided tours of the distillery are given on Saturdays only: 1:30, 2:30, 3:30, and 4:30 p.m., but the tasting room is open Thursday-Sunday evenings for flights and cocktails. 1425 Kingstown Rd., South Kingstown, 401-284-4006, www.solspirits.com.