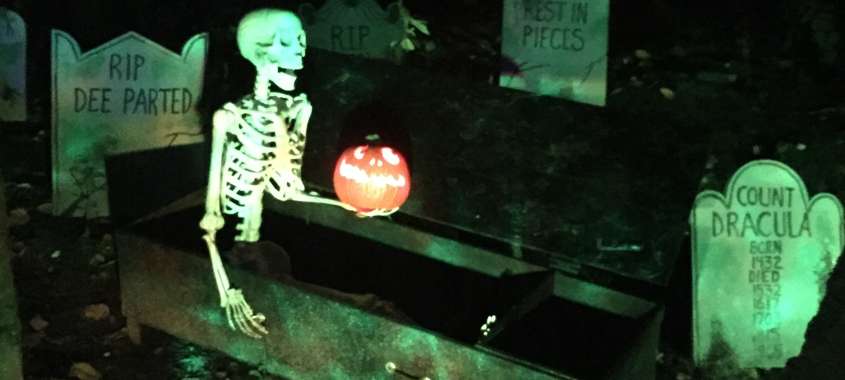 By the pricking of my thumbs, something wicked this way comes... to Rhode Island!  When it comes to Halloween in the Ocean State, we've got any and every experience you're looking for to have a wicked good time: family, creepy, super scary, historic, active and adults-only.  We've got them all organized here to make your Halloween planning so easy you won't miss a trick (or treat)!
Family Frights
If you're looking for some Halloween fun for the wee ones that's not too scary, these events are just the thing. From the beloved Jack-O-Lantern Spectacular to Halloween parties at libraries, the Providence Children's Museum, Roger Williams Park Zoo and more, there is plenty to keep your little ghouls and goblins entertained!
Super Scary
If you like to feel the hair on the back of your neck stand up, enjoy a good blood-curdling scream and your motto is "the scarier, the better," then head to hauntingly horrific events like Underland: An Immersive Haunted Experience, 13th World Haunted Attractions, Field of Screams and more for a ghastly good time!
Classic Creepy
Are you a traditionalist when it comes to Halloween?  Prefer old-school horror movies, haunted houses and scary stories?  Fear not (or fear quite a bit, it's Halloween after all), we've got you covered with classic horror movies, creepy investigations, a delicious meal served in a haunted restaurant and more!
Ominously Active
Sure, it's Halloween, but that doesn't mean that you have to press pause on your active lifestyle and eat a bag of candy (not that we would judge, because candy=YUM).  There's plenty to do in the Ocean State that combines the fabulously frightening of Halloween with a gloriously get-up-and-go mindset.  You can dash, bike and yoga your way to November 1st... and if you eat a little candy on the way, well that's your business!
Hauntingly Historic
Do you like your scares to come with a side of facts, Jack?  If so, there are plenty of spooktacular activities that also include eerie edification! Take guided walks by lantern-light through Newport and Providence, learn about Rhode Island's famous horror writer, H.P. Lovecraft, tour historic mills, cemeteries, mansions and more!  
Ghoulishly Grown-Up
Do you want to have a fangtastic Halloween as far from small humans as you can possibly get?  No worries, witches.  There are loads of spooky, creepy, sassy and fun ways to celebrate that are geared toward adults, adults-only and 21+, from rooftop parties, spooky soirees, a haunted ball and more!
Check out our up-to-date list of Halloween events in Rhode Island. Here's hoping your Halloween is so awesome, it's scary!