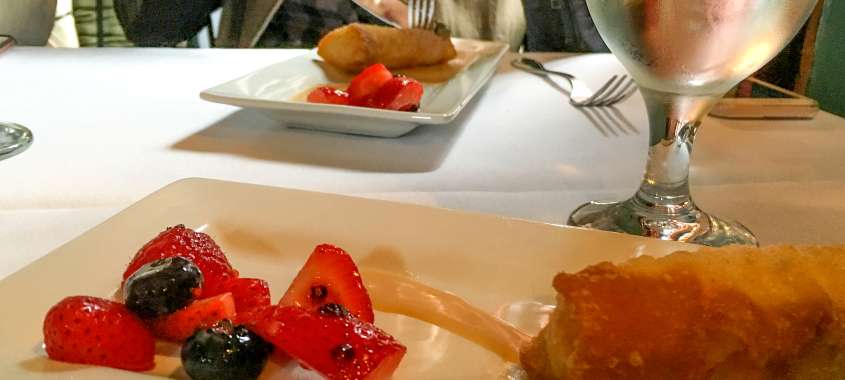 Rhode Island has become a certifiable culinary destination, and one of the ways to get a scope of the landscape is to take a food tour. These tours, which have become popular and prolific in the past decade, offer a dozen or so guests samples of food, and sometimes drink, as they travel from establishment to establishment.
Rhode Island Red Food Tours is one of the newest on the scene, offering approximately three-hour-long walking tours in both Providence and Newport. Paula Silva started these tours to inspire and educate, and that is exactly what she and her staff does. In Newport, Sarah or Leah will guide you around the waterfront and Broadway section of the city, regaling tour-goers with the history of the city, insider tips for navigating the tourist scene, and stops at half a dozen restaurants – large and small—for a sample of what they do best. So for Newport, of course, that means clam chowder, homemade franks from the addictive Mission Café, lobster salad, a beer tasting at the Wharf Pub, and sparkling wine at the venerable Vanderbilt Grace Hotel. Perro Salado's sticky ribs are always a highlight, too. 
Rhode Island Red offers a Providence tour as well, featuring such places as a visit to 5-star Gracie's little-known wine cellar room, Ellie's Bakery (oh, the macarons!) and Providence Coal Fired Pizza. On either tour you may be seated at a table reserved within the establishment, and many times you'll hear directly from the chefs and owners about what inspires them to do what they do. Sometimes you'll even get to see them in action, as they demonstrate how to make, for example, a traditional bao-style dumpling. Restaurants may change from tour to tour, but you'll end up full and happy with a new list of must-visit locations.
Tours run Thursday-Saturday and start at noon. Tickets are $68-$84, depending on whether the alcohol tasting option is purchased. www.rhodeislandredfoodtours.com