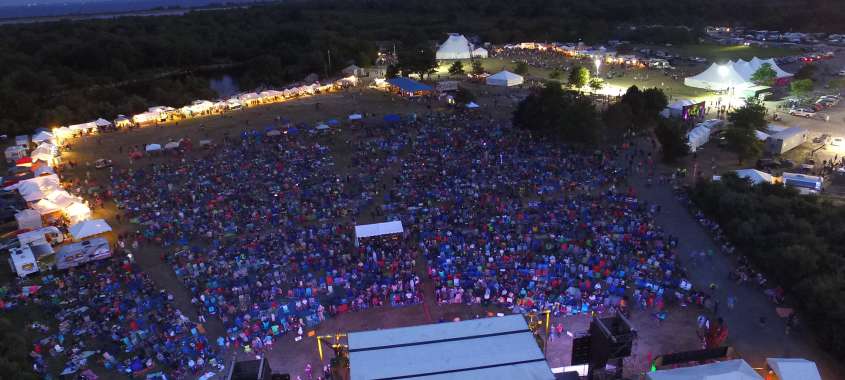 Well, it's here. 
We all knew it was coming...  Labor Day Weekend - that most bittersweet of holiday weekends - where the joy of the extra day off is almost cancelled out by the knowledge that summer is unofficially over.  As we mentally prepare ourselves for the return of school, sweaters and pumpkin-spiced everything, let's take the time to give Summer 2018 a proper Rhode Island send off. 
So, before you pack away your flip flops, here's 20 excellent ways to celebrate this Labor Day Weekend.
Blackstone Valley
There's plenty to do this weekend in Blackstone Valley.  Celebrate the kickoff of the month-long Pawtucket Arts Festival - now in it's 20th year and bigger than ever.  Or head to the Museum of Work and Culture's Labor Day Open House to meet Julia, Sesame Street's newest friend and take in the new Leavers Lace exhibit (they made lace for Kate Middleton's wedding dress!).  And don't miss your chance to be "dancin' in September" at the last Central Falls Salsa Night of the season!
Block Island
The sand, sun and surf are still to die for on Block Island, as is the jaw-dropping natural beauty.  Explore the island this weekend to take one last shot at finding (and keeping!) one of the approximately 360 unique glass orbs still hidden as part of the Block Island Glass Float Project. Once you've worked up an appetite, head to the Block Island Lions Club Annual Clambake for a feast of super-fresh seafood.
Bristol County
The East Bay has something for everyone this holiday weekend.  Head to the Audubon Environmental Education Center for a Free Day of Family Fun sponsored by Citizens Bank, enjoy both the great outdoors and the amazing Rhode Island Philharmonic Orchestra as they perform at Independence Park, take a relaxing stroll through the gorgeous gardens at Blithewold Mansion, Gardens and Arboretum, or spend an evening immersed in the local art scene at Art Night Bristol Warren. 
Newport County
As summer sails off into the sunset, always fun and fabulous Newport offers you the chance to follow it - literally - aboard the majestic Schooner Aurora.  Did I mention you can BYO wine and they provide gourmet cheese, crackers and fruit to complete a perfect evening on the water?  If instead, you're looking for something to do with the wee ones, head to Miantonomi Park for an End of Summer Celebration featuring live music, face painting, a dunk tank and more.  And if you want to get in some last minute horsing around before officially closing the books on summer, you won't want to miss the Newport International Polo Series USA vs. England match-up.
Providence
Providence has it all with rich history, diverse neighborhoods and mouth-watering cuisine, so these fun Labor Day Weekend events are really just the icing on an already amazing cake!  Find that must-have vintage treasure you never knew you needed at The Providence Flea and make a day of it noshing on yummy food truck fare and shopping to the beat of live music.  Or head to Trinity Brewhouse and catch the Rhode Island Brew Bus Beereakfast of Champions Bus Tour, a morning beer adventure that will give you a behind the scenes look at three fantastic locally owned breweries.  And if you just can't wait for Halloween and all things spooky, discover what goes bump in the night in our capital city with Providence Ghost Tours.    
South County
South County is the perfect place to be this weekend with it's gorgeous beaches, scenic bike paths and dynamite clam shacks, but you're definitely going to want to add these awesome weekend offerings to your itinerary!  Head to Ninigret Park and soak up the energetic atmosphere and awesome roots music of the last big music festival of the summer: The 21st Annual Rhythm & Roots Music and Dance Festival. Bond with your furry BFF on beautiful Point Judith Pond and instead of going for a walk, take them for a (doggie!) paddle with East Coast Paddle Sports in Wakefield.  After that, let Theatre By The Sea transport you to the roaring '20's for a tale of murder, greed and all that jazz with a performance of the smash musical Chicago.       
Warwick
If you're looking to get a jump on the weekend and need a can't miss place to take the kiddies, set your GPS for the imPossible Dream Playground Thursday, August 30th for Food Truck Fun Town!  Bring a blanket,  grab some delicious food truck faves, let the little ones play to their heart's content, meet Belle and ride ponies from C&L Stables. On Friday you can shop 'til you drop at the Goddard Park Farmers' Market and browse locally grown produce, homemade baked goods and unique products from local artisans.  
Once you've recovered from your best Labor Day Weekend ever, keep an eye out for next week's round up of everything going on this September to get a jump on fall in the Ocean State. 
Farewell summer, you've been grand!