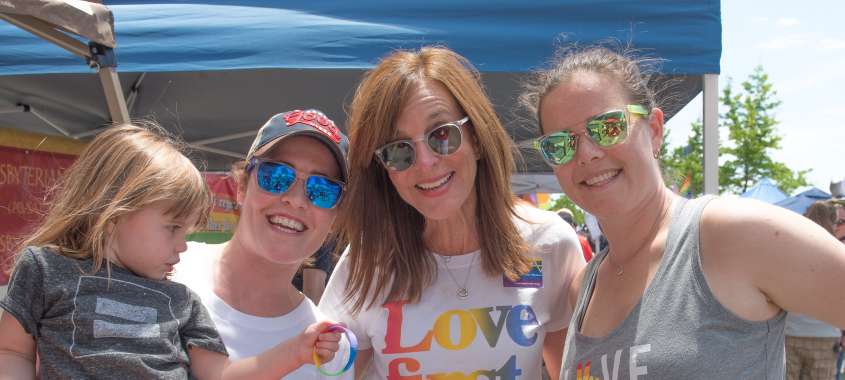 Happy Pride Month!
If it seems like every year Rhode Island's Pride celebration just gets bigger and better, that's because it's true. Rhode Island's first Pride observance was held in 1976 with fewer than 100 participants and this year's PrideFest expects 40,000 people during the day and 60,000 people for the Illuminated Night Parade. If those numbers sound impressive, it makes sense, because Rhode Island's PrideFest has been rated one of the seven best Pride celebrations in the world by National Geographic. It's also unique among US Pride parades, in that it's one of the few parades in the country that take place at night - and the only nighttime one in New England.
So, we've established that Rhode Island PrideFest is amazing, and an obvious addition to your list of must-do events. But, what exactly does the celebration include? Where do you go? Basically, how to have the best possible Pride experience. That's where we here at Visit Rhode Island come in! We've done all the work for you. We've got details, directions, fun facts and tips to make sure that your Pride 2019 is, as we say here in Rhode Island, WICKED AWESOME.
Welcome to Your Guide to Pride!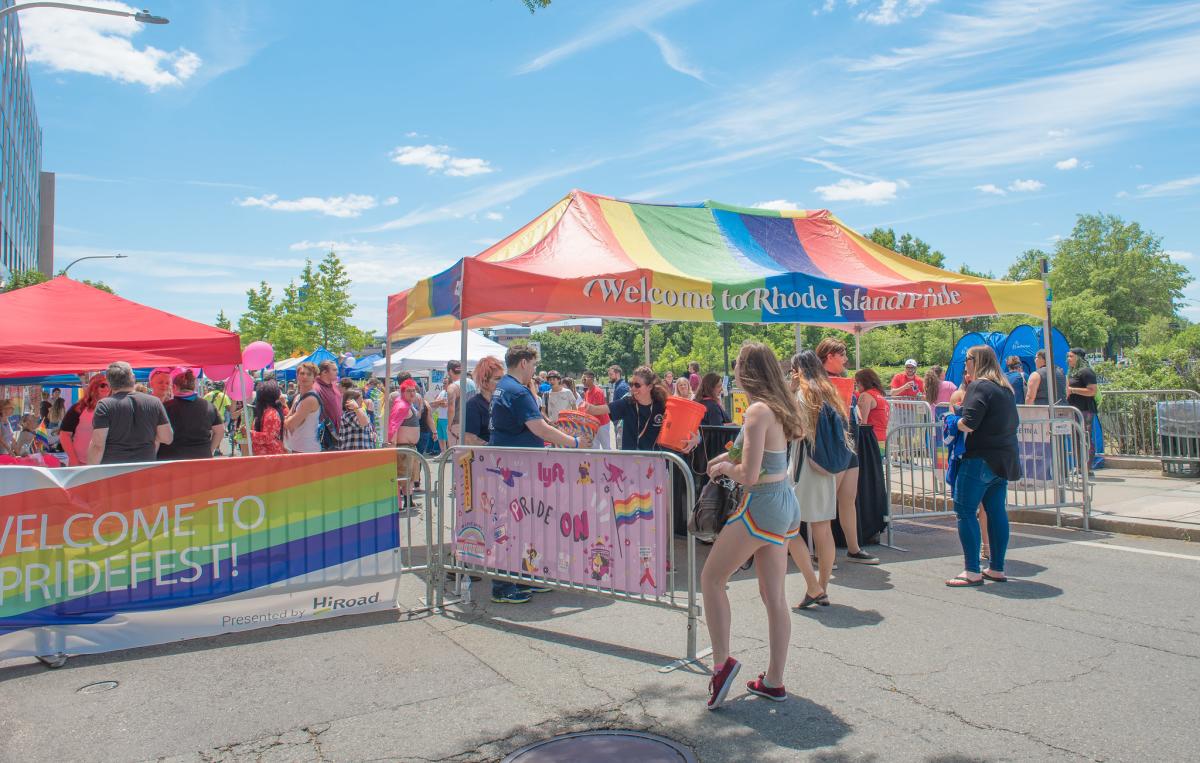 1. THE BASICS
PrideFest is Saturday, June 15, from 12PM to 7PM along South Water Street in Providence.
The Illuminated Night Parade through Downtown Providence is Saturday, June 15, and starts at 8PM.
The theme of this year's PrideFest is "Live Your Truth - 2019 Rhode Island LGBTQIA+ Pride Celebration."
PrideFest is FREE, but they do request a $1 donation.
PrideFest is a family-friendly event and according to Rhode Island Pride, the daytime celebration is for all ages and the nighttime portion is PG-13.
PrideFest is dog-friendly.
There is no official parking for PrideFest, but Rhode Island Pride recommends Lyft (one of the celebration's sponsors) for transportation to the event.
2. WHAT'S NEW THIS YEAR
There is a new ADA Accessible viewing area for the Illuminated Night Parade at the corner of Weybosset and Empire Street.
There is a new Diversity Flag that will be on display with the other flags as part of this year's celebration.
There is a new Rhode Island Pride Art Gallery that will be open in four locations from June 1 to June 30, featuring local LGBTQIA+ artists. The galleries are free and open to the public at the following times and locations: Providence City Hall's City Services Office from 8:30AM to 4:30PM; Providence Marriott Downtown on Orms Street in the main corridors 24 hours a day; and Sprout CoWorking Gallery at Rising Sun Mill on Valley Street from 9AM to 5PM. The fourth location is Rhode Island Pride's own gallery space at 2 Charles Street which will be open 10am to 5pm and feature a special Hall of Pride Flags with the history of each of 20 flags, a 25th Anniversary of Stonewall flag, and community and non-profit tables as well as artwork.
On Thursday, June 20th, there will be a special "Gayllery Night Tour," complete with trolleys and a reception.
3. PRIDEFEST INFO & TIPS
You can enter PrideFest on Saturday, June 15th, via the South Entrance by Wickenden Street or the North Entrance at the start of Memorial Blvd and South Water Street.
This year's marketplace will feature more than 200 vendors.
PrideFest will also feature social resource organizations, food trucks, Hasbro Kid's Zone, live entertainment, and a wine, beer and spirits garden.
4. ILLUMINATED NIGHT PARADE INFO & TIPS
At 8PM on Saturday, June 15th, the dazzling, dynamic Illuminated Night Parade steps off from Providence City Hall on Dorrance Street.
This year's parade is bigger than ever with roughly 104 participants.
The main reviewing area is at the Providence Performing Arts Center under the marquee.
Empire Street is a great place for a seat to watch the parade.
AS220 & Black Sheep are having viewing stands and patio parties along the parade route.
5. ILLUMINATED NIGHT PARADE MAP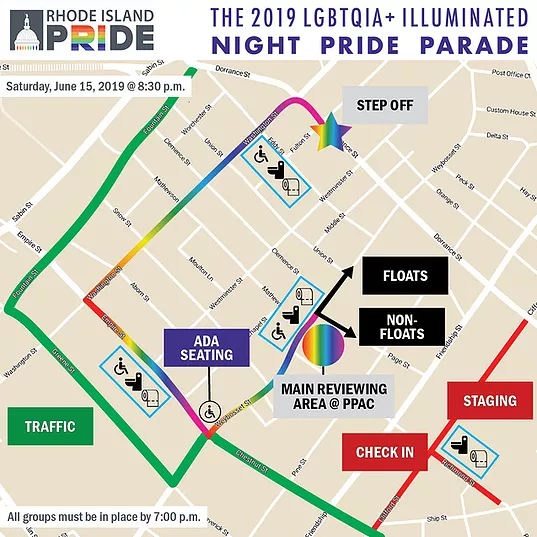 Delicious Dining in Providence
While You're Here Check Out...
Now that you've got everything you need to know about Rhode Island's 2019 PrideFest, there's nothing left to do but gather your squad and make your plans! And when it's over, don't forget that Rhode Island has a lot more going on this summer: beaches, outdoor recreation, events and so much more! Head to our Summer in Rhode Island page to plan your next big adventure in the Ocean State.
Best wishes for a fabulous Pride celebration from Visit Rhode Island!