Celebrate Black History Month in Rhode Island
Black history and culture are an essential part of Rhode Island history and culture. By honestly telling our state's history and acknowledging and recognizing influential figures, moments, and places in our past, present, and future, we hope to celebrate Black History in Rhode Island not just during Black History Month, but all year long.
Here are some ways to explore and commemorate Black History Month this year in the Ocean State, as well as some local Black-owned shops, restaurants, and more to check out!
Great Resources for Black History in Rhode Island
Stages of Freedom in Providence is a nonprofit organization that features a museum that showcases Rhode Island's African American history and includes a shop, programs, events, archives, and more. Check out their "On the Road to Freedom: A Roadside Guide to African American Sites in Rhode Island" for a comprehensive record of sites, events, and people "from slavery to abolition, reconstruction to the gilded age, from civil rights to present day..." Broken down by city and town, it is a fascinating guide to the rich history and contributions of African Americans in the Ocean State.
The Rhode Island Black Heritage Society in Middletown is one of the oldest African Heritage organizations in the country, and its mission is "the preservation of African Diaspora descendant's historical artifacts - books, art, papers, and images, as well as facilitating the interpretation efforts of those seeking to enlighten others about our heritage." Their current exhibit (online) is "Black in Business: African Heritage Entrepreneurs of Newport 18th - 20th Centuries," and they have an articles section as well.
The previous Rhode Island Secretary of State, Nellie Gorbea has shared a virtual exhibit called "Bullets and Bulletins", which examines Black activism in Rhode Island from 1850-1880, through the service of Black soldiers in the Civil War. The exhibit includes many primary source documents, including letters and petitions from the Rhode Island State Archives.
TOURS FEATURING BLACK HISTORY IN RHODE ISLAND
Providence Walks: Early Black History Tour is a self-guided walking tour for you to enjoy at your own pace presented by the Providence Warwick Convention & Visitors Bureau. It includes a downloadable map of locations and points of interest in Providence, and links to Providence Personalities: Early Black History, and Early Providence Artifacts, that were among thousands found at the North Shore archaeology site (the location of Providence's Snowtown neighborhood of the 1820s-1840s).
Rhode Island Slave History Medallions is an ongoing statewide public awareness program to mark those historic sites connected to the history of slavery in Rhode Island. The website includes an interactive map to use to tour the locations of the medallions throughout the state, and there are tabs breaking out the locations by city and town. The medallions contain QR codes that will link to historical content about each location.
North Burial Ground is Providence's oldest municipal cemetery dating back to 1700 and is listed on the National Register of Historic Places. They offer a self-guided Black Heritage Tour that includes the graves of artist and founding Providence Art Club member, Edward M. Bannister and his wife, the entrepreneur, hairdresser, and abolitionist Christiana Carteaux  Bannister. Their headstone was designed by Mr. Bannister's friends and fellow artists at the Providence Art Club. This downloadable map provides directions and information on the notable interments.
Linden Place in Bristol offers a Bristol and the Slave Trade Talk & Walking Tour during their tour season (see their events page for more information and dates). The walking tour focuses on Bristol's notorious DeWolf Family and their involvement in the transatlantic slave trade. The tour begins at Linden Place, continues through the center of town and down to the waterfront on Thames Street, and includes sites tied to Bristol's lengthy and profitable involvement in the slave trade.
The DeWolf Tavern is located in a former warehouse constructed from repurposed slave ship ballast. Bristol-based maritime merchants and slave traders James and William DeWolf built the warehouse and attached distillery for their "Triangle Trade" enterprise. Remnants of wooden barrels used in making rum were unearthed during the building's restoration and one is on display on site.
Built in 1810, Linden Place magnificently reflects the prosperity of the DeWolf merchant princes. Tour highlights include tales of DeWolf family exploits, from their privateering and slave trading to their financial ruin and triumphant return to prosperity during Victorian times. Visitors are also welcome to stroll the sculpture-filled gardens containing Greek bronzes and an 18th Century gazebo.
Fred Benson Town Beach is named for Fred Benson, who was sent to Block Island as a foster child in 1903 and lived with five generations of the Milliken family until he died at the age of 101. It is said that Fred Benson held every job on the island, including farmer, owner of the "Square Deal Garage," commercial fisherman, island undertaker, salvage crew operator, five-time president of the chamber of commerce, member of the fire department, teacher of carpentry, boat building, and machine repair at Block Island High School, RI DMV representative, and author of two books about Block Island. When he was 82 he won the Rhode Island lottery threw a huge party for everyone on the island. He then used the rest of the money to start a scholarship fund for Block Island High School graduates who maintain a B-average in college. The scholarship continues to this day. Here is a story the Los Angeles Times did on "The Living Legend of Block Island" in 1986 when he was 91 years old.
In 2016 the city of Central Falls renamed the city's Summer Street "Viola Davis Way" in honor of actress and producer Viola Davis. Ms. Davis is an Academy Award winner, Primetime Emmy Award Winner, and two-time Tony Award Winner, among her other achievements. She is the first African American to achieve the "Triple Crown of Acting" and was on Time Magazine's "Top 100 List of Most Influential People" in 2012 and 2017.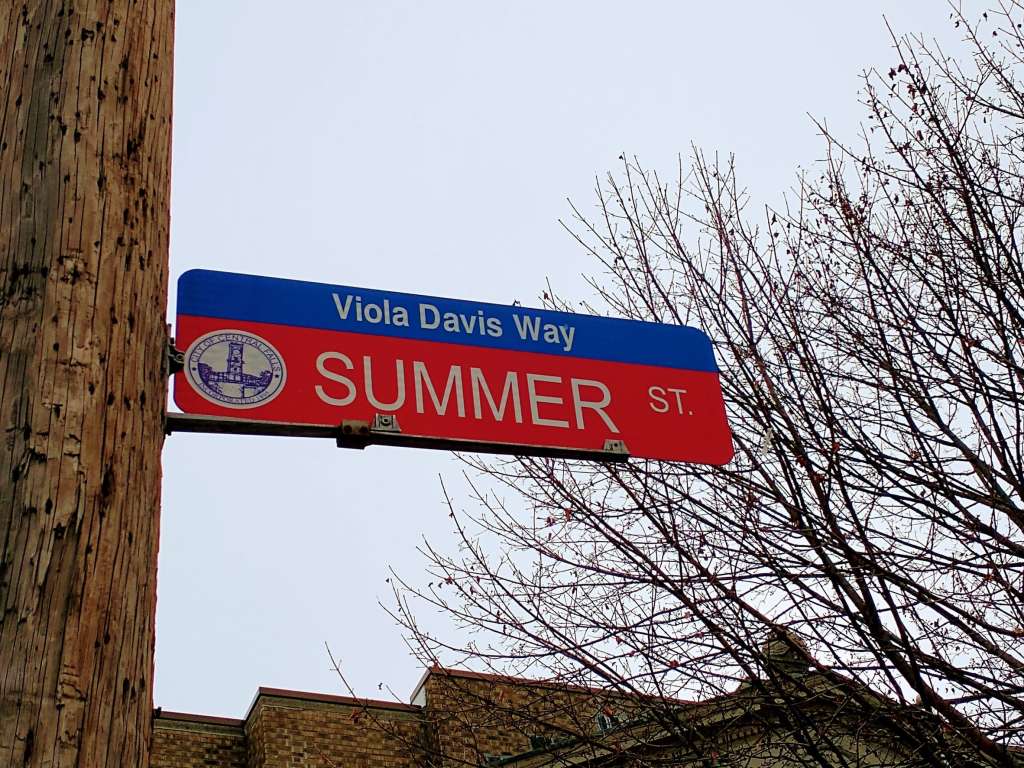 Viola Davis Way, Central Falls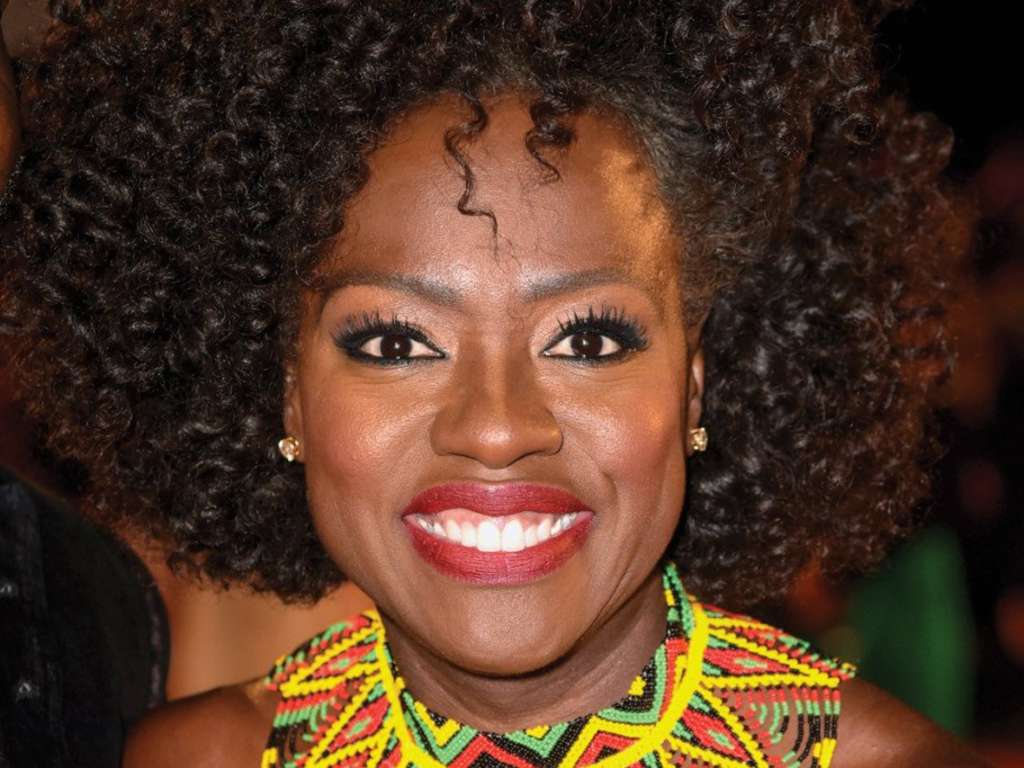 Viola Davis
Viola Davis Way leads to Central Falls High School, where she discovered her love of stage acting. Her notable philanthropy and activism include donations to the Central Falls Public Library to keep it from closing and the theater department of her alma mater, Central Falls High School. Photo courtesy of Rhode Island Monthly.
Elizabeth Buffum Chace was born in Smithfield, Rhode Island, and was an activist in the anti-slavery, women's rights, and prison reform movements of the mid-to-late 19th century. She was born into a family of Quaker abolitionists and was influential in the anti-slavery movement. The house on Broad Street in Valley Falls that she shared with her husband was a station on the Underground Railroad, as well as the place she hosted Frederick Douglas, Sojourner Truth, Abby Kelly, and other notable abolitionists. 
On August 29, 1778, during the Battle of Rhode Island the First Rhode Island Regiment, comprised primarily of black soldiers, made a gallant stand which thwarted a British attempt to flank the American line centered on Butts Hill Fort.
Patriots Park, the site of the Battle of Rhode Island has been designated a National Historic Landmark. It commemorates the historic battle of the Revolutionary War.
On July 9, 1777, Black patriot Quarco Honyman (Jack Sisson) was a member of the group that captured British General Prescott, who had set up headquarters in the Nichols-Overing House. 
God's Little Acre is the largest and most intact colonial-era African burial ground in the country and a critical resource for scholarship. Nearly 300 gravestones comprise the section of Newport's Common Burial Ground known as "God's Little Acre." Dating from the late 1600s, "God's Little Acre" offers insight into the lives of enslaved and free Africans such as Quamino through the commemorative words and images etched into stone.
In the 18th century, the city of Newport was a major hub of the North American slave trade. The area now known as Bowen's Wharf served as a location where enslaved people arrived and departed in sailing ships and also worked in trades related to maritime commerce, including serving as shipbuilders, sailors, caulkers, sailmakers, carpenters, rope-makers, painters, barrel-makers, and dock workers.
The Battle of Rhode Island (also known as the Battle of Quaker Hill and the Battle of Newport) took place on August 29, 1778.  It was also significant as the only battle of the war in which an entirely segregated unit of African-American soldiers fought. At the time of the action, the 1st Rhode Island Regiment consisted of companies of locally recruited African Americans and Native Americans with white officers. The two main areas associated with the battle were designated a National Historic Landmark in 1974.
Smith's Castle was built in 1678 as a replacement for an earlier structure that was destroyed by the Narragansett Tribe during King Philip's War. The land on which the house was built was known as Cocumscussoc and was the original site of Roger Williams' trading post. Later it was transferred to the Updike family of Wickford and became a large slave-holding plantation that occasionally participated in the slave trade as well. Smith's Castle is the site of 200 graves of enslaved people who worked at the property over a period of 150 years.
The George Fayerweather Blacksmith Shop is a historic homestead and blacksmith shop at 1859 Mooresfield Road on the eastern outskirts of the Kingston Historic District in South Kingstown, Rhode Island. It was the home of George Fayerweather, an African-American blacksmith, and his family, including his wife Sarah Harris Fayerweather. The shop was built in 1820 and was added to the National Register of Historic Places in 1984. The property is maintained by the Kingston Improvement Association, a non-profit organization of local residents, and is now the home of the Fayerweather Craft Guild and the Kingston Garden Club.